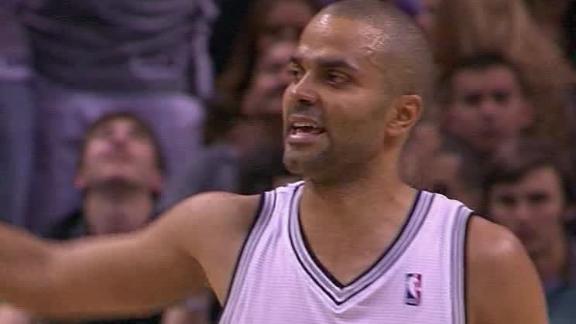 Tony Parker had 22 points in his return from an eight-game absence, and the San Antonio Spurs escaped with a 104-97 overtime victory against the Utah Jazz on Friday night.
Share
Tweet
Kevin Durant scored 11 of his 25 points in the fourth quarter, Russell Westbrook had 19 points and the Oklahoma City Thunder held off the Orlando Magic 97-89 on Friday night.

Share Tweet

Rick Adelman admits to considering retirement due to the health woes of his wife

yahoo.com

Mar 22, 2013

Minnesota Timberwolves coach Rick Adelman has brought up retirement as an option for him during this upcoming offseason, which is completely understandable. Adelman remains one of the league's better coaches, but he's worked as one of the league's b

Share Tweet

Watch The Amazing Dunk Nate Robinson Put on the Portland Trail Blazers

dimemag.com

Mar 22, 2013

Wow. Check out this move and finish from Nate Robinson in last night's Bulls/Blazers game. Nate splits the Portland double team with a reverse between-the-legs dribble and then jets down the lane to unleash a monster one-handed dunk: Follow Dime on Twit

Share Tweet

Thomas, Evans help Kings survive vs. Wolves

ESPN.com

Mar 22, 2013

Isaiah Thomas had 24 points and six assists, Tyreke Evans scored 11 of his 21 points in the fourth quarter Thursday night, and the Sacramento Kings earned their third straight home win, holding off the slumping Minnesota Timberwolves 101-98.

Share Tweet

Golden in Denver: How the Miraculous Nuggets Have Become One of the League's Best Teams

grantland.com

Mar 22, 2013

There's long been a general skepticism around the league about whether the Nuggets, so exciting and so dominant of late, can translate their regular-s...

Share Tweet

Thunder Too Much For Struggling Magic

Mar 22

Thunder run past Magic 97-89.

Parker Propels Spurs Over Jazz In OT

Mar 22

Spurs' win at home over the Jazz nets Gregg Popovich his 900th career victory.