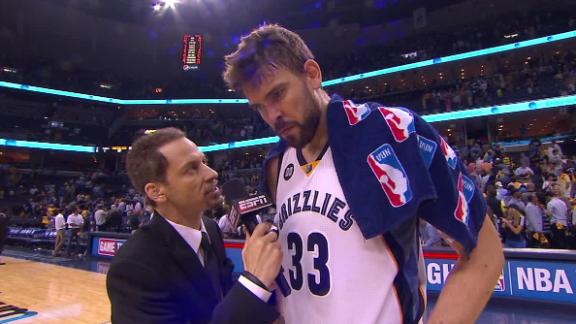 ESPN.com
Updated May 11, 2013
Marc Gasol scored 20 points and hit two free throws with 1:03 left to put Memphis ahead to stay, and the Grizzlies held off the Oklahoma City Thunder 87-81 Saturday to take a 2-1 lead in this Western Conference semifinal.
Share
Tweet
Grizzlies Put Pressure On Thunder

May 11

Bruce Bowen breaks down the Grizzlies' Game 3 win against the Thunder.

Gasol, Grizzlies Take 2-1 Lead

May 11

Marc Gasol scored 16 of his 20 points in the second half of the Grizzlies' 87-81 win over the Thunder.

Kevin Durant Coast to Coast

May 11

Kevin Durant goes the entire length of the court and finishes with the jam

Marc Gasol Bounce Pass

May 11

Marc Gasol hits Tony Allen with a great bounce pass for the dunk.