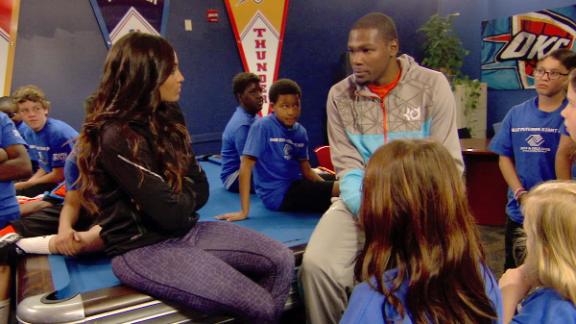 ESPN.com
Updated Nov 1, 2013
Kevin Love had 24 points and 12 rebounds and Ricky Rubio added 14 points, 10 assists and five steals to lead the Minnesota Timberwolves to a 100-81 victory over the Oklahoma City Thunder on Friday night.
Share
Tweet
dimemag.com

Nov 1, 2013

The NBA has finally returned and after the first few days every team is back in action. Bodies are fresh, players are coming back from injuries and almost everyone is optimistic. The state of the NBA is full of hope. Unfortunately for many, the NBA is a…

Share Tweet

ESPN.com

Oct 31, 2013

Utah Jazz swingman Gordon Hayward and Phoenix Suns guard Eric Bledsoe did not get new deals before Thursday's 11:59 p.m. ET deadline and will become restricted free agents in July.

Share Tweet

Love, Wolves Run All Over Thunder

Nov 1

Kevin Love's double-double and the Timberwolves holding Kevin Durant to just 13 points helped Minnesota to a 100-81 win.

John Stockton Is Good At Everything

Nov 1

He can nail a clutch 3, run like the wind and protect toddlers from wildcats. Tougher, for him, however: driving dump trucks, keeping his Toyota Corolla insured and reading fine print.

Bledsoe Lifts Suns To Win Over Jazz

Nov 1

Eric Bledsoe's last-second three pointer lifted the Suns past the Jazz 87-84.