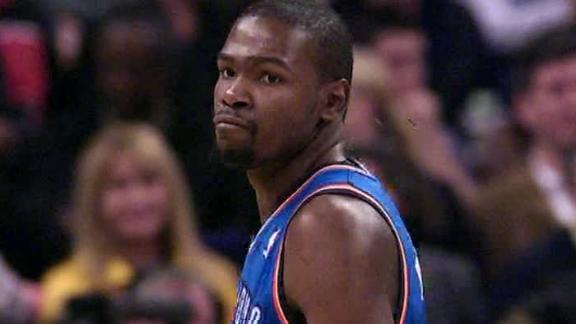 ESPN.com
Updated Nov 16, 2012
Kevin Durant and Kevin Martin each scored 27 points, and the Oklahoma City Thunder rolled to their sixth victory in seven games, 110-95 over the New Orleans Hornets on Friday night.
Share
Tweet
Howard ready to help banged-up Timberwolves

nba.com

Nov 16, 2012

For the first time in his nine-year career, Josh Howard didn't have a team to play for when the season began. Questions about his health, and some lingering memories of issues off the court, kept teams away from the 32-year-old free agent.

Share Tweet

LeBron James leaves eager fan hanging after Heat hold off Nuggets (VIDEO)

yahoo.com

Nov 16, 2012

The box score lists three blocked shots for LeBron James during the Miami Heat's bounce-back 98-93 road win over the Denver Nuggets on Thursday night, but his coldest rejection of the night came after the final buzzer. Behold: "Close that hand. Clo…

Share Tweet

The Knicks Can't Be Stopped Even When 'Melo Is; LeBron Puts The Nuggets To Sleep

dimemag.com

Nov 16, 2012

The Knicks only had 3-of-12 shooting by Carmelo Anthony (nine points though he did get 12 boards) and were on the road in San Antonio and yet New York went into Texas and still won, 104-100 to stay undefeated against all odds. And by against all odds, w…

Share Tweet

ESPN.com

Nov 16, 2012

LeBron James had 27 points and 12 assists, and the short-handed Miami Heat ended a decade-long drought in Denver with a 98-93 win over the Nuggets on Thursday night.

Share Tweet

Warriors Top Short-Handed Wolves

Nov 16

Warriors win second straight.

Durant, Martin Power Thunder Past Hornets

Nov 16

Kevin Durant and Kevin Martin both score 27 points against Hornets.