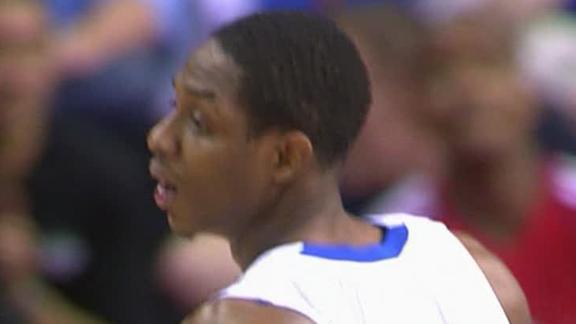 Updated Nov 26, 2012
Share
Tweet
Brandon Knight scored 16 of his 26 points in the first half, outplaying Damian Lillard in a matchup of young guards and leading the Detroit Pistons to a 108-101 victory over the Portland Trail Blazers on Monday night.
Updated Nov 26, 2012

Share Tweet

Kevin Durant scored 18 points and the Thunder opened a 40-point halftime lead in one of the most lopsided first halves in NBA history on their way to a 114-69 blowout of the Bobcats on Monday night.

Kings' Brooks fined $25K for throwing mouthpiece

Updated Nov 26, 2012

Share Tweet

NEW YORK -- Sacramento Kings guard Aaron Brooks has been fined $25,000 for throwing his mouthpiece into the stands immediately following the Kings 104-102 road loss to the Utah Jazz on Nov. 23. The fine was announced today by Stu Jackson, Executive Vice…

Source:

nba.com

Major Question Marks Need Answers With The Boston Celtics

Updated Nov 26, 2012

Share Tweet

The Boston Celtics are the best mediocre team in the NBA. Certainly they don't intend to hold that distinction come season's end but right now that's about the best they can muster. It's hard to fathom how this team can lose by 20 to the Pistons a

Source:

dimemag.com

Updated Nov 26, 2012

Share Tweet

Not long ago, Harrison Barnes was touted as the next big thing, a guy who was destined for NBA stardom. A disappointing college career changed all that, however, and Barnes-just a rookie-is now associated with unfulfilled potential. So it's easy to fo

Source:

deadspin.com

Updated Nov 26, 2012

Share Tweet

After an impressive 5-2 start without All-Star Kevin Love and various other injured rotation helpers, the Minnesota Timberwolves have lost five straight. Three of those five have even come with Love in the lineup, as he returned surprisingly early (to s…

Source:

yahoo.com

Updated Nov 26, 2012

Share Tweet

Deron Williams had 15 points, 12 assists, four blocked shots and three steals, and the Nets used a run early in the fourth to break open a tie game and beat the Portland Trail Blazers 98-85 on Sunday.

Thunder Top Bobcats By 45

Nov 26

Thunder hold Bobcats to just 24 first-half points en route to 114-69 win.

Pistons Hand Blazers Second Straight Loss

Nov 26

Brandon Knight leads Pistons past Blazers.

Jazz Hold Off Nuggets

Nov 26

Al Jefferson scores 28 in 105-103 win over Nuggets.