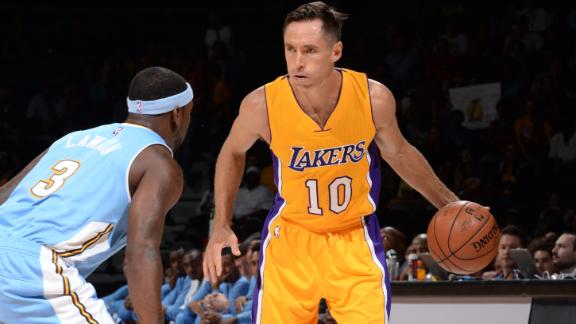 nba.com
ESPN.com
deadspin.com
yahoo.com
Updated 17 hours ago
When the Lakers traded four draft picks to sign Steve Nash, his new teammates couldn't wait to talk about what might happen when Nash began distributing the ball to the likes of Kobe Bryant and Pau Gasol.
Upvote
Share
Tweet
Warriors waive five players to solidify roster

nba.com

10 hours ago

The Golden State Warriors have waived guard Aaron Craft, guard/forward Jason Kapono, guard Sean Kilpatrick, forward James Michael McAdoo and forward Mitchell Watt, the team announced following tonight's preseason finale against the Denver Nuggets. The t…

Upvote Share Tweet

yahoo.com

20 hours ago

When the Maloofs graciously accepted $535 million from an ownership group led by Vivek Ranadivé, it meant Sacramentans could stop worrying about their hometown team being wrested away, and get back to just watching the Sacramento Kings play. What a puni…

Upvote Share Tweet

Watch Blake Griffin & Chris Paul Star In Jordan Brand's "BGCP3TV In HD" Premier

dimemag.com

21 hours ago

Last night, at 12:12 a.m. ET on the Adult Swim network the Jordan Brand sponsored "BGCP3TV in HD" sketch comedy show premiered. Say what you want about the Clippers teammates and Jordan Brand NBA all-stars failing to reach the Western Conference Finals …

Upvote Share Tweet

Excellent Rookie Hazing At Warriors Open Practice

dimemag.com

23 hours ago

Rookie hazing in the NBA is light years from the aggressive forms of torture rookies have undergone in the NFL, but it's still a rite of passage however tame. The Golden State Warriors, especially, seem to delight in silly costumes and forced renditions…

Upvote Share Tweet

yahoo.com

23 hours ago

The Arizona desert turned up a UFO crash in 1953, purple alien eggs just last year and Lord knows what else in the 60 years between. It's only natural the Phoenix Suns add another wrinkle to their own weird science experiment, turning a two-headed snake…

Upvote Share Tweet

GIF: Josh Childress Levels Jesse Wagstaff With Airborne Elbow

dimemag.com

Oct 24 (yesterday)

Former Hawks and Suns forward Josh Childress, who spurned an NBA contract to sign a $20 million contract in July of 2008 to play in Greece, is now playing for the Sydney Kings of the National Basketball League (NBL) in Australia. During a game against t…

Upvote Share Tweet

Dwight Howard On Return To Full Health: "I'm Getting There"

dimemag.com

Oct 23 (yesterday)

Dwight Howard's goofy personality, oft-ugly post game, and contentious departures from the Orlando Magic and Los Angeles Lakers make it easy to forget that he's still suffering ill-effects from 2012 back surgery. Recent praise from Houston Rockets teamm…

Upvote Share Tweet

ESPN.com

Oct 23 (yesterday)

Phoenix Suns rookie forward T.J. Warren has a small crack in a bone in his left thumb.

Upvote Share Tweet

dimemag.com deadspin.com ESPN.com

Oct 23 (yesterday)

Fallout from ESPN's excellent, sprawling, and scathing report on the ill-effects of Kobe Bryant's presence with the Los Angeles Lakers continues. In response to the story quoting a source close to the team opining that Bryant's ego is "scaring off free …

Upvote Share Tweet

BDL's 2014-15 NBA Season Previews: Los Angeles Lakers

yahoo.com

Oct 23 (yesterday)

What are the Los Angeles Lakers even trying to do? With Kobe Bryant coming off a six-game season, the Lakers entered the offseason looking to assemble a roster and coaching staff able to carry the team to the postseason through their icon's massive two-…

Upvote Share Tweet

Chris Douglas-Roberts Is Bringing Short Shorts Back To The NBA

deadspin.com

Oct 23 (yesterday)

Chris Douglas-Roberts signed a one-year deal with the Clippers, and is taking advantage of the opportunity to inflict untold horrors on the basketball-loving public. Douglas-Roberts asked for medium-sized shorts. Functionally, those are short shorts.Rea…

Upvote Share Tweet

Old Clippers Fan Mauls Young Clippers Fan In Brawl During Game

deadspin.com

Oct 23 (2 days ago)

Button-up man took on T-shirt man at Wednesday night's Suns-Clippers game to determine whose style of shirt was superior. Or, maybe they were fighting for a dumber reason. Who knows.Read more...

Upvote Share Tweet

yahoo.com dimemag.com

Oct 23 (2 days ago)

While the Phoenix Suns and Eric Bledsoe found themselves embroiled in a negotiating standoff this summer, the offseason drama had more to do with the vagaries of restricted free agency than any lack of interest on Phoenix's part in keeping the 24-year-o…

Upvote Share Tweet

Eric Bledsoe Shook Some Poor Scrub Right Off The Damn Court

deadspin.com

Oct 23 (2 days ago)

Preseason basketball isn't really worth much of anyone's time, but there is value in the fact that it allows the game's best players ample opportunity to humiliate end-of-the-bench scrubs in live game action. That's how we ended up with Suns point guard…

Upvote Share Tweet

Not Top Plays

Oct 24

Watch the week's worst plays on "SportsCenter."

Steve Nash To Miss Entire Season

Oct 23

Ramona Shelburne discusses the Lakers announcing Steve Nash will miss the entire NBA season.

Jeanie Buss Defends Kobe Bryant

Oct 23

Lakers president Jeanie Buss discusses the recent criticism of Kobe Bryant, the challenges of landing free agents and competing with fiance Phil Jackson for Carmelo Anthony.

Jeanie Buss Calls Out Kobe Haters

Oct 23

Los Angeles Lakers president Jeanie Buss voiced her opinion on "SportsCenter" regarding free agents and Kobe Bryant.