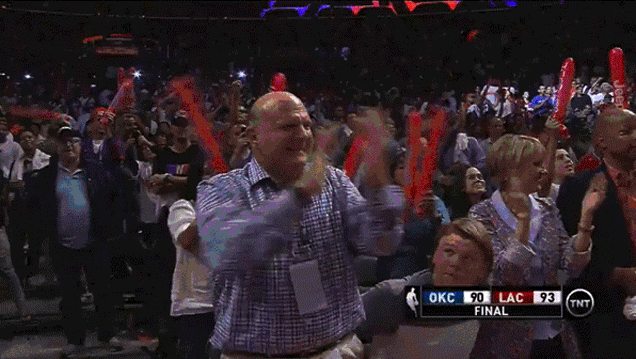 deadspin.com
ESPN.com
Updated 1 hour ago
Clippers owner Steve Ballmer was doing his Steve Ballmer thing throughout his team's home opener, but the highlight of his hootin' and hollerin' came right after the final whistle, when Ballmer wielded his daddish intensity (dadtensity) to embarrass and…
Upvote
Share
Tweet
yahoo.com dimemag.com ESPN.com

11 hours ago

It's not so much that the Oklahoma City Thunder are already without Kevin Durant. It's that Durant's sweet-shooting reserve, Anthony Morrow, is also injured. It's that his potential perimeter complement, hybrid guard Reggie Jackson, is nursing an ankle …

Upvote Share Tweet

Watch DeAndre Jordan Get His Head At Rim Level For Soaring Alley-Oop Finish

dimemag.com

12 hours ago

Oh, how we missed Lob City. Watch Chris Paul find DeAndre Jordan in the pick-and-roll for a soaring, powerful alley-oop slam. The force. The height. Unbelievable. The Los Angeles Clippers will need more plays like this if they're to stave-off the extrem…

Upvote Share Tweet

The Golden State Warriors have picked up the fourth-year options on the contracts of forward Harrison Barnes and center Festus Ezeli for next season.

Upvote Share Tweet

nba.com

18 hours ago

NBA Finals MVP Kawhi Leonard is set to make his season debut for the San Antonio Spurs on Friday night against the Phoenix Suns.

Upvote Share Tweet

Watch Steph Curry Weave Through Hapless Kings Defenders For Slick Finish

dimemag.com

20 hours ago

We've said it before, and this clip allows us to say it again: Steph Curry is best known as the world's top shooter, but he might be basketball's preeminent ballhandler, too. Watch the Golden State Warriors superstar embarrass the Sacramento Kings by we…

Upvote Share Tweet

dimemag.com

22 hours ago

After watching the video we posted earlier today showing Kobe Bryant cursing out Dwight Howard during the Rockets-Lakers game on Tuesday, one of Dime's employees claims Kobe allegedly follows up the aforementioned curse of Dwight with, "bitch-ass n***er…

Upvote Share Tweet

Come, Let Us Have Another Laugh At The Disastrous Lakers

deadspin.com

Oct 30 (yesterday)

So the Lakers rolled out their "actually, bad basketball is cool and good " strategy again last night in Phoenix; accordingly, they got their wheels knocked off, losing 119-99 in a game that somehow makes even that score seem deceptively close…

Upvote Share Tweet

nba.com

Oct 30 (yesterday)

The good news for the Lakers is that the worst is over.

Upvote Share Tweet

#TBT: LeBron James' NBA Debut

Oct 30

On Oct. 29, 2003, 18-year-old LeBron James made his NBA debut for the Cleveland Cavaliers on the road at Sacramento. James finished the night with 25 points, 6 rebounds, 9 assists and 4 steals.

Clippers Hold Off Short-Handed Thunder

Oct 30

After Russell Westbrook suffered a hand injury and had to exit the game, the Thunder fell to the Clippers 93-90.

Westbrook Jaws With Fans

Oct 30

After Russell Westbrook had to leave the court because of a hand injury, he was heckled by fans as he walked to the locker room.

Best Point Guard In NBA?

Oct 29

Stephen A. Smith and Skip Bayless debate who is the best point guard in the NBA.