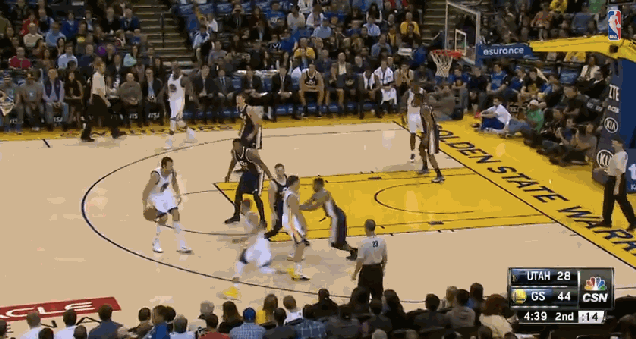 The Warriors Ran A Beautiful Play For An Alley-Oop Last Night
deadspin.com
Updated 11 hours ago
Played well, basketball is a spectacularly beautiful game. Despite having a 9-2 record, the Golden State Warriors offense has frequently been bogged down by careless turnovers. The team has a trigger-happy reputation, but it's actually their defense—tie…
Upvote
Share
Tweet
Eric Bledsoe Says He Was Tipped Before Game About Nerlens Noel's Hard Foul

dimemag.com

11 hours ago

Last night Nerlens Noel dropped Eric Bledsoe to the hardwood not more than 30 seconds into the Suns-76ers game in Philadelphia. This came after Bledsoe had said his alum, Kentucky, could beat the 0-12 Sixers in a seven-game series. It was an embarrassin…

Upvote Share Tweet

Kobe Bryant Airballs From Siberia As The Lakers Lose by 34

deadspin.com

15 hours ago

The other day my colleague Albert Burneko worried that Nick Young's return had improbably elevated the Lakers from "gonzo terribleness to bland mediocrity." Worried because the Lakers' spectacular brand of suck has been the most entertaining s…

Upvote Share Tweet

Steph Curry Finds Andrew Bogut For Sick Alley-Oop After Behind-Back Dish

When the Golden State Warriors are humming, there's not a more entertaining team in basketball. For the highlight of an utterly dominant first half performance against the Utah Jazz, Andrew Bogut flipped a behind-the-back dish to Steph Curry who returne…

Upvote Share Tweet

Under Armour "SC30 Select" ClutchFit Drive PE's Dropping This Weekend

The Warriors are at 8-2 through the season's first 10 games, good for second place in the daunting Western Conference. Stephen Curry is probably the biggest reason why. This past summer, Curry shared his expertise with some of the best young guards arou…

Upvote Share Tweet

Things could be worse for the 3-9 Detroit Pistons – at least coaches and players are standing up for each other. After the Phoenix Suns' Markieff Morris saying Kentavious Caldwell-Pope missed a game-winning shot because he "doesn't have any heart," Stan…

Upvote Share Tweet

dimemag.com ESPN.com

Nov 21 (yesterday)

The Kings keep rolling and we couldn't be happier for the people of Sacramento, who have waited more than a decade for a semi-return to prominence. They were even slated in to a national TV slot last night when they defeated the Bulls, 103-88, behind 22…

Upvote Share Tweet

Watch Joakim Noah Throw A Tantrum After being Called For Questionable Foul

dimemag.com

Nov 21 (2 days ago)

Playing against DeMarcus Cousins is frustrating enough for opposing big men on its own. But when the officials fall for his antics? We'd be prone to lose it, too. After being called for a questionable foul in the third quarter of his team's game against…

Upvote Share Tweet

Clippers jump out fast in dousing of Heat

ESPN.com

Nov 20 (2 days ago)

Chris Paul had 26 points and 12 assists, Blake Griffin added 26 points, and the Los Angeles Clippers wasted no time in taking control on the way to a 110-93 win over the Miami Heat on Thursday night.

Upvote Share Tweet

GIF: Blake Griffin Shows Up To Clippers Lob Party Versus Heat

dimemag.com

Nov 20 (2 days ago)

We thought the Los Angeles Clippers were playing in Miami tonight – not Lob City. After DeAndre Jordan finished four alley-oops during the game's early going, Blake Griffin finally got in on the fun. Watch the Clippers' high-riser stretch reach far back…

Upvote Share Tweet

GIF: Blake Griffin Finds DeAndre Jordan For Pogo Stick Alley-Oop Jam

dimemag.com

Nov 20 (2 days ago)

The Miami Heat are obviously better when Dwyane Wade is playing. But not even a healthy, vintage Flash could do anything to stop the Los Angeles Clippers right now. In the highlight of an absolutely dominant Clippers first quarter, watch DeAndre Jordan …

Upvote Share Tweet

GIF: Wily Kobe Bryant Forces James Harden To Block-Out Francisco Garcia

Is this what Kobe Bryant meant by saying that he'd play differently but just as effectively this season? Not specifically, but exercising more of the veteran savvy shown here would surely help Bryant help the Los Angeles Lakers. Watch the future Hall-of…

Upvote Share Tweet

Why The Lakers' Brand Of Suck Matters

deadspin.com

Nov 20 (3 days ago)

That Nick Young's return to the lineup would coincide with the Lakers' ascent from gonzo terribleness to bland mediocrity fits, really. Both because at every stop in his NBA career Nick Young has done whatever would annoy me the most , but also because …

Upvote Share Tweet

Nick Young Defines "Swag" By Evoking Pop Legends Michael Jackson, Prince

We might just resort to a "Quote of the Day" post from Nick Young going forward – especially if his swag keeps rubbing off on the Los Angeles Lakers. After helping his team to a road win against the Dwight Howard-less Houston Rockets last night, Young c…

Upvote Share Tweet

Stan Van Gundy Benches Josh Smith After "Jawing Session" About Defense

It wasn't just Markieff Morris and Kentavious Caldwell-Pope who got into it last night during the Suns-Pistons game. It seems Pistons coach Stan Van Gundy and forward Josh Smith had a verbal altercation when J Smoove was subbed out with a few minutes le…

Upvote Share Tweet

ESPN.com

Nov 20 (3 days ago)

Chicago Bulls point guard Derrick Rose missed his third consecutive game Thursday night, a 103-88 loss to the Sacramento Kings, because of a strained left hamstring.

Upvote Share Tweet

Nick Young And Jordan Hill Briefly Make Being A Laker Seem Fun

deadspin.com

Nov 20 (3 days ago)

Outside of the Philadelphia 76ers , there is no more depressing (although we find them more darkly hilarious) team in the NBA than the Los Angeles Lakers. That might be changing with the return of Nick Young, though, who has helped the Lakers to two str…

Upvote Share Tweet

Dwight Howard sat out Wednesday's loss to the Lakers with a sprained right knee, but the Rockets center was still a hot topic of discussion for former teammate Kobe Bryant.

Upvote Share Tweet

Crawford, Clippers open road trip with rout

ESPN.com

Nov 19 (3 days ago)

Jamal Crawford had 22 points and Chris Paul added 16 points and nine assists as the Los Angeles Clippers beat the Orlando Magic 114-90 Wednesday night.

Upvote Share Tweet

Report: Goran Dragic Will Have "Open" Free Agency; Lakers, Rockets Options

The Phoenix Suns' three-headed point guard monster might be a single season experiment. According to a report, reigning Most Improved Player and All-NBA Third Team honoree Goran Dragic will have an "open" free agency this summer. Courtesy of the Sportin…

Upvote Share Tweet

Mavericks Owner Mark Cuban Says He Hopes Lakers "Suck Forever"

The rest of the league surely prefers when the Los Angeles Lakers field a poor team; they just aren't as up front about it as Mark Cuban. Speaking on the "The Fred Roggin Show" of L.A.'s Beast 980, the Dallas Mavericks owner said that he hopes the purpl…

Upvote Share Tweet

GIF: Incredible DeMarcus Cousins Chase-Down Block

Last night's Pelicans-Kings game did not disappoint those people hoping to see two of the best young big men in the NBA today. Anthony Davis has become a basketball bloggers wet dream, and could be in MVP discussions for the next decade. DeMarcus Cousin…

Upvote Share Tweet

Cousins, McLemore Power Kings

Nov 22

DeMarcus Cousins and Ben McLemore combined for 53 points in the Kings' 113-101 win over the Wolves.

Suns Roll Past Pacers

Nov 22

Gerald Green and Isaiah Thomas combined for 39 points off the bench in the Suns' 106-83 win over the Pacers.

Kobe No Fan Of Hometown Discounts

Nov 21

ESPN NBA Insider Amin Elhassan discusses Kobe Bryant's comments about hometown-discount deals.

76ers Coach On Who Would Win Vs. Kentucky

Nov 21

Suns guard Eric Bledsoe says Kentucky would wax the 76ers. 76ers coach Brett Brown is please his team gets to face Bledsoe on the court tonight.