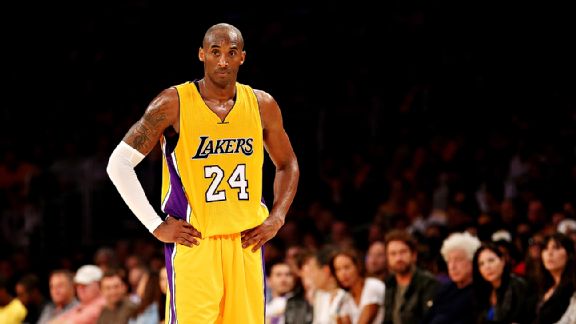 Griz hold off Lakers to extend run, go to 13-2

ESPN.com

7 hours ago

Marc Gasol had 19 points and 11 rebounds, Mike Conley added 19 points, and the Grizzlies held off the Lakers 99-93 on Wednesday night for their seventh victory in eight games.

Upvote Share Tweet

yahoo.com

9 hours ago

If you were watching closely during Wednesday's matchup between the Los Angeles Clippers and Detroit Pistons, you might have noticed that Clippers point guard Chris Paul had something written on his sneakers: ... but you might not have known why the All…

Upvote Share Tweet

dimemag.com

19 hours ago

When looking for a place to continue his NBA dream last summer, the answer seemed obvious to Omri Casspi: Why not go back to where it all began? Two years after he'd been traded by the Kings, Casspi maintained ties to the community, and he stayed tight …

Upvote Share Tweet

Sources: Lakers closing in on deal with Clark

ESPN.com

20 hours ago

The Los Angeles Lakers are working on finalizing a one-year, pro-rated veteran minimum deal with forward Earl Clark, league sources confirmed ESPNLosAngeles.com.

Upvote Share Tweet

Watch DeMarcus Cousins Run The Break & Outplay Anthony Davis In The Win

dimemag.com

21 hours ago

Last night's Pelicans Kings battle featured two of the best big men in the NBA today. DeMarcus Cousins and Anthony Davis are both coming into their own as the leaders of their respective teams. But it was Boogie who got the better of Brow last night on …

Upvote Share Tweet

dimemag.com

22 hours ago

Steve Kerr thinks it's too early for MVP talk, but if the season ended today, you'd be hard pressed to find a better MVP candidate than Stephen Curry. He dropped 40 on the Heat last night as the Warriors moved to 11-2, their best start in franchise hist…

Upvote Share Tweet

ESPN.com dimemag.com

Nov 25 (yesterday)

Stephen Curry scored 40 points, and the Golden State Warriors beat the Miami Heat 114-97 on Tuesday night for their sixth consecutive victory.

Upvote Share Tweet

Los Angles Lakers granted $4.85 million disabled player exception for Steve Nash

ESPN.com

Nov 25 (yesterday)

The Los Angeles Lakers have been granted a $4.85 million disabled player exception by the NBA for Steve Nash, who is out for the season with a back injury, league sources told ESPN.com.

Upvote Share Tweet

Sacramento Kings forward Rudy Gay and guard Darren Collison missed Tuesday night's game against the New Orleans Pelicans.

Upvote Share Tweet

dimemag.com

Nov 25 (yesterday)

Kyle Lowry is absolutely relentless. Need proof? Look no further than this amazing sequence from the Toronto Raptors' hard-fought win over the Phoenix Suns last night. After Eric Bledsoe easily steals his pass, Lowry races back to block the shot, steals…

Upvote Share Tweet

GIF: Kemba Walker Sends Chris Paul Flying With Dirty Crossover

dimemag.com

Nov 24 (2 days ago)

Kemba Walker's crossover has broken a fair amount of ankles in his basketball career. He'll still remember this one far more than most. Watch the Charlotte Hornets' waterbug send Chris Paul flying with a devastating right-to-left cross in his team's 113…

Upvote Share Tweet

Lakers guard Xavier Henry underwent an MRI exam Monday which revealed a ruptured left Achilles' tendon. Henry suffered the injury at Monday morning's practice. He is scheduled to have surgery Tuesday morning with Dr. Neal ElAttrache and Dr. Steve Lombar…

Upvote Share Tweet

GIF: Blake Griffin Explodes For Halfcourt Dunk From Dotted Line Versus Hornets

dimemag.com

Nov 24 (3 days ago)

Call it the Dime curse. Ever since we named Blake Griffin basketball's best power forward, play of the Los Angeles Clippers' superstar has been substandard – compared to expectations, at least. There was a time when explosive halfcourt dunks were common…

Upvote Share Tweet

Clippers' Barnes out; Hornets' Hairston still out

nba.com

Nov 24 (3 days ago)

Clippers coach Doc Rivers says forward Matt Barnes will not play against the Charlotte Hornets due to a calf injury.

Upvote Share Tweet

Kobe Bryant Is Not Even Pretending To Respect His Teammates Anymore

deadspin.com

Nov 24 (3 days ago)

This moment, from yesterday's game between the Lakers and Denver Nuggets, is just perfect representation of Kobe Bryant's current relationship with his teammates.Read more...

Upvote Share Tweet

Williams, Cousins named Players of the Week

nba.com

Nov 24 (3 days ago)

The Toronto Raptors' Lou Williams and the Sacramento Kings' DeMarcus Cousins today were named NBA Eastern and Western Conference Players of the Week, respectively, for games played Monday, Nov. 17, through Sunday, Nov. 23.

Upvote Share Tweet

yahoo.com dimemag.com

Nov 24 (3 days ago)

The Golden State Warriors continued to roll on Sunday, posting a 91-86 win over the Oklahoma City Thunder to improve to 10-2 on the season. In one sense, the win went according to a familiar script for this Warriors team, as Steve Kerr's bunch relied on…

Upvote Share Tweet

Are The Lakers Relying On Kobe Bryant Too Much? "Not Really," Byron Scott Says

dimemag.com

Nov 24 (3 days ago)

Kobe Bryant is the league's leading scorer at 26.7 points per game. He averages 6.1 more shots and uses a 4.5 greater percentage of possessions than any player in basketball. Bryant is also shooting a putrid 38.1 percent from the field, his team plays m…

Upvote Share Tweet

yahoo.com dimemag.com

Nov 24 (3 days ago)

Danilo Gallinari might not have been the most explosive leaper the NBA's ever seen, but during his first few years in the league, he could get up a little bit. "I used to go to the paint and have a couple of dunks," the Denver Nuggets forward recently t…

Upvote Share Tweet

Rockets Fly By Kings

Nov 26

James Harden and Isaiah Canaan combined to score 50 points in the Rockets' 102-89 win over the Kings.

Curry Leads Warriors Past Magic

Nov 26

Stephen Curry scored a game-high 28 points in the Warriors' 111-96 win over the Magic.

A #HateHard Thanksgiving

Nov 26

Amin delivers a very special #HateHard edition of thanks.

Cousins, Kings Win Third Straight

Nov 25

Sacramento coach Michael Malone was ejected in the second quarter, and DeMarcus Cousins had 22 points and 12 rebounds of the Kings' 99-89 win over the Pelicans.