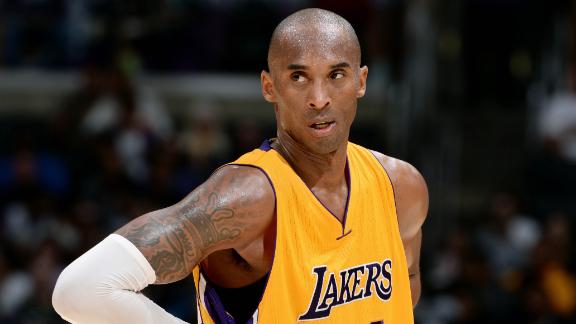 Los Angeles Clippers coach Doc Rivers says he trusts player Blake Griffin, and a police investigation of a man's complaint that Griffin attacked him during an argument over a photo at a Las Vegas Strip nightclub shouldn't distract the team.

Upvote Share Tweet

This Matt Barnes inbounds pass didn't go so well (GIF)

yahoo.com

6 hours ago

Los Angeles Clippers wing Matt Barnes has had a really, really bad preseason. As noted by Ben Bolch of the Los Angeles Times, Barnes is just 3-of-31 (9.7 percent) from the field and 1-of-18 (5.6 percent) from beyond the arc through five preseason appear…

Upvote Share Tweet

dimemag.com

9 hours ago

Houston Rockets All-NBA First Team honoree James Harden believes that he's "the best all-around basketball player in the NBA." Meanwhile, the agent of Golden State Warriors sharpshooter Klay Thompson recently opined that his client is "the best two-way …

Upvote Share Tweet

BDL's 2014-15 NBA Season Previews: Los Angeles Clippers

yahoo.com

11 hours ago

So, now it's on the players. Currently, Clipper fans don't have to hate themselves, as they probably did at times, for paying to see a team owned by Donald Sterling. NBA fans, as we often did, don't have to hate ourselves anymore while enjoying those la…

Upvote Share Tweet

GIF: Kobe Bryant Hits Pair Of Clutch Fadeaways In Final Minute Versus Suns

dimemag.com

13 hours ago

The Los Angeles Lakers fell to the Phoenix Suns in overtime last night, but wouldn't have even been there without typically heroic late-game efforts of Kobe Bryant. Leading and completing his team's fourth quarter charge, the Black Mamba hit a pair of i…

Upvote Share Tweet

dimemag.com deadspin.com

14 hours ago

Former Knicks center and Hall-of-Famer Willis Reed was in just his third NBA season when he was named captain of the 1966-67 Knicks. That season is not as famous as the championship-winning Knicks campaign of 1970, or Reed's oft-extolled stroll through …

Upvote Share Tweet

Watch DeAndre Jordan Sky To Finish Halfcourt Lob Versus Warriors

dimemag.com

15 hours ago

DeAndre Jordan can jump. We all know that. But what's equally impressive though often overlooked about the Los Angeles Clippers high-flyer is his incredible speed and dexterity for a player his size. Jordan moves and contorts like a 6-7, 210 pound small…

Upvote Share Tweet

dimemag.com

16 hours ago

It may have been providence last night for the Suns and free agent acqusition Isaiah Thomas. The 5-9 point guard was in the perfect spot to knock down a 20-foot jumper and send the Lakers-Suns preseason game into overtime right in front of undefeated bo…

Upvote Share Tweet

ESPN.com

21 hours ago

Kobe Bryant, speaking to media after an ESPN The Magazine piece suggested he played a significant role in the Lakers' recent slide, said it wasn't the first critical article focused on him and wouldn't be the last.

Upvote Share Tweet

ESPN.com

Oct 21 (yesterday)

Lakers point guard Jeremy Lin returned in a 114-108 preseason loss to the Phoenix Suns on Tuesday after missing more than a week with a sprained left ankle.

Upvote Share Tweet

Paul George, Flea, Phil Jackson Defend Kobe Bryant Amid Media Scrutiny

dimemag.com

Oct 21 (yesterday)

It hasn't been a great past few days for Kobe Bryant. After getting absolutely fooled by a sick crossover from Alec Burks, the Los Angeles Lakers legend awakened to media scrutiny unlike most any he's faced throughout his 18 years in the NBA on Monday m…

Upvote Share Tweet

Kings counting on continuity to make strides this season

A plot of land in the downtown area is being cleared for a new arena, a sign of how far the Sacramento Kings have come since a pending sale threatened to relocate the franchise to Seattle only 17 months ago.

Upvote Share Tweet

The Golden State Warriors cannot be criticized for lacking ambition. Mark Jackson led the franchise to the playoffs in two consecutive seasons (out of his three total), a feat that made him their most successful head coach since the first Don Nelson era…

Upvote Share Tweet

Kobe hoping to create new identity for storied franchise

Byron Scott realizes he got his dream coaching job at a time when the Los Angeles Lakers are much closer to their absolute worst than their hallowed best.

Upvote Share Tweet

With pieces in place, Clippers look for first championship

Believing the Los Angeles Clippers were just a few pieces away from contending for the franchise's first NBA championship, coach Doc Rivers went out and upgraded the roster.

Upvote Share Tweet

Gravity 101

Oct 22

Tom Haberstroh and Kevin Pelton introduce the concept of gravity and identify some of the NBA's top floor-spacers.

Phil Jackson Supports Kobe On Twitter

Oct 22

Stephen A. Smith and Skip Bayless discuss Phil Jackson's tweet of support to Lakers guard Kobe Bryant following Henry Abbott's ESPN The Magazine article about how Bryant is the reason for the Lakers' demise.

Rookie Randle Lifts Lakers Past Blazers

Oct 22

Julius Randle scored a team-high 17 points in the Lakers' 94-86 win over the Blazers.

Is Kobe Bryant Destroying The Lakers?

Oct 21

Henry Abbott discusses how Lakers guard Kobe Bryant is destroying the franchise from within.