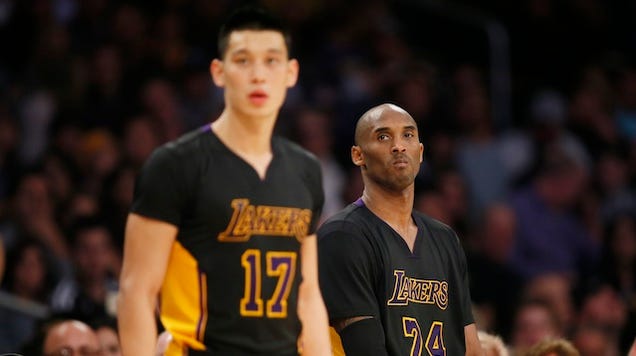 Jeremy Lin Wishes Kobe Would Let Him Shoot A Game-Winner
deadspin.com
Updated 5 hours ago
On Friday, the Los Angeles Hindenburgs Lakers actually hung tight with a Kevin Durant-less Oklahoma City Thunder squad. Down 104-103 in the waning seconds, the Lakers were cued up for a Kobe Bryant game-winning shot attempt. Despite getting a solid look…
Upvote
Share
Tweet
Lakers' Young: OKC's Adams 'sneaky, dirty'

ESPN.com

11 hours ago

Lakers guard Nick Young called Steven Adams a "sneaky, dirty player" after an on-court scuffle with the Oklahoma City center led to Young's ejection during the Thunder's 104-103 win Friday night.

Upvote Share Tweet

Thunder squeak past ice-cold Kobe, Lakers

ESPN.com

12 hours ago

Russell Westbrook scored 31 points and hit a key jumper with 38 seconds left, and the Oklahoma City Thunder overcame the absence of NBA MVP Kevin Durant for a 104-103 victory over the Los Angeles Lakers on Friday night.

Upvote Share Tweet

nba.com dimemag.com ESPN.com yahoo.com

14 hours ago

Kevin Durant sat out of the Oklahoma City Thunder's game against the Lakers on Friday night to rest his sprained right ankle.

Upvote Share Tweet

Eastern Conference Basketball Can Eat My Butt

deadspin.com

21 hours ago

The first half of last night's game between the Oklahoma City Thunder and Golden State Warriors was the most entertaining stretch of basketball I've watched all season. It began with Kevin Durant raining fire on everyone's head, going 10-of-13 from the …

Upvote Share Tweet

dimemag.com

Dec 19 (yesterday)

The Pelicans beat the Rockets in Houston last night, 99-90, pushing New Orleans over .500 to 13-12 and the No. 8 seed in the Western Conference. Anthony Davis was back in full form after a chest contusion kept him out of the last three quarters in the C…

Upvote Share Tweet

dimemag.com ESPN.com nba.com

Dec 19 (yesterday)

Boogie was back last night against the visiting Bucks, but without his homie, Mike Malone, on the sideline. Regardless, DeMarcus Cousins was back to his old self after battling meningitis for a few weeks, and he put up 27 and 11 last night against the B…

Upvote Share Tweet

Curry rallies Warriors to win over Thunder

ESPN.com

Dec 19 (yesterday)

Stephen Curry had 34 points and nine assists, and the Golden State Warriors rallied from an early 17-point deficit to beat Oklahoma City 114-109 on Thursday night after Thunder star Kevin Durant left with a sprained right ankle.

Upvote Share Tweet

Watch Steph Curry Drill 3-Pointer After Getting Hand-Off From Andre Iguodala

Do you like football? Us neither – compared to hoops, at least. But it's still fun to see aspects of our two most popular games cross over. Watch Steph Curry drill an insanely difficult three-pointer after getting a hand-off from Andre Iguodala. Holy he…

Upvote Share Tweet

GIF: Serge Ibaka Gets Beautiful Block Of Harrison Barnes' Dunk

The Oklahoma City Thunder and Golden State Warriors combined for 72 points in the first quarter of tonight's headlining matchup. Kevin Durant was red hot from beyond the arc, Stephen Curry was splashing and dishing, and Russell Westbrook was attacking w…

Upvote Share Tweet

dimemag.com nba.com ESPN.com

Dec 18 (yesterday)

This isn't doomsday for the Golden State Warriors, but it's hardly encouraging, either. After Andrew Bogut said earlier this week that he should "probably" be worried about his suspiciously balky right knee, the Aussie center underwent platelet-rich pla…

Upvote Share Tweet

Lakers' Julius Randle Off Crutches, Performing Leg Presses At Practice

Let's hope his fellow rookies enjoy similarly swift timelines of recovery. After suffering a broken leg in the season-opener on October 29, Los Angeles Lakers rookie Julius Randle is already walking without crutches and performing load-bearing exercises…

Upvote Share Tweet

Swaggy P Ejected From Game

Dec 19

Lakers forward Nick Young got into a scuffle with Thunder center Steven Adams and was ejected for a flagrant foul.

Mamba Out (Of Control)

Dec 18

Tom Haberstroh takes you inside the numbers to show how Kobe Bryant's love affair with the contested midrange jumper has burned the Lakers.

Warriors' Bogut Receives Plasma Therapy For Knee

Dec 18

Ethan Sherwood Strauss discusses how the Golden State Warriors' defense will be affected by the absence of center Andrew Bogut, who is recovering from a knee injury.

Cousins Returns In Kings' Loss

Dec 18

After missing the past nine games, DeMarcus Cousins scored 27 points but couldn't capitalize at the buzzer and the Kings fell to the Bucks 108-107.