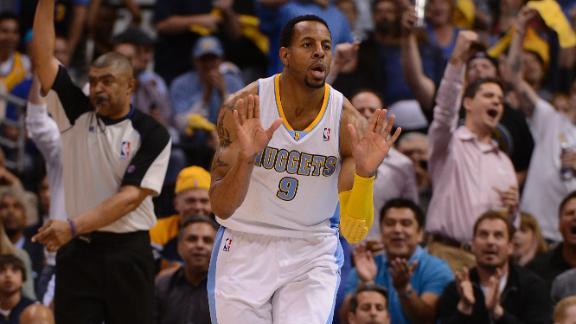 ESPN.com
dimemag.com
CNNSI.com
Updated Apr 30, 2013
Kenneth Faried brought the energy and the Denver Nuggets rediscovered their toughness in time to stave off elimination Tuesday night with a 107-100 win over the Golden State Warriors.
Share
Tweet
The Denver Nuggets staved off elimination on Tuesday night, beating the Golden State Warriors 107-100 to extend their best-of-seven first-round series to a sixth game. It was a frustrating night for Warriors sharpshooter Stephen Curry, who came into Gam…

Share Tweet

Old School: Though not residents of Lob City, the Grizzlies t…

CNNSI.com

Apr 30, 2013

Though not residents of Lob City, the Grizzlies took down the Clippers in Game 5, 103-93, with a low-post attack that will send them back to Memphis with a 3-2 series lead.

Share Tweet

Even after every disappointment in the Los Angeles Lakers' lost season, Kobe Bryant still wants to keep their roster together.

Share Tweet

A look around the league and the Web that covers it. It's also important to note that the rotation order and starting nods aren't always listed in order of importance. That's for you, dear reader, to figure out. C: SB Nation and NBA.com. In light of the…

Share Tweet

Pau Gasol is working on an inspirational photography book

It was a tough season for Los Angeles Lakers big man Pau Gasol, one filled with injuries, a marginalized role, and consistent trade rumors. Under these circumstances, the Lakers' exit from the playoffs might come as something of a relief for him, apart …

Share Tweet

ESPN.com

Apr 30, 2013

Los Angeles Lakers forward Antawn Jamison underwent successful surgery on his right wrist Tuesday morning.

Share Tweet

The Los Angeles Lakers? Gone till November

With every season that ends, for the playoff teams at least, we felt it right to take a look ahead. TNT already has the rights to "Gone Fishin'," and because we're sure that someone, somewhere, still likes that Wyclef song, we're going with &q…

Share Tweet

ESPN.com

Apr 29, 2013

The Toronto Raptors, emboldened by the news that the Sacramento Kings apparently won't be moving to Seattle, have ramped up their pursuit of Phil Jackson to be their new team president, according to sources close to the situation.

Share Tweet

Twitter Star, Part 2

Apr 30

Phoenix guard Kendall Marshall might have the NBA's best Twitter game. In the second of two episodes we get the back story behind @KButter5 tweets like "So apparently yelling 'GET A BUCKET' is frowned upon at an 8th grade girls lacrosse game. My bad.

What Moves Can Lakers Make To Stay Competitive?

Apr 30

The Forum: Mark Willard and Arash Markazi discuss the moves the Lakers can make in light of their recent financial issues and stay competitive next season.

Grizzlies Win On The Road

Apr 30

Highlight Of The Night: Zach Randolph, Marc Gasol and Mike Conley combined to score 66 points as the Grizzlies held Blake Griffin to four points in a 103-93 Game 5 victory.

Nuggets Hold Off Warriors' Rally To Extend Series

Apr 30

Stephen Curry was held to just 15 points as the Nuggets toppled the Warriors 107-100 to extend the series to Game 6.