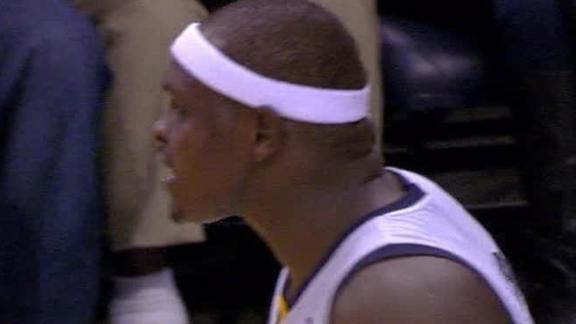 ESPN.com
Updated Dec 4, 2012
Zach Randolph had 38 points and 22 rebounds, setting season highs in both categories, to carry the Memphis Grizzlies down the stretch and in overtime for a 108-98 victory over the Phoenix Suns on Tuesday night.
Share
Tweet
Amid rising pressure and growing trade speculation smothering the ailing Pau Gasol, Los Angeles Lakers star Kobe Bryant offered his strongest public support to date to back the Spaniard with whom he has won two NBA championships.

Share Tweet

Kaman: Sterling's spending the key for Clippers

ESPN.com

Dec 4, 2012

Dallas Mavericks center Chris Kaman, who spent the first eight years of his NBA career with the Los Angeles Clippers, believes his former team can go from "the worst possible franchise in the NBA and all of sports history" to one of the best.

Share Tweet

Create-a-Caption: Ronny Turiaf is disconsolate

yahoo.com

Dec 4, 2012

I'm sorry, Ronny Turiaf. But with rookie sensation Robert Sacre being recalled from the D-League by the Los Angeles Lakers, you're no longer the unquestioned best Gonzaga-bred dance celebrator on an L.A.-based NBA franchise. I know it's difficult for yo…

Share Tweet

dimemag.com

Dec 4, 2012

It's not that Blake Griffin is having a bad season. It's just that he hasn't been THAT Blake Griffin, the guy who breaks souls, backboards, YouTube view counts and the player who single-handedly helped make SportsCenter worthwhile for the past two s

Share Tweet

Kobe's 39 Points Not Enough As Rockets Top Lakers

Dec 4

Rockets sneak past Lakers, 107-105.

Techin' In

Dec 4

ESPN tech expert Katie Linendoll talks BCS, holiday gifts and RG3's fancy sleep technology.

TrueHoop TV: Specialists

Dec 4

Amin Elhassan on some of the best specialists in the NBA today, including Tony Allen and Omer Asik.

TrueHoop TV: With Jeff Teague

Dec 4

Kevin Arnovitz chats with Atlanta Hawks point guard Jeff Teague about the Hawks' surprising start, Teague's increased production and Teague's sneaker obsession.