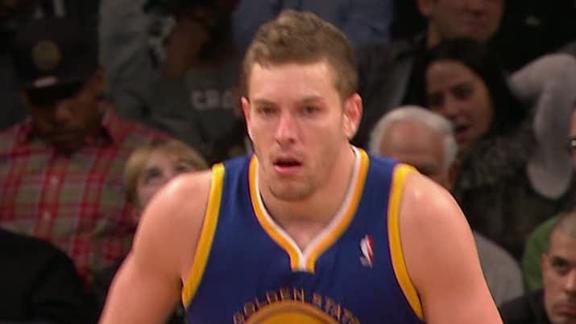 ESPN.com
Updated Dec 7, 2012
David Lee had 30 points and 15 rebounds, Stephen Curry scored 28 points, and the Golden State Warriors gave coach Mark Jackson a winning return to Brooklyn by beating the Nets 109-102 on Friday night.
Share
Tweet
ESPN.com nba.com dimemag.com CNNSI.com

Dec 7, 2012

Minnesota Timberwolves president David Kahn is pouring cold water on the seemingly endless speculation surrounding the team's interest in Los Angeles Lakers big man Pau Gasol.

Share Tweet

Howard shuns FT pointers; Kobe sees root

ESPN.com

Dec 7, 2012

Though Dwight Howard is shooting 46.9 percent from the foul line this season, the Lakers center said he's had enough of people giving him advice.

Share Tweet

In a week, the Phoenix Suns have gone from a "sure, they're going to entertain; give 'em a chance"-styled upstart to a disappointing batch of coconuts that has lost five straight in a run that seems more in line with the pessimistic win totals…

Share Tweet

deadspin.com

Dec 7, 2012

Yesterday was an off day in Oklahoma City for the Lakers, so to bring the scuffling 9-10 team together, they had a boys' night out at the theater. On the program: Steven Spielberg's Lincoln. The ancipation led Pau Gasol to offer perhaps the best and mos…

Share Tweet

Should Phoenix Suns fans request a refund after being guaranteed satisfaction?

Last Friday, Kelly Dwyer hipped you to the Phoenix Suns' plans to issue their fans refunds if they did not have a satisfactory amount of fun at one of their games. It was a bold move, and also a smart one - the Suns received lots of press via the intern

Share Tweet

You might recall a Miami Heat win over the Los Angeles Lakers from back in March of 2011, one that saw Kobe Bryant decide to take to an impromptu postgame shooting session in full view of reporters after a poor performance in that game's fourth quarter.…

Share Tweet

ESPN.com

Dec 7, 2012

O.J. Mayo scored 23 points, including the go-ahead jumper with 35 seconds to go, and the Dallas Mavericks held on to beat Phoenix 97-94 on Thursday night, the Suns' fifth loss in a row.

Share Tweet

Warriors Hand Nets Their Third Straight Loss

Dec 7

David Lee and Stephen Curry combine for 58 points in Warriors' 109-102 win over Nets.

Lakers-Thunder Preview

Dec 7

Stephen A. Smith breaks down the top storylines for Friday night's matchup between the Lakers and Thunder.

Highlight Of The Night

Dec 7

Kevin Durant scores 36 as Thunder hold off Lakers, 114-108.

Westbrook Lift Off

Dec 7

Russell Westbrook soars past Dwight Howard for the slam.