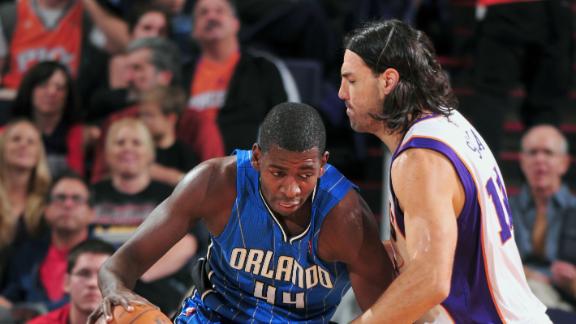 ESPN.com
Updated Dec 9, 2012
Rookie Andrew Nicholson scored nine of his career-high 19 points in the fourth quarter and the Orlando Magic pulled away to hand the Phoenix Suns their seventh loss in a row, 98-90 on Sunday night.
Share
Tweet
Clippers' bench puts Raptors away in fourth

ESPN.com

Dec 9, 2012

Jamal Crawford led a fourth-quarter rally by the reserves with 16 points and the Los Angeles Clippers defeated Toronto 102-83 on Sunday to win their sixth in a row while handing the Raptors their 10th consecutive road loss.

Share Tweet

D'Antoni: Gasol will start for Lakers upon return

ESPN.com

Dec 9, 2012

Los Angeles Lakers forward Pau Gasol missed his fourth straight game because of knee tendinitis Sunday against the Utah Jazz, but whenever he is able to return he won't be coming off the bench.

Share Tweet

CNNSI.com

Dec 9, 2012

CHARLOTTE, N.C. (AP) -- Bobcats president of basketball operations Rod Higgins says the team has waived son Cory Higgins and signed forward Jeff Adrien.

Share Tweet

Blake Griffin Destroys Phoenix; O.J. Mayo Wins A Scoring Showdown With James Harden

dimemag.com

Dec 9, 2012

With talent comes the luxury of not always needing to play hard. For the Clippers, this is a gift and a curse. The only thing they've really been consistent with this year is being inconsistent, and despite a recent four-game winning streak, their recor

Share Tweet

Nicholson Leads Magic Past Suns

Dec 9

Rookie Andrew Nicholson scores 19 points in Magic's 98-90 win over Suns.

Clippers Win 6th Straight

Dec 9

Blake Griffin scored 19 points and recorded nine rebounds to lead the Clippers past the Raptors 102-83.

Mamba's Milestone

Dec 9

Love him or hate him, Kobe Bryant is clearly the greatest Laker of all-time says Israel Gutierrez.

Highlight Of The Night

Dec 9

Lakers suffer fourth loss in five games, falling to the Jazz, 117-110.