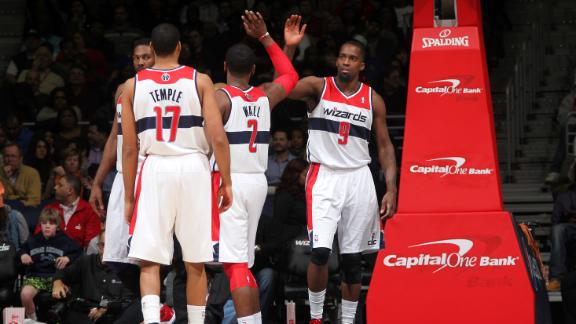 Updated Feb 4

Share Tweet

Scottsdale police say Phoenix Suns forward Michael Beasley was cited last month on suspicion of speeding, driving on a suspended Arizona license and driving without a vehicle license plate or registration.

Updated Feb 4

Share Tweet

Blake Griffin's streak of 197 consecutive games has come to an end.

The Warriors are a jump-shooting team, and that's fine

Updated Feb 4

Share Tweet

Most every Thursday on TNT's "Inside the NBA," America's sweetheart Charles Barkley criticizes teams that take too many jump shots. By his reasoning, NBA games are won in the paint, not on the perimeter, because that's a more dependable way to…

Bulls' Robinson, Warriors' Lee are Players of Week

Updated Feb 4

Share Tweet

The Chicago Bulls' Nate Robinson and the Golden State Warriors' David Lee on Monday were named Eastern and Western Conference Players of the Week, respectively, for games played Monday, Jan. 28 through Sunday, Feb. 3.

Source:

nba.com

Best N.B.A. Games of the Week

Updated Feb 4

Share Tweet

The best N.B.A. games of the week feature the Lakers at Brooklyn, Golden State at Oklahoma City and Chicago at Denver.

Source:

nytimes.com

Trade season round-up, featuring Kevin Garnett, Dwight Howard, Rip Hamilton, and Danny Granger

Updated Feb 4

Share Tweet

On Sunday the Sporting News reported that the Boston Celtics had engaged in some discussions with the Los Angeles Clippers about possibly moving legendary big man Kevin Garnett to the Clips. On some levels, the rumored discussions checked off on all the…

Updated Feb 4

Share Tweet

The Pistons nearly came back from the dead to beat the Lakers in yesterday's matinee. But while they didn't get the win, Brandon Knight got the highlight, jamming all over Pau Gasol on a fast-break finish. Are the Lakers better with Gasol in the start

Paul Pierce hits game-winning step-back 3-pointer to push Celtics past Clippers (VIDEO)

Updated Feb 4

Share Tweet

The Los Angeles Clippers had roared back from a 19-point halftime deficit against the Boston Celtics on Sunday, riding a monster second half from the backcourt duo of Eric Bledsoe and Jamal Crawford (37 total points on 14 for 23 shooting, nine assists a…

NBA Trade Rumors: Kevin Garnett to Clippers Being Discussed

Updated Feb 4

Share Tweet

If you believe The Sporting News, the Los Angeles Clippers' recent struggles (losers of six out of their last eight games) have done nothing to dampen their belief that they can win an NBA championship this year. The outlet reported last night that mult

Updated Feb 4

Share Tweet

With just under two minutes remaining in the first half of Sunday's early tip between the Los Angeles Lakers and Detroit Pistons - to which we're sure you were all glued because there wasn't much else going on yesterday, sports-wise - Lakers big man P

A Charge And A Three Save Boston; Pau Gasol Denies The Lakers Another Bad Road Loss

Updated Feb 4

Share Tweet

Someone forgot to tell Boston they don't have Rajon Rondo or Jared Sullinger for the rest of this season. The Celtics ran off their fourth straight win after losing their All-Star starter point guard a week ago by devouring the short-handed Clippers, th

Wizards Top Shorthanded Clippers

Feb 4

Martell Webster scored 21 points to guide the Wizards past the Clippers, 98-90.

Dwight Howard Convo: Part 2

Feb 4

Dwight Howard sits down with Stephen A. Smith to talk about leaving Orlando, playing under Mike D'Antoni and being committed to winning a championship with the Lakers.

Dwight Howard Convo: Part 1

Feb 4

Dwight Howard sits down with Stephen A. Smith to talk about how badly he wants to succeed in Los Angeles, how his body is holding up and his production this season.

Knight Says Metta Punched Him

Feb 4

Flip Saunders discusses the confrontation between Metta World Peace and Brandon Knight.