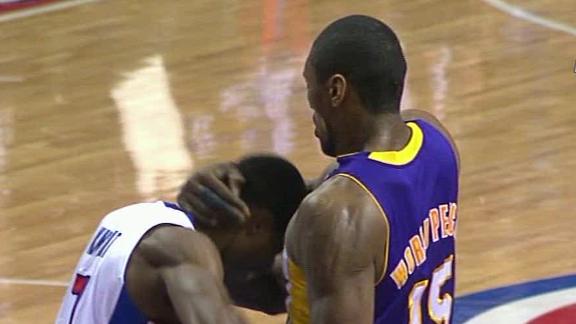 dimemag.com
ESPN.com
Updated Feb 5, 2013
As much as we want to give credit to Kobe Bryant for icing the Lakers win in Brooklyn last night, L.A. should throw the Nets a bone. Brooklyn did everything they could outside of express mailing the W to Hollywood. Down the stretch, the Nets endured a c…
Share
Tweet
ESPN.com yahoo.com dimemag.com

Feb 5, 2013

Los Angeles Lakers forward Pau Gasol left Tuesday's win over the Brooklyn Nets after straining the plantar fascia in his right foot late in the fourth quarter.

Share Tweet

ESPN.com

Feb 5, 2013

Goran Dragic scored 15 of his 17 points in the fourth quarter to lead the Phoenix Suns past the Memphis Grizzlies 96-90 on Tuesday night.

Share Tweet

Jeremy Lin's No-Look Pass

Jeremy Lin hits Chandler Parsons with a perfect no-look pass.The post Jeremy Lin's No-Look Pass appeared first on Dime Magazine (dimemag.com) : Daily NBA News, NBA Trades, NBA Rumors, Basketball Videos, Sneakers.

Share Tweet

Kobe Bryant Posterizes Two Defenders

Age is just a number and it doesn't stop Kobe Bryant from attacking the rim with a monster slam over both Gerald Wallace and Kris Humphries. Bryant led the Lakers to a 92-83 victory in Brooklyn without Dwight Howard and Metta World Peace.The post Kobe B

Share Tweet

Forward Metta World Peace has been suspended for one game because he hit Detroit's Brandon Knight in the face, and the Los Angeles Lakers also will be without Dwight Howard again when they face the Brooklyn Nets on Tuesday.

Share Tweet

CNNSI.com

Feb 5, 2013

Much of the focus this trade season has been given to the players possibly on the block (Pau Gasol, Paul Pierce, Josh Smith). But which teams are positioned to be buyers at the deadline? Could the Clippers deal some depth to strengthen their title hopes…

Share Tweet

DeMarcus Cousins ejected after calling ref 'effing female' in Kings loss to Jazz (VIDEO)

yahoo.com

Feb 5, 2013

With 2:23 left in the first half of Monday's matchup with the Utah Jazz, Sacramento Kings center DeMarcus Cousins received a technical foul for what looked like carping to the referees after missing a shot at the rim on which he thought he was fouled by…

Share Tweet

yahoo.com

Feb 5, 2013

On Jan. 24, the Phoenix Suns came through with an expertly timed nationally televised win over the Los Angeles Clippers. The team played sound all-around basketball and moved to 2-0 under interim head coach Lindsey Hunter. Even though the team roared ou…

Share Tweet

LeBron James Sets A Personal Record; Indiana Beats Chicago In Possible Playoff Preview

"How about LeBron James? Twenty-seven points, eight rebounds, eight assists. Another average game for LeBron James." That was an actual statement made on Miami's broadcast. James would go on to finish with 31 points in the Heat's five-point win ov

Share Tweet

Kobe, Short-Handed Lakers Top Nets

Feb 5

Kobe Bryant had 21 points and Earl Clark had a double-double in place of Dwight Howard as the Lakers beat the Nets.

Kobe Posterizes The Nets

Feb 5

Dunk Of The Night: Kobe Bryant drives through the lane and dunks in the face of Gerald Wallace and Kris Humphries.

Lakers Short-Handed In Brooklyn

Feb 5

ESPNLA.com's Dave McMenamin discusses Metta World Peace's one-game suspension and the latest on Dwight Howard's shoulder injury.

Point Guard Woes

Feb 5

Tim Legler discusses how Derrick Rose's recovery from a torn ACL could affect Rajon Rondo and addresses the level of concern about Chris Paul's knee injury.