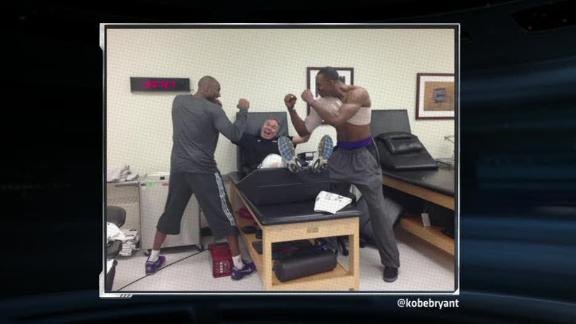 Los Angeles Lakers guard Kobe Bryant might be a neophyte in the world of Twitter, but it hasn't taken him long to figure out how to use it to control the narrative that's surrounding him.
Share
Tweet
CNNSI.com yahoo.com nba.com ESPN.com dimemag.com

Jan 7, 2013

Following rumors of locker room turmoil, the Lakers announced that both Dwight Howard and Pau Gasol are out indefinitely, putting Los Angeles in a tough spot, says Ben Golliver.

Share Tweet

David Lee and the Warriors' Resurgence

nytimes.com

Jan 7, 2013

David Lee, the former Knick, is averaging 19.9 points, 10.9 rebounds and 3.7 assists a game for the Golden State Warriors.

Share Tweet

Why Lakers Fans Must Calm Down

dimemag.com

Jan 7, 2013

We're only a week into 2013 and already Lakers fans are bugging out. The team has lost all of its games in the new year, including last night's disappointment to the Denver Nuggets at home, which dropped them to 10-8 at the Staples Center (not countin

Share Tweet

Create-a-Caption: 'And now, we do the Dance of Joy'

yahoo.com

Jan 7, 2013

OK, maybe they're not perfect strangers, but Denver Nuggets forwards Andre Iguodala and Danilo Gallinari sure seemed pretty psyched after they each did their part - Iggy with some behind-the-back wizardry, Gallo with a game-sealing triple - to vanquis

Share Tweet

yahoo.com deadspin.com

Jan 7, 2013

It's been a difficult, acrimonious season for just about everybody associated with the Los Angeles Lakers, but perhaps nobody's borne the brunt of a disappointing 15-18 start to the season more than Pau Gasol. After spending his summer with the Spanish …

Share Tweet

JaVale McGee Goes Up And Over Two Of His Own Teammates For A Putback Dunk

deadspin.com

Jan 7, 2013

See, this is why we love JaVale McGee: he'll forego the smart play for the spectacular play. Late in the first half of yesterday's win over the Lakers, a missed Kosta Koufos layup bounced right in the middle of three Nuggets. Rather than yell "same…

Share Tweet

Danilo Gallinari's Dagger Drives The Lakers Lower; Dirk Questions Dallas' Future

dimemag.com

Jan 7, 2013

The wheels were already coming off in Los Angeles for the Lakers, but now it seems like an axle just gave way. A 112-105 home loss to Denver drops L.A. to 15-18, which is three games worse (as ESPN's J.A. Adande perfectly pointed out) than the '04-'

Share Tweet

Daily Dime: Lakers-Nuggets

The Lakers' latest loss reveals a team not headed for a quick turnaround, J.A. Adande writes.

Share Tweet

Randolph scored 21 points and Rudy Gay added 20 to lead the Memphis Grizzlies to a 92-81 victory over the Phoenix Suns.

Share Tweet

Ty Lawson had 21 points and 10 assists, Danilo Gallinari scored 20 points and hit a big 3-pointer with 13.8 seconds left, and the Denver Nuggets beat the struggling Los Angeles Lakers 112-105 Sunday night for their fifth win in seven games.

Share Tweet

Analyzing the Lakers' Injury Apocalypse

grantland.com

Jan 7, 2013

The word indefinite has become the go-to recovery-time descriptor for NBA teams understandably wary of providing a specific timeline, and it is a ve...

Share Tweet

Jalen Rose on the Lakers' Downfall

grantland.com

Jan 7, 2013

Jalen Rose on how Kobe Bryant is right to question the current Lakers roster and why the team is too old and slow to compete in the Western Conference...

Share Tweet

Daily Download

Jan 7

Cary Chow runs down the latest Los Angeles sports news, including Dwight Howard's injury and the Kings' salary cap situation.

Heated Exchange Between Kobe And Howard?

Jan 7

ESPNLA.com's Ramona Shelburne discusses the NY Daily News' report that Kobe Bryant and Dwight Howard had a heated exchange following the Lakers' loss to 76ers.