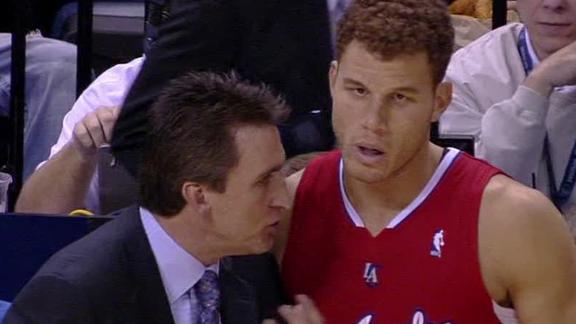 Reserves Jamal Crawford and Matt Barnes each scored 16 points, and the Los Angeles Clippers easily routed the Memphis Grizzlies 99-73 Monday night with Chris Paul missing his first game this season because of a bruised right kneecap.
Share
Tweet
The Lakers have turned to none other than Kobe Bryant to spearhead that defensive turnaround.

Share Tweet

Lakers' Gasol to miss fifth game with concussion

CNNSI.com

Jan 14, 2013

Pau Gasol is expected to miss his fifth straight game for the Los Angeles Lakers on Tuesday night while he recovers from a concussion.

Share Tweet

Cleveland Cavaliers may target LeBron James in 2014 free agency, according to report

yahoo.com

Jan 14, 2013

After a Sunday night loss to the Los Angeles Lakers, the Cleveland Cavaliers sit at 9-30, owners of the second-worst record in the NBA and, outside of the transcendent Kyrie Irving, possessed of relatively little that's likely to stoke fans' interest. I…

Share Tweet

Dirk Nowitzki Tries To Crash A Video Review, Gets Stonewalled By Awesome Security Guard

deadspin.com

Jan 14, 2013

I was not previously aware of the fact that there are NBA security guards whose job it is to prevent players from getting too close to the referees during video reviews. But as the video above shows, such security guards do indeed exist, and one of them…

Share Tweet

Forward Lee hopes to end Warriors' All-Star drought

nba.com

Jan 14, 2013

When he worked as a broadcaster, Mark Jackson was adamant that David Lee didn't deserve to be an All-Star with the New York Knicks in 2010. No matter how eye-popping Lee's statistics looked, Jackson said, the power forward played on a bad Knicks team.

Share Tweet

deadspin.com

Jan 14, 2013

The Lakers snapped a six-game losing streak with a 20-point win over the last-place Cavaliers, thanks in large part to the return of Dwight Howard from a shoulder injury. But the real star of the show was Metta World Peace, who, with reporters gathered …

Share Tweet

Best N.B.A. Games of the Week

nytimes.com

Jan 14, 2013

Best N.B.A. games this week pit the Lakers and Bucks, the Rockets and Pacers and the Warriors vs. the Spurs.

Share Tweet

McMenamin: Still plenty of questions for Lakers

ESPN.com

Jan 14, 2013

Despite return of Howard and a victory over lowly Cavs, L.A. remains unsettled

Share Tweet

dimemag.com

Jan 14, 2013

On Sunday, the Knicks were looking to Chris Copeland (22 points) to guide them early harder than someone lost looks for the North Star. The "other" guy in the Knicks' recent starting five hit his first three threes in rapid fire to keep his team afl

Share Tweet

ESPN.com

Jan 14, 2013

Dwight Howard had 22 points and 14 rebounds in his return from a three-game injury absence, and the Los Angeles Lakers snapped their six-game losing streak with a 113-93 victory over the Cleveland Cavaliers on Sunday night.

Share Tweet

CNNSI.com

Jan 14, 2013

Nuggets rally past Warriors for fifth straight win

Share Tweet

Q&A: Phoenix Coach Alvin Gentry on the Suns' Struggles and Michael Beasley

grantland.com

Jan 14, 2013

Moving on from Steve Nash has proved difficult so far for Phoenix. The Suns are 12-26, just a game up on New Orleans in the race for worst record in...

Share Tweet

Importance Of Lakers Beating Heat

Jan 14

Antonio Davis discusses the Lakers' Thursday game against the Heat.

Durant Dunks On Gortat

Jan 14

Kevin Durant dunks on Marcin Gortat.

Durant Drops 41 Points On Suns

Jan 14

Kevin Durant and Russell Westbrook combine for 77 points in Thunder's win.