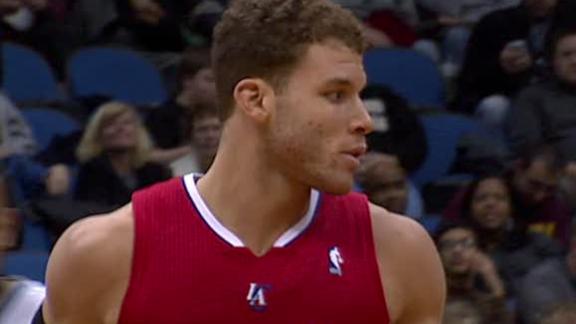 ESPN.com
Updated Jan 17, 2013
Jamal Crawford scored 22 points, Blake Griffin added 20 and the Los Angeles Clippers hardly broke a sweat in cruising to a 90-77 victory over the free-falling Minnesota Timberwolves on Thursday night.
Share
Tweet
Bucks drop Suns for first win in Phoenix since '87

Share Tweet

Warriors' Curry out indefinitely with ankle sprain

Share Tweet

yahoo.com deadspin.com

Jan 17, 2013

Los Angeles Lakers icon Kobe Bryant has been a part of the NBA for 17 seasons. During that time, he's seen several different eras, from the end of Michael Jordan's dominance to the recent ascendance of LeBron James and Kevin Durant. The only constant, r…

Share Tweet

dimemag.com yahoo.com

Jan 17, 2013

During the second season of the Lakers' three-peat with the Holy Trinity of Shaq, Phil and Kobe, there was a story in an ESPN feature detailing how Kobe Bryant welcomed J.R. Rider to L.A. Story goes that KB, to reaffirm his status as the ultimate alpha

Share Tweet

Brian Scalabrine lied about concussion symptoms to Celtics doctors to get cleared for the playoffs

yahoo.com

Jan 17, 2013

Pau Gasol will return to the Los Angeles Lakers' lineup for the team's nationally televised Thursday game against the defending NBA champion Miami Heat after missing five games with a concussion brought on by an inadvertent elbow from Denver Nuggets cen…

Share Tweet

Bidding Basketball: How To Get Ready For The Possible Return Of The NBA To Seattle

dimemag.com

Jan 17, 2013

Last week, the basketball world was abuzz with news that the owners of the Sacramento Kings were in the process of finalizing the sale of the franchise to a Seattle-based ownership group. The upshot of the apparent deal, while far from sealed, was that …

Share Tweet

yahoo.com dimemag.com

Jan 17, 2013

LeBron James has been a star from roughly the minute he entered the NBA in 2003, and over that time he's accomplished a heck of a lot. As a player who can do pretty much anything he wishes on the court, LeBron has accrued a lot of numbers over that time…

Share Tweet

Clippers Cruise Past Wolves, 90-77

Jan 17

Wolves lose fifth straight.

Bomani Jones on Hero Worship

Jan 17

LeBron faces Kobe tonight as Lance Armstrong faces Oprah. Bomani Jones, on why we love to build athletes up before tearing them down.

Challenging Season For Kobe, Lakers

Jan 17

Stephen A. Smith discusses how important Thursday's matchup with the Heat is for the Lakers.

Dunk Of The Night

Jan 17

Blake Griffin drives baseline and finishes with the one-handed slam.