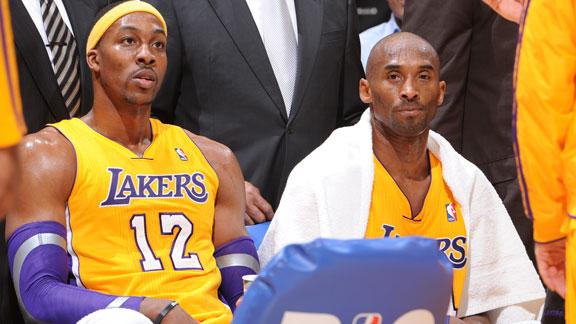 Updated Jan 18
Share
Tweet
Los Angeles Lakers coach Mike D'Antoni is wrestling with the idea of bringing Pau Gasol off the bench, and the four-time All-Star is not embracing the thought of a potential demotion.
Updated Jan 18

Share Tweet

The Suns and Alvin Gentry have parted ways, making Gentry the fourth coach fired this season. Things were dismal in Phoenix, but Gentry was hardly to blame, says Ian Thomsen.

Sources:

CNNSI.com yahoo.com nba.com ESPN.com dimemag.com

Why Kevin Durant Is Better At Taking The Last Shot Than LeBron

Updated Jan 18

Share Tweet

LeBron James and the Heat defeated the Los Angeles Lakers in the Staples Center last night, 99-90. LeBron had 39 points after shooting a hyper-efficient 17 for 25 from the field. The Heat have struggled this season, but James has not, shooting 55 percen…

This Airballed Free Throw Is Why The Lakers Are Vulnerable To Hack-A-Dwight

Updated Jan 18

Share Tweet

Dwight Howard went to the line 13 times last night, more than twice as often as the rest of the Lakers' starters combined. He went just 5-for-13, with his final two attempts coming with under two minutes remaining and a chance to tie the game. This was …

Source:

deadspin.com

Updated Jan 18

Share Tweet

On Thursday night, the Milwaukee Bucks overcame an eight-point fourth-quarter deficit and beat the Suns 98-94 in Phoenix behind a 10-point, perfect-shooting final period from scoring guard Monta Ellis. That fact in itself is not news. The Bucks are a so…

Updated Jan 18

Share Tweet

It wasn't just the season-high point total; it was how he got them, by making 17 of his 25 shots, including a perfect 15 for 15 in the restricted area. LeBron James set up shop in that little semi-circle throughout the Miami Heat's Thursday night road w…

Defense-focused Kobe: I need help on offense

Updated Jan 18

Share Tweet

It was asking a lot of Kobe Bryant when the Los Angeles Lakers shifted to assigning the 34-year-old to guarding the opposing team's most dynamic guard while still relying on him on the offensive end.

Source:

ESPN.com

All That Glitters: A closing 9-0 Miami run sealed a 99-90 win over L…

Updated Jan 18

Share Tweet

A closing 9-0 Miami run sealed a 99-90 win over L.A. The Lakers fought hard, but LeBron James may have just ignited another championship run for the Heat, writes Lee Jenkins.

Source:

CNNSI.com

Lee Jenkins: Once a Finals preview, Heat-Lakers now just a LeBron showcase

Updated Jan 18

Share Tweet

LOS ANGELES -- Outside of fame, riches and backlit banners, there is no motivator in sports quite like the threat of everlasting ignominy. It is the specter that hangs over each of the so-called super teams, the realization that if they fail, reputation…

Source:

CNNSI.com

Updated Jan 18

Share Tweet

Lakers-Heat was Hollywood at its finest. The Heat's 99-90 win had leading men, a duel as its storyline and a big budget (the Lakers' payroll). Generally in a big game like Miami-Lakers the question after the game becomes was Team X that impressive or

Boston Grasps Defeat From The Jaws Of Victory; The Lakers Figure Out How To Play Together

Updated Jan 18

Share Tweet

Each time we checked in with the Hawks vs. Celtics it was like watching a different game. In the first half the Celtics were on cruise control and it almost looked as if Tommy Heinsohn could have stepped in because of Boston's 27-point lead. Atlanta was

Updated Jan 18

Share Tweet

Even in a game featuring LeBron James and Kobe Bryant, the first 40 minutes of last night's Lakers-Heat game had been filled with typical, mid-January...

Source:

grantland.com

Can The Lakers Improve And Make The Playoffs?

Jan 18

Kurt Rambis looks at what the Lakers need to do to improve this season.

Suns, Alvin Gentry Part Ways

Jan 18

Marc Stein discusses the Suns' decision to part ways with coach Alvin Gentry and mentions possible replacements.

Where Have All The Gunners Gone?

Jan 18

David Thorpe explains why so few NBA players have had huge scoring averages in recent years.

Should The Lakers Be Encouraged?

Jan 18

Stephen A. Smith and Skip Bayless debate whether the Lakers should be encouraged after a close loss to the Heat.