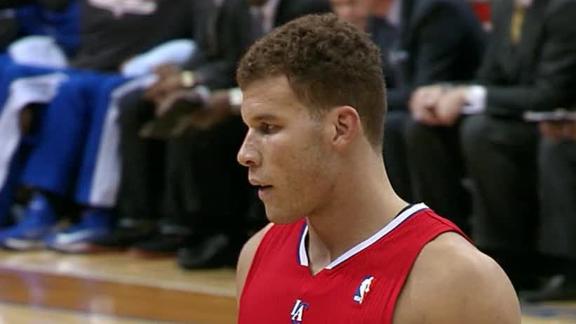 Updated Jan 30

Share Tweet

Paul Pierce scored 16 points and the Boston Celtics won their second game since losing Rajon Rondo for the season with a knee injury, beating the Sacramento Kings 99-81 on Wednesday night.

Clippers' Barnes ejected for forearm to Stiemsma

Updated Jan 30

Share Tweet

Los Angeles Clippers forward Matt Barnes was given a flagrant foul-2 and ejected in the second quarter against Minnesota on Wednesday night after delivering a forearm to Wolves center Greg Stiemsma.

Source:

nba.com

Celtics rookie Sullinger exits with back spasms

Updated Jan 30

Share Tweet

Boston Celtics rookie forward Jared Sullinger left Wednesday's game against the Sacramento Kings due to back spasms and will not return.

Updated Jan 30

Share Tweet

Rudy Gay is on his way to Toronto in the latest and most dramatic move in the Memphis Grizzlies makeover, a person with knowledge of the situation told The Associated Press.

Source:

CNNSI.com

Updated Jan 30

Share Tweet

Steve Nash returns to Phoenix tonight as a member of the Los Angeles Lakers. He's "returned" to Phoenix before, as a member of the Dallas Mavericks back in 1999 on a night that saw him miss all three of his shots, but this turn is different. Nash wa

Updated Jan 30

Share Tweet

You guys: The Los Angeles Lakers are BACK! It's been hard to keep track of whether the Lakers were done or back this season, after they struggled to a 1-4 first start to the season, then restarted the season by firing Mike Brown, then staggered for like…

Sources:

yahoo.com dimemag.com

Updated Jan 25

Share Tweet

Give And Go: Should Lakers consider trading Howard?

Source:

CNNSI.com

The Lakers Aren't Dead Yet, Even If Some Of Their Fans Are

Updated Jan 30

Share Tweet

The Lakers improved their record to 20-25 and avoided what would have been a soul-crushing loss when they held off a late New Orleans surge to beat the Hornets 111-106. It should never have been that close, and L.A. needed some generous officiating in t…

Source:

deadspin.com

Updated Jan 30

Share Tweet

Dwight Howard scored 24 points, Kobe Bryant had 14 points and 11 assists in another pass-first performance, and the Los Angeles Lakers hung on to beat the New Orleans Hornets 111-106 on Tuesday night.

Updated Jan 30

Share Tweet

In April, the Mavs might look back and admit this was the night their season died. Up 21, they blew the lead and then lost after a flurry of insanity doomed them. First, Nic Batum made a completely ridiculous three-pointer to tie it up (dude hadn't made

Source:

dimemag.com

Howard jam

Jan 30

Kobe Bryant finds Dwight Howard for the dunk

Celtics Improve To 2-0 Without Rajon Rondo

Jan 30

Kevin Garnett dishes out five assists in Rajon Rondon's absence to lead the Celtics to a 99-81 win over the Kings.

The Forum: The Lakers' New System

Jan 30

Mark Willard and Arash Markazi discuss Mike D'Antoni's new approach to coaching the Lakers.

Dwight Howard Injured In Lakers' Loss To Suns

Jan 30

Dwight Howard reinjures his right shoulder as Lakers blow 13-point lead and fall to Suns, 92-86.