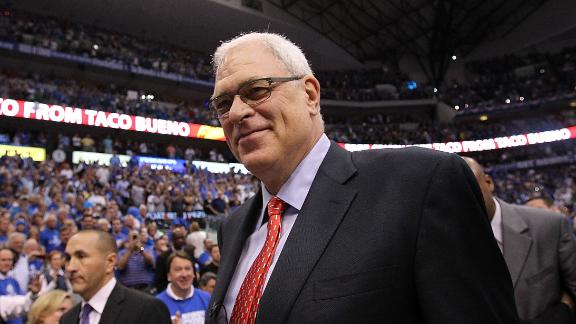 Phil Jackson was prepared to return to the Los Angeles Lakers on Monday morning if negotiations between his agent and the team went well, a league source told ESPNLosAngeles.com late Sunday night
Upvote
Share
Tweet
Steve Blake will miss the Los Angeles Lakers' game against San Antonio on Tuesday with a minor abdominal strain, leaving the club without its top two point guards.

Upvote Share Tweet

CNNSI.com ESPN.com nba.com yahoo.com deadspin.com nydailynews.com dimemag.com grantland.com

Updated Nov 12, 2012

LOS ANGELES -- Kobe Bryant did not speak to reporters after practice Monday because Lakers point guard Steve Blake suffered an abdominal strain and could only get an appointment with an Orange County doctor in the early afternoon, so Bryant flew him the…

Upvote Share Tweet

ESPN.com

Updated Nov 12, 2012

The Lakers are expecting an answer from Phil Jackson on whether he will return to coach them Monday, sources told ESPN.

Upvote Share Tweet

Lakers top Kings, move to 2-0 under Bickerstaff

ESPN.com

Updated Nov 12, 2012

Dwight Howard had 23 points and 18 rebounds, Kobe Bryant scored 20 and the in-transition Lakers continued warming up for a possible return by Phil Jackson with a 103-89 victory over the Kings on Sunday night.

Upvote Share Tweet

TrueHoop TV: D'Antoni Hire

Nov 12

TrueHoop's Henry Abbott with ESPN Insider Amin Elhassan on whether D'Antoni's system will work in L.A., if Dwight Howard is more likely to stay a Laker and more.

Van Gundy Surprised By D'Antoni Hiring

Nov 12

Jeff Van Gundy thinks Mike D'Antoni will be a good fit for the Lakers when they get healthy.

Stephen A. Smith Shocked By D'Antoni Hiring

Nov 12

Stephen A. Smith breaks down Mike D'Antoni's system and why he doubts it will work in Los Angeles.

Lakers Pick D'Antoni Over Jackson

Nov 12

Ramona Shelburne on the Lakers' hiring of Mike D'Antoni as Lakers head coach instead of Phil Jackson.