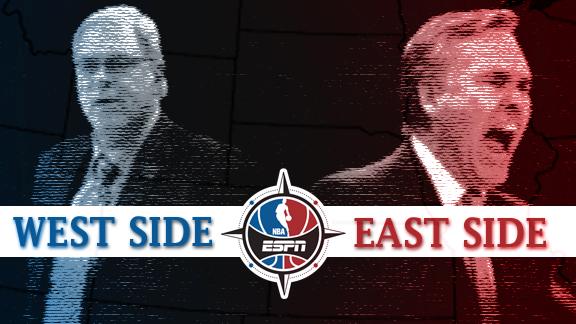 ESPN.com
Updated Nov 12, 2012
Despite high price, Phil Jackson's history of success was worth it for L.A. Lakers
Share
Tweet
CNNSI.com ESPN.com dimemag.com

Nov 13, 2012

Lakers GM: D'Antoni 'better suited' for our roster

Share Tweet

Give And Go: Examining all the drama in Los Angeles

CNNSI.com

Nov 13, 2012

The drama never ends in Hollywood. Did the Lakers disrespect Phil Jackson? Are they setting Mike D'Antoni up to fail? Ben Golliver and Rob Mahoney dig into the madness in Los Angeles.

Share Tweet

Nate Robinson's State Of Nate — Season 2, Episode 2 "See You Later"

dimemag.com

Nov 13, 2012

The start of a new NBA season means many great things, and thankfully, after a year in Golden State where he allowed the cameras in on his life, Nate Robinson is back once again with a second season of State Of Nate. When Robinson and filmmaker T.J. Reg…

Share Tweet

Top 10 NBA Duos Under 25 Years Old

dimemag.com

Nov 13, 2012

Getting your hands on young talent in the NBA is the equivalent to finding a $100 dollar bill on the ground. Some of it has to do with luck; some of it has to do with being in the right place at the right time. Once you get it, you contemplate whether o…

Share Tweet

Deadspin NBA Shit List: Andris Biedrins, The Man Who Forgot How To Shoot

deadspin.com

Nov 13, 2012

A celebration of the NBA's most infuriating players, both past and present. Read other NBA Shit List entries here. More »

Share Tweet

Is Nate McMillan the right choice to help turn around the Lakers' defense?

yahoo.com

Nov 13, 2012

There are actually three ways to react to the rumored and likely impending hire of former Seattle and Portland head coach Nate McMillan as the new Los Angeles Lakers defensive guru. The quick scan tells you that Nate, the forever and ever "Mr. Soni…

Share Tweet

deadspin.com

Nov 13, 2012

I'm not sure we're far enough removed to appreciate what an incredible story this is in the annals of sports: The Lakers turned down Phil Jackson. Someday they'll write a book or make a 30 for 30 about this, and we'll get all the details, but for now we…

Share Tweet

Kobe Bryant gave Steve Blake a helicopter ride to a doctor's appointment (VIDEO)

yahoo.com

Nov 13, 2012

From the firing of Mike Brown through the courting of Phil Jackson to the hiring of Mike D'Antoni, with all the amazement and agita in between, it's fair to say that it's been a pretty eventful few days for the Los Angeles Lakers. So the great Lee Jenki…

Share Tweet

The D'Antoni Effect: New Roles for the New-Look Lakers

grantland.com

Nov 13, 2012

New Lakers head coach Mike D'Antoni brings with him the famed spread pick-and-roll system that in the mid-2000s rejuvenated not only the Suns franchis...

Share Tweet

West Side/East Side: The Lakers Choose D'Antoni

Nov 13

J.A. Adande and Israel Gutierrez on the hiring of Mike D'Antoni and the implications of passing on Phil Jackson.

Did Lakers Mistreat Phil Jackson?

Nov 13

Marcellus Wiley, Rob Parker and Skip Bayless discuss the Lakers' treatment of Phil Jackson.

Blazers Snap Four-Game Slide

Nov 13

Damian Lillard drops 22 as Blazers roll to 103-86 win over Kings.

Lakers Ready To Move On

Nov 13

Flip Saunders talks about the challenges Mike D'Antoni faces as head coach of the Lakers.