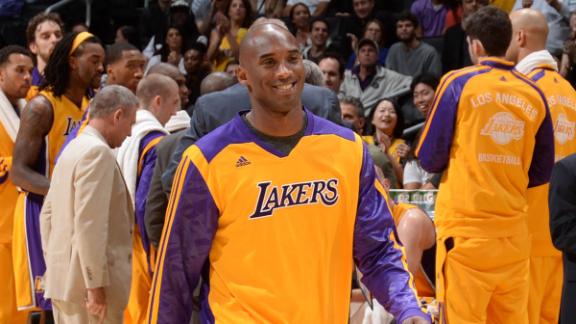 ESPN.com
Updated Nov 17, 2013
Just because Kobe Bryant is back on the practice court doesn't mean that the Los Angeles Lakers are any closer to knowing when they will have the superstar guard back for an actual game, coach Mike D'Antoni cautioned Sunday.
Share
Tweet
Blake Griffin had 30 points and 12 rebounds, J.J. Redick added 26 points and the Los Angeles Clippers rallied to beat the short-handed Brooklyn Nets 110-103 Saturday night, improving to 5-0 at home.

Share Tweet

Klay Thompson scored 25 points, Andre Iguodala had 16 points and six rebounds, and the Golden State Warriors built a big lead before holding off the Utah Jazz 102-88 Saturday night.

Share Tweet

Los Angeles Clippers coach Doc Rivers confirmed that the team met with free-agent forward Lamar Odom on Friday.

Share Tweet

Grizzlies Handle Kings

Nov 17

Zach Randolph's double-double of 22 points and 10 boards helped the Grizzlies to a 97-86 win over the Kings.

Hill Has A Career Night In Lakers' Win

Nov 17

Jordan Hill's career-high 24 points and 17 boards helped the Lakers to a 114-99 win over the Pistons.