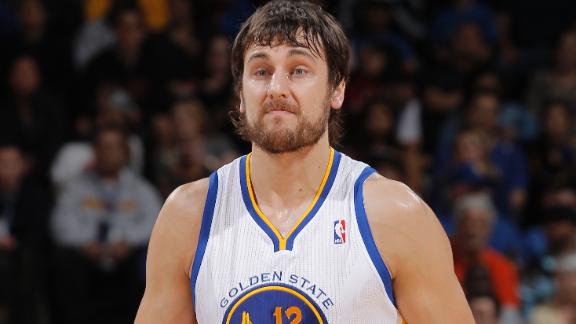 Center Andrew Bogut insists he will no longer even attempt to guess when he will return to the court for the Golden State Warriors, saying he is out "indefinitely." That is how he will leave it until the day he is running layup drills to warm …
Share
Tweet
The Phoenix Suns have assigned first-round draft pick Kendall Marshall to the Bakersfield Jam of the NBA's Development League.

Share Tweet

David Courtney, the public address announcer for the Los Angeles Kings, Los Angeles Angels and Los Angeles Clippers, died Thursday, all three teams announced Thursday. No cause of death was released. He was 54.

Share Tweet

The Top 10 Impact NBA Players Most Missed By Injury

The return of Chauncey Billups on Wednesday night signaled a reason for optimism for the once-sagging Clippers. Even with a surplus of talent at point guard with minute-eater Chris Paul and Eric Bledsoe, Los Angeles needed to have Billups, its no-questi…

Share Tweet

In light of the Los Angeles Lakers sending Robert Sacre to their D-League affiliate, the L.A. D-Fenders, we thought it would be an appropriate time to show our readers this tremendous Sacre tribute video we came across the other day: The good news is th…

Share Tweet

Chris Paul had 23 points and 11 assists, and the Los Angeles Clippers welcomed Chauncey Billups back to the lineup for the first time this season with a 101-95 victory over the Minnesota Timberwolves on Wednesday night.

Share Tweet

Nets, Celtics Get Into A Brawl In Boston; James Harden Has An Awful Reunion In OKC

With so much softness leaking into the modern game, we're always anxious to annoint the next great rivalry. Where is the next Bulls-Knicks going to come from? Or the next Sacramento-Los Angeles? Everyone loves when players get a little nasty, and last n

Share Tweet

Warriors Hang On To Top Nuggets, 106-105

Nov 29

David Lee leads Warriors past Nuggets.

Kobe Talks New Shoe, Impact On The NBA

Nov 29

Kobe Bryant talks with ESPN Los Angeles' Dave McMenamin about the unveiling of his new shoe, the Kobe 8, and his impact on the game.