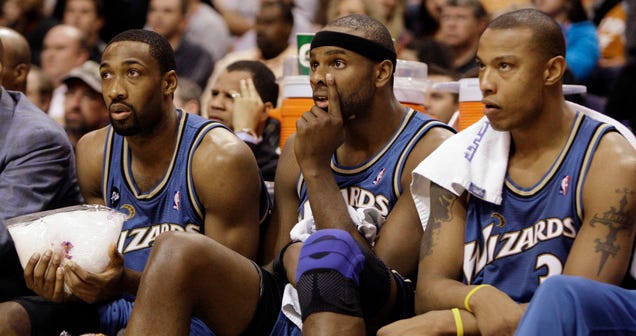 Gilbert Arenas Calls Caron Butler A Snitch In Rebuttal To Locker Room Guns Story
deadspin.com
Updated 2 hours ago
Caron Butler's recent account of the infamous incident in the Wizards locker room in 2009 involving Jarvaris Crittenton and Gilbert Arenas and one-to-five guns continues to make waves. The Washington Post ran an excerpt from his new book that provoked A…
Share
Tweet
yahoo.com

21 hours ago

Young teams are expected to make a certain leap every season lest they end up as middling playoff teams rather than full-bodied contenders. By that standard, the Washington Wizards are still a ways off from challenging the Cleveland Cavaliers for Easter…

Share Tweet

Atlanta Hawks player Thabo Sefolosha was acquitted Friday of charges stemming from a struggle with police outside a trendy New York City nightclub that left him with a broken leg and ended his NBA season.

Share Tweet

deadspin.com

Oct 8 (yesterday)

The other day the Washington Post ran an excerpt from Caron Butler's forthcoming book, which includes his telling of what happened in the Wizards locker room almost six years ago when Javaris Crittenton pointed a gun at teammate Gilbert Arenas.Read more…

Share Tweet

yahoo.com

Oct 8 (yesterday)

The Orlando Magic have all the pieces. We just don't know how they all fit yet. Ever-improving 24-year-old 7-footer Nikola Vucevic is the eldest statesman in a starting lineup that features a fellow mid first-round find from the 2011 NBA draft, Tobias H…

Share Tweet

yahoo.com

Oct 8 (yesterday)

The trial involving veteran NBA wing Thabo Sefolosha and the New York Police Department moved on to the jury deliberation phase Thursday. The day's proceedings included testimony from the 30-year-old defendant and his Atlanta Hawks head coach Mike Buden…

Share Tweet

nba.com

Oct 8 (yesterday)

A jury is deliberating in the New York City trial of a professional basketball player charged with resisting arrest and other crimes.

Share Tweet

yahoo.com

Oct 7 (3 days ago)

Atlanta Hawks wing Thabo Sefolosha and former teammate Pero Antic took the stand Wednesday as part of the former's attempt to clear his name of charges stemming from the April incident that led to his season-ending broken leg last June. The 31-year-old …

Share Tweet

yahoo.com

Oct 7 (3 days ago)

Pat Riley just rolls one big boffo experiment into another – he can't help it. The name (if not "star")-driven firepower of the 1990s and early aughts Miami Heat bled into a year of almost position-less basketball in Dwyane Wade's first year, which then…

Share Tweet

The Atlanta Hawks Ownership Group Was Always Destined To Blow Up

deadspin.com

Oct 6 (4 days ago)

Brian Windhorst and Kevin Arnovitz dropped a big behind-the-scenes piece on the racism mess that led to the Atlanta Hawks being sold to Antony Ressler for $850 million. There are a number of funny anecdotes and interesting stories in the report, but the…

Share Tweet

yahoo.com

Oct 6 (4 days ago)

It should have been obvious to all of us. When LeBron James was interviewed on TNT following his Cavalier team's win over the Miami Heat in 2009, he made a point to tell the national TV audience that he would be changing his number and sport a No. 6 the…

Share Tweet

Trial starts for Hawks' Sefolosha, charged in clash with police

nba.com

Oct 6 (5 days ago)

A white police officer singled out a black professional basketball player as he filed out of a trendy nightclub this year, sparking a confrontation that resulted in the player's arrest and a season-ending leg fracture, a defense lawyer told jurors Tuesd…

Share Tweet

yahoo.com

Oct 5 (5 days ago)

Quite possibly the feeliest-goodliest story of the NBA's 2014-15 season (Non-Riley Curry Div.), the Atlanta Hawks stormed out to its best campaign since moving to the state of Georgia. The team's 60-win season came off a rather tumultuous offseason, how…

Share Tweet

yahoo.com

Oct 1

The Washington Wizards officially unveiled their entry in the NBA's "Pride" uniform collection on Wednesday, confirming the design that had been included in a massive leak of mockups that made its way online back in July: [Follow Dunks Don't L…

Share Tweet

NBA Top Plays

Mar 20

Derrick Williams' posterizing, one-handed slam is the top play in the NBA.

Magic Stun Blazers

Mar 20

Victor Oladipo, Elfrid Payton and Nikola Vucevic each scored 22 points in the Magic's 111-104 win over the Blazers.

Westbrook, Thunder Topple Hawks

Mar 20

Russell Westbrook recorded his ninth triple-double of the season and the Thunder defeated the Hawks 123-115.

Wade, Heat Cruise Past Nuggets

Mar 20

Dwyane Wade scored 20-plus points for the seventh straight game and the Heat toppled the Nuggets 108-91.

Sports Columnists

Derek Fisher of New York Knicks, Matt Barnes of Memphis Grizzlies scuffle …

Oct 7

Knicks coach Derek Fisher and Grizzlies forward Matt Barnes were involved in a physical altercation Saturday night in Los Angeles at the home of Barnes' ex-wife, sources say.

NBA - Blake Griffin wants to take his defense and the Clippers to another …

Oct 7

Blake Griffin is looking to become an elite defender and a vocal leader, and in turn take the Clippers to a championship, writes J.A. Adande.

ESPN Now

Oct 6

ESPN's Kevin Arnovitz and Brian Windhorst provide the low down on how a tangle inside the Hawks' front office led to a racially-charged scandal and th...