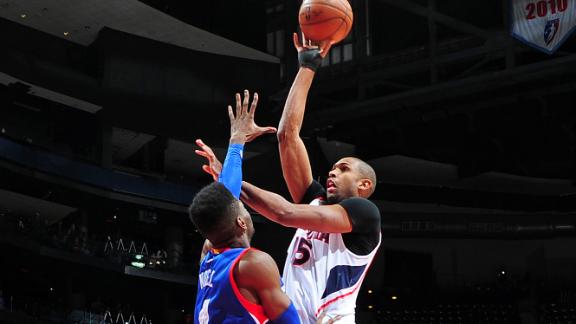 Al Horford scored 23 points, including a tying basket after Philadelphia took its first lead late in the game, and the Hawks recovered after squandering a 21-point lead to beat the 76ers 91-85 on Saturday night.
Upvote
Share
Tweet
ESPN.com

14 hours ago

Dallas Mavericks point guard Rajon Rondo suffered a head injury in the first quarter of Saturday night's 108-93 win over the Orlando Magic and did not return.

Upvote Share Tweet

yahoo.com dimemag.com

Jan 30 (yesterday)

The Atlanta Hawks had a pretty good Thursday, with three of the team's starters — point guard Jeff Teague, forward Paul Millsap, and big man Al Horford — being announced as participants in February 15's NBA All-Star Game at Madison Square Garden. Along …

Upvote Share Tweet

The Atlanta Hawks overcame 37 points by Portland's LaMarcus Aldridge to extend their franchise-record winning streak to 18 games by beating the Trail Blazers 105-99 on Friday night.

Upvote Share Tweet

nba.com

Jan 30 (yesterday)

Atlanta Hawks forward DeMarre Carroll missed the game against Portland on Friday night because of a left Achilles strain, and his replacement lasted only two minutes.

Upvote Share Tweet

ESPN.com nba.com dimemag.com

Jan 30 (yesterday)

The Orlando Magic are on the verge of firing head coach Jacque Vaughn, according to league sources.

Upvote Share Tweet

Derrick Rose's Favorite Highlight? His Mind-Bending Poster On Joel Anthony

dimemag.com

Jan 30 (yesterday)

Even if Derrick Rose is forever unable to regain his MVP-winning form, at least we'll have hordes of video documentation by which to remember it. In what he considers the best highlight of his career, watch the Chicago Bulls superstar split a trap and g…

Upvote Share Tweet

Channing Frye's Bare Box Score Against The Bucks Was A Historic Moment

dimemag.com

Jan 30 (yesterday)

If Channing Frye hadn't attempted a three-pointer midway through the first quarter last night in Orlando's 100-115 loss to the Bucks, he would have played over 15 minutes without a shot, a point, a free throw, an assist, a rebound, a block, a turnover, …

Upvote Share Tweet

Raptors Edge Wizards In OT

Jan 31

Kyle Lowry was one of six Raptors in double figures as Toronto beat Washington 120-116 in overtime.

Hawks Win 19th Straight

Jan 31

Al Horford scored 23 points in the Hawks' 91-85 win over the 76ers.

Mavericks Win After Rondo Leaves

Jan 31

After Rajon Rondo left in the first quarter after taking a knee to the face, Monta Ellis had 25 points and 13 assists in Dallas' 108-93 win over Orlando.

Are The Hawks Better Than The Cavaliers?

Jan 31

Stephen A. Smith breaks down whether the Hawks are a legitimate threat in the Eastern Conference.

Sports Columnists

Sources: Rockets fear Howard out for 'weeks'

Jan 31

The Houston Rockets are bracing for the loss of Dwight Howard for at least a month due to persistent trouble with his right knee, according to league sources.

ESPN Now

Jan 30

NBA commissioner Adam Silver has been in office for a year. How would Mavs owner Mark Cuban grade Year 1? "A-plus," Cuban said. "Love everything he's...

Pau Gasol exit a colossal blunder by Los Angeles Lakers

Jan 29

Pau Gasol's L.A. homecoming was a reminder how the Lakers have nothing to show for his departure, J.A. Adande writes.