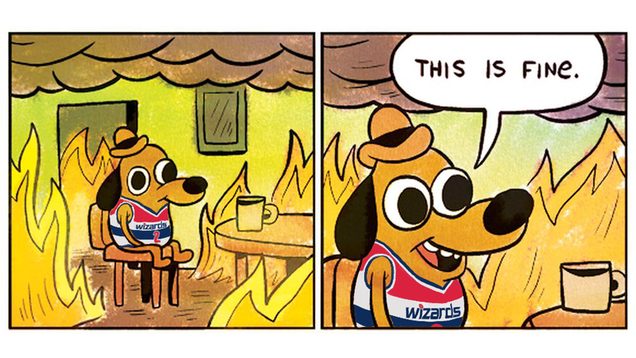 deadspin.com
dimemag.com
Updated Aug 24 (5 days ago)
"I think a lot of times we have a tendency to dislike each other on the court." That's Washington point guard John Wall, talking to CSN's Chris Miller about Bradley Beal, whom the Wizards signed to a five-year, $128 million contract this past July. Grea…
Share
Tweet
Kevin Durant Used The Olympics To Take A Break From The 'Backlash' In The U.S.

dimemag.com

Aug 22 (7 days ago)

Getty Image Since his move from the Oklahoma City Thunder to the Golden State Warriors, Kevin Durant has experienced vitriol from fans the likes of which he's never seen. After being cast as the wholesome antithesis of LeBron James' mercenary decision t…

Share Tweet

Heat sign veteran guard Udrih

nba.com

Aug 17

Beno Udrih is coming back to the Miami Heat on a one-year deal, getting another chance to back up fellow Slovenian Goran Dragic at point guard.

Share Tweet

Hassan Whiteside Loses It After His Opponent Quits During An 'NBA 2K' Game

dimemag.com

Aug 17

USA TODAY Sports Hassan Whiteside takes his NBA 2K seriously. Very seriously. We know this because after a triple-double against the Bulls in 2015, when he was still emerging as an NBA player on a minimum deal with the Miami Heat after years of obscurit…

Share Tweet

yahoo.com

Aug 15

Travis Outlaw of the Sacramento Kings dribbles against Louis Williams of the Atlanta Hawks on December 18, 2013. (Kevin C. Cox/Getty Images) Former NBA forward Travis Outlaw was arrested last Tuesday after a grand jury indicted him on a felony marijuana…

Share Tweet

dimemag.com

Aug 15

Getty Image In the annals of NBA history, few teams are as legendary for the wrong reasons as the early 2010s Washington Wizards, the superteam built around Nick Young, JaVale McGee, Jordan Crawford and Andray Blatche. JaVale and Swaggy P even had their…

Share Tweet

Heat owner writes letter to fans, expressing confidence

nba.com

Aug 11

Miami Heat managing general partner Micky Arison released an open letter to the team's fans Thursday night, telling them he is confident they'll enjoy the upcoming season.

Share Tweet

The New 'NBA 2K17' Trailer Pits Michael Jordan And The Dream Team Against Team USA In Rio

dimemag.com

Aug 10

Ever wondered how Michael Jordan, Magic Johnson, Larry Bird, and the Dream Team would fare against today's representatives of USA Basketball? Your curiosity will be sated soon enough. In an epic new look at NBA 2K17, the next iteration of the top-rated …

Share Tweet

Channing Frye Was Really Impressed With The Pre-Game Burritos The Cavs Provided Last Season

USA TODAY Sports Channing Frye had some spectacular moments for the Cleveland Cavaliers during the playoffs, most notably his 27-point explosion in Game 3 of the Eastern Conference semifinals against the Atlanta Hawks on 7-of-9 shooting from behind the …

Share Tweet

The Orlando Magic's New Alternate Jerseys Received A Good Old-Fashioned Twitter Roast

Get your first look at our brand-new "Stars" jersey, which players will wear during the 2016-17 season! #PureMagic — Orlando Magic (@OrlandoMagic) August 9, 2016 The Orlando Magic, once owners of one of the NBA's dopest uniforms, are trying to right the…

Share Tweet

Getty Image When last we saw Emeka Okafor, he was traded to the Phoenix Suns from the Washington Wizards in 2013 after the worst season of his career was ended by a herniated disk in his neck. Okafor never suited up for the Suns and has been out of the …

Share Tweet

dimemag.com

Aug 7

Getty Image Ray Allen last played in the NBA in 2014 with the Miami Heat. He's 41, and he's a former 10-time All-Star with two NBA titles to his name. However, despite the fact that he hasn't played the last two seasons, and despite the fine career that…

Share Tweet

Why Is Jason Terry Refusing To Label The Warriors A Super Team?

dimemag.com

Aug 2

Jason Terry isn't shy about making bold proclamations. Before the 2010-2011 season, he got a tattoo of the Larry O'Brien trophy on his right bicep. Fortunately for him, the Dallas Mavericks went on to defeat the Big 3 era Miami Heat, a stunning upset to…

Share Tweet

ESPN.com

Aug 2

Hawks will open seven-game preseason schedule on Oct. 6

Share Tweet

LeBron Was Shocked Dwyane Wade Didn't Get Kobe Money From The Heat

dimemag.com

Aug 1

On November 26, 2013, Kobe Bryant signed a contract extension with the Los Angeles Lakers. The two-year deal would pay him $48.5 million over the 2014-15 and 2015-16 seasons, presumably the ultimate twilight of his Hall-of-Fame career. That Bryant's on-…

Share Tweet

Q&A with Hawks' Jack: 'Looking forward to a new start'

ESPN.com

Jul 29

Q&A with Hawks' Jack: 'Looking forward to a new start'

Share Tweet

dimemag.com

Jul 29

Getty Image One of the biggest surprises of this year's free agency period in the NBA was Dwyane Wade's departure from the Miami Heat to the Chicago Bulls. Wade had been synonymous with the Heat since winning NBA Finals MVP in 2006, but years of acrimon…

Share Tweet

Wizards re-sign guard Marcus Thornton

nba.com

Jul 28

The Washington Wizards have re-signed reserve guard Marcus Thornton.

Share Tweet

yahoo.com

Jul 28

The mugshot of former NBA player Glen Rice Jr. (Photo via DeKalb County Sheriff's Office) Former Washington Wizards guard Glen Rice Jr. was arrested in Georgia on Monday after allegedly assaulting a former Tulane University basketball player and running…

Share Tweet

yahoo.com

Jul 27

Von Wafer of the Boston Celtics reacts after scoring against the Miami Heat on Feb. 13, 2011. (Jim Rogash/ Getty Images) It's been four years since Von Wafer last played in the NBA, and, from the sound of it, that's quite long enough for him, thanks. [F…

Share Tweet

Hassan Whiteside Dunked And Blocked His Way To Player Of The Week At The Drew League

dimemag.com

Jul 26

It's been a big summer for newly-minted Heat center Hassan Whiteside. After entering the offseason as one of the most sought-after free agents on the market, the big man elected to stay in Miami on a max deal reportedly worth around $98 million over fou…

Share Tweet

Beal signs new contract to return to Wizards

nba.com

Jul 26

Washington Wizards President Ernie Grunfeld announced today that the team has re-signed guard Bradley Beal. Per team policy, terms of the deal were not disclosed.

Share Tweet

yahoo.com

Jul 26

Heat guard Tyler Johnson looks on in the second half of Game 7 of the 2016 Eastern Conference Quarterfinals against the Toronto Raptors. (Vaughn Ridley/Getty Images) A great many sports fans, whether die-hard NBA followers or casual observers, experienc…

Share Tweet

The NBA's Newest Villain Had The Best-Selling Jersey Across The Country In July

dimemag.com

Jul 26

Getty Image Kevin Durant's defection from the Oklahoma City Thunder created basketball's newest super team, a squad that's poised to face more attention, scrutiny, and outright hate than any the league has seen since the 2010-11 Miami Heat. Winning will…

Share Tweet

NBA Top Plays

Mar 20

Derrick Williams' posterizing, one-handed slam is the top play in the NBA.

Magic Stun Blazers

Mar 20

Victor Oladipo, Elfrid Payton and Nikola Vucevic each scored 22 points in the Magic's 111-104 win over the Blazers.

Westbrook, Thunder Topple Hawks

Mar 20

Russell Westbrook recorded his ninth triple-double of the season and the Thunder defeated the Hawks 123-115.

Wade, Heat Cruise Past Nuggets

Mar 20

Dwyane Wade scored 20-plus points for the seventh straight game and the Heat toppled the Nuggets 108-91.