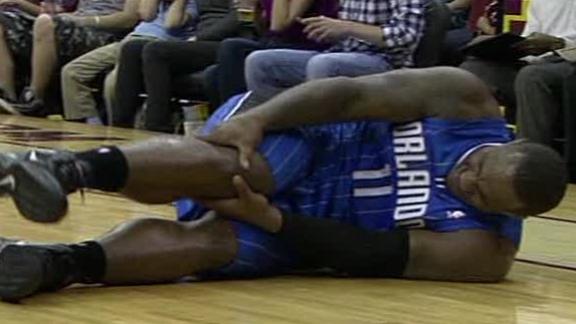 Orlando center Glen Davis left the Magic's game against Cleveland in the first quarter with a sprained right knee and is doubtful to return.
Share
Tweet
nydailynews.com CNNSI.com

Apr 15, 2012

The Miami Heat sent a message on Sunday, all right. Actually they sent a few - and not only to the Knicks.They delivered one to all those Knick fans who think their favorite team misses Jeremy Lin more than it misses Amar'e Stoudemire.

Share Tweet

Rajon Rondo had 20 points and 16 assists to help the Boston Celtics beat the Charlotte Bobcats 94-82 Sunday night despite playing without three of their star players.

Share Tweet

DeRozan fuels injury-riddled Raptors over Hawks

CNNSI.com

Apr 15, 2012

ATLANTA (AP) DeMar DeRozan scored 23 points and the injury-riddled Toronto Raptors beat the Atlanta Hawks 102-86 on Sunday night for their second straight win over a playoff-bound team.

Share Tweet

Wizards' Mason out for season with finger injury

nba.com

Apr 15, 2012

Washington Wizards guard Roger Mason will have surgery Monday on an injured finger and will miss the rest of the season.

Share Tweet

LeBron, Heat stifle Knicks, claim Southeast title

ESPN.com

Apr 15, 2012

LeBron James had 29 points and 10 rebounds, Dwyane Wade added 28 points and nine boards, and the Miami Heat beat the New York Knicks 93-85 on Sunday to clinch the Southeast Division title.

Share Tweet

Game Recap: The Heat ended the Knicks' home winning streak at…

CNNSI.com

Apr 15, 2012

The Heat ended the Knicks' home winning streak at nine games. LeBron James and Dwyane Wade combined for 57 points in pulling away to claim the potential playoff preview 93-85.

Share Tweet

James Jones Flopped, And It Sent Jeff Van Gundy On An Apoplectic Rant

deadspin.com

Apr 15, 2012

ESPN basketball analyst Jeff Van Gundy has gone on rants about flopping before, but today's (sparked by a third-quarter dive by James Jones in the Heat-Knicks matchup) is one for the ages. Play-by-play man Mike Breen tries his hardest to get Van Gundy o…

Share Tweet

Celtics vs. Bobcats

Apr 15

Rajon Rondo has 20 points and 16 assists to help the Celtics beat the Bobcats 94-82 despite playing without the big three.

C's Hand Bobcats 16th Straight Loss

Apr 15

With Paul Pierce, Kevin Garnett and Ray Allen not playing, the Celtics were able to defeat the Bobcats 94-82.

Glen Davis Goes Down In Magic' Win

Apr 15

Glen Davis suffers sprained right knee in Magic's 100-84 win over Cavs.

Heat vs. Knicks

Apr 15

LeBron James scores 29 points, Dwyane Wade adds 28 points the Heat beat the Knicks to clinch the Southeast Division title.

Sports Columnists

Lee Jenkins: Win over Knicks shows Bosh holds key to Miami's postseason su…

Apr 15

NEW YORK -- A few Miami Heat players were wandering through the renovated catacombs of Madison Square Garden on Sunday morning when it dawned on them they had no idea where they were going. "Can you help us find our locker room?" one asked a s…

NBA -- Andrew Bynum shows he's one step above Superman

Apr 15

He's healthier now, putting up better numbers and has not asked for his coach to be fired. In many ways, Andrew Bynum tops Dwight Howard, J.A. Adande writes.