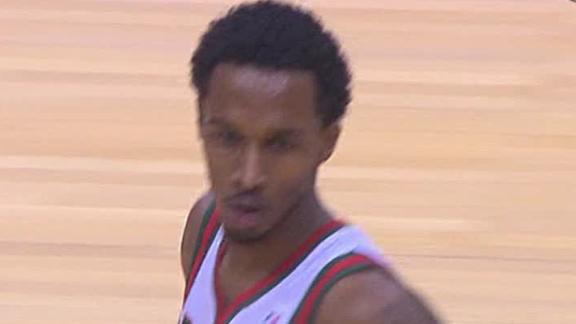 Ilyasova, Daniels lead Bucks past Bobcats
Updated Dec 7, 2012
Share
Tweet
Ersan Ilyasova scored a season-high 21 points and Marquis Daniels had season highs with 18 points and six rebounds and the Milwaukee Bucks took command early and beat the Charlotte Bobcats 108-93 on Friday night.
Source:
ESPN.com
Updated Dec 7, 2012

Share Tweet

Josh Smith had 23 points and 15 rebounds, Al Horford also posted a double-double and the Atlanta Hawks beat Washington 104-95 on Friday night to keep the Wizards winless on the road.

Source:

ESPN.com

Updated Dec 7, 2012

Share Tweet

LeBron James and four teammates chatted for several minutes under a basket after the Miami Heat finished practice on Friday afternoon, each player sporting a serious look for the entirety of the conversation.

Rasheed Wallace, Captured In One 56-Second Sequence

Updated Dec 7, 2012

Share Tweet

Perhaps lost in the action of last night's Knicks-Heat game was the sequence you see above. Nothing all that exciting happens in these 56 seconds, but they do offer a glimpse at just how wonderfully out of shape and unable to give a fuck Rasheed Wallace…

Source:

deadspin.com

Revisiting The Dwight Howard Trade: Maybe Orlando Wasn't So Stupid After All

Updated Dec 7, 2012

Share Tweet

It was mid-August when the world passed judgment on the Orlando Magic and their trade of franchise center Dwight Howard. We killed them for receiving bit players in return, as well as for the direction the team was heading. Some thought GM Rob Hennigan …

Source:

dimemag.com

Raymond Felton And Steve Novak Deep-Six The Heat; Latest Pau Gasol Trade Rumors Pair Him With Kevin Love

Updated Dec 7, 2012

Share Tweet

Holy three-point shooting, Knicks. Of all the places to go on a heat check that lasted a whole half, the Heat's own court was the backdrop of New York's statement win Thursday night by handing LeBron, Wade and Bosh their worst home loss together, 112-

Source:

dimemag.com

Smith, Horford Fuel Hawks

Dec 7

Josh Smith scored a game-high 23 points and grabbed 15 rebounds to power the Hawks past the Wizards.

LeBron James, Dwyane Wade On Heat's Struggles

Dec 7

LeBron James: "Cloud Over Our Team."

Has Dwyane Wade Lost A Step?

Dec 7

Stephen A. Smith and Skip Bayless debate whether Dwyane Wade has lost a step.

LeBron One-On-One With Jordan?

Dec 7

Skip Bayless and Stephen A. Smith discuss LeBron James having a Photoshopped picture of Michael Jordan guarding him on his phone.