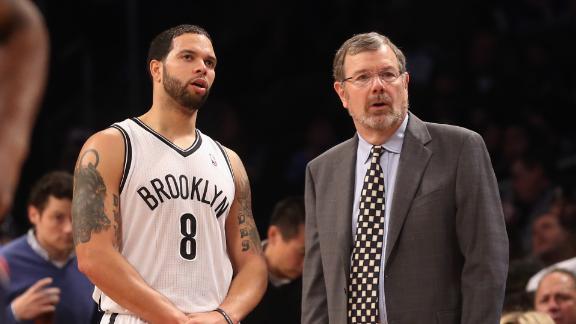 ESPN.com
Updated Dec 28, 2012
The Brooklyn Nets gave P.J. Carlesimo a victory in his debut and the Bobcats a 17th straight loss, getting 26 points from Brook Lopez in a 97-81 rout Friday.
Share
Tweet
Will Bynum Lobs the Rock to Andre Drummond

Detroit Pistons' Will Bynum passes the rock to Andre Drummond who throws down the alley-oop slam.

Share Tweet

Jeff Teague Drives Around Defense for a Reverse Layup

Atlanta Hawks Jeff Teague works his way around the Cleveland Cavaliers defense and drives the baseline into a reverse layup.

Share Tweet

Wizards edge Magic to snap 8-game losing skid

ESPN.com

Dec 28, 2012

Jordan Crawford scored 27 points and the worst-in-the-NBA Washington Wizards showed they can still win a game every once in a while, breaking an eight-game losing streak Friday night with a 105-97 victory over the Orlando Magic.

Share Tweet

Kyrie Irving Cashes in from Downtown As Clock Expires

Kyrie Irving hustles for a last shot and cashes in a crazy bucket from downtown at the buzzer to close the first half.

Share Tweet

LeBron James Steals, Saves and Scores

LeBron James saves a steal to Norris Cole who launches the rock back to James for the reverse layup.

Share Tweet

Brook Lopez Rejects a Kemba Walker Layup

Brook Lopez denies Kemba Walker's layup in tonight's matchup between the Brooklyn Nets and Charlotte Bobcats.

Share Tweet

Rookie Moe Harkless Not Scared of A Little Traffic

The rookie, Moe Harkless of the Orlando Magic, is not scared of a little traffic as he drives straight through the heart of the Washington Wizards defense and knocks down the one-handed slam.

Share Tweet

Kyle O'Quinn Posterizes Nene

Kyle O'Quinn comes off of a perfect screen roll and posterizes Nene with a huge slam.

Share Tweet

Earlier Friday, BDL's Dan Devine noted that Miami Heat All-Star Dwyane Wade has been suspended one game for kicking Charlotte Bobcats point guard Ramon Sessions in the groin. The punishment surprised very few NBA observers - the league has made it very

Share Tweet

Kevin Durant pins Darren Collison layup, goes coast-to-coast to baptize Chris Kaman (VIDEO)

yahoo.com

Dec 28, 2012

You know, it's almost like Kevin Durant is beginning to make a habit of this whole "swat your shot, take it the length of the floor and hammer home a dunk on your head" thing. Last week, he did it to Josh Smith and the Atlanta Hawks; this week…

Share Tweet

yahoo.com

Dec 28, 2012

We were pretty sure that some nature of punishment would come down from the league office for both Dwyane Wade and Dwight Howard after the former went below the belt on Charlotte Bobcats guard Ramon Sessions and the latter went up high on Denver Nuggets…

Share Tweet

Hawks Battle Past Cavs

Dec 28

Jeff Teague scores a career-high 27 points in Hawks' 102-94 win over Cavs.

Heat Fall To Pistons Without Dwyane Wade

Dec 28

Heat's six-game winning streak snapped with 109-99 loss to the Pistons.

Wizards Record Fourth Win

Dec 28

Wizards snap eight-game slide with 105-97 win over Magic.

Wade Says He Never Meant To Kick Sessions

Dec 28

Christian Fauria and Chris Mannix weigh in on Dwyane Wade's tweet about kicking Ramon Sessions in the groin.