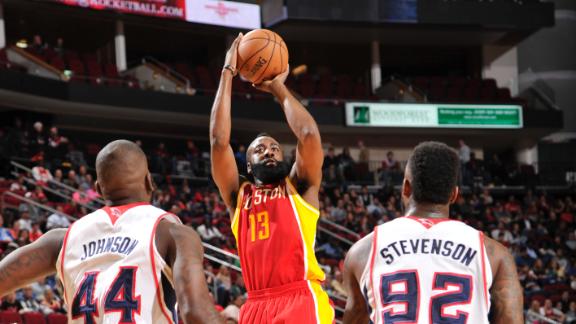 ESPN.com

Dec 31, 2012

LeBron James had 36 points, 11 assists and eight rebounds, and Chris Bosh scored 22 points to help the Miami Heat slip past the Orlando Magic 112-110 in overtime Monday.

Share Tweet

Charlotte can only hope it's a sign of better things in 2013. Kemba Walker had 18 points as Bobcats ended the year by beating the Bulls 91-81 to snap their losing streak at 18.

Share Tweet

Gregg Popovich on resting Spurs starters vs. Knicks: 'I've done it before, and I'll do it again, I'm sure'

yahoo.com

Dec 31, 2012

It's been just over a month since San Antonio Spurs head coach Gregg Popovich decided, mere hours before a marquee nationally televised matchup with the defending NBA champion Miami Heat, to send four of his top five players back to Texas so that they c…

Share Tweet

Monta Ellis says the only difference between him and Dwyane Wade is 'more wins and two championship rings' (VIDEO)

yahoo.com

Dec 31, 2012

On Saturday, in the hours before his Milwaukee Bucks downed the Miami Heat in a nicely-tuned home win, Bucks guard Monta Ellis seemed curiously out of tune. When asked to compare himself to Dwyane Wade — the player that notched 24 points on 10-19 shooti

Share Tweet

Bobcats End 18-Game Losing Streak

Dec 31

Kemba Walkers scores 18 points to lead Bobcats past Bulls and to their only win of December.

Nikola Vucevic's Performance Comes In Loss To Heat

Dec 31

Nikola Vucevic grabs 29 boards and scores 20 points in Magic's OT loss to Heat.