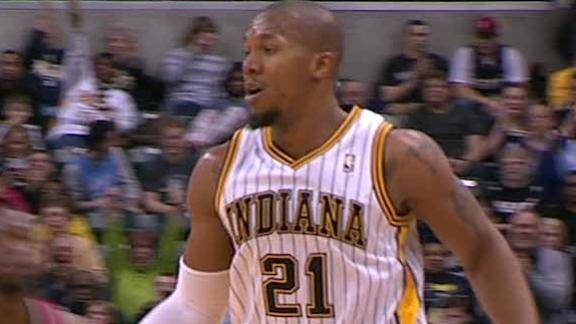 ESPN.com
Updated Feb 1, 2013
David West scored 30 points and Paul George added 15 on Friday night, leading Indiana to a 102-89 victory over Miami.
Share
Tweet
No Fluke: A 102-89 rout gave Indiana its second win over Mi…

CNNSI.com

Feb 1, 2013

A 102-89 rout gave Indiana its second win over Miami this year. Even without Danny Granger, the Pacers are contenders who continue to gain confidence, says Chris Mannix.

Share Tweet

nba.com

Feb 1, 2013

Tayshaun Prince, Austin Daye and Ed Davis, all obtained by the Memphis Grizzlies in a three-team deal earlier this week, are expected to be in uniform for Friday night's game against the Washington Wizards.

Share Tweet

yahoo.com

Feb 1, 2013

LeBron James is making $17,545,000 to play for the Miami Heat this year. That's quite a lot of money, but it's not the most money in the league; Kobe Bryant ($27,849,149) is the league's highest-paid player this season. Actually, nine players are being …

Share Tweet

Heat's James, Spurs' Parker named Kia Players of Month

nba.com

Feb 1, 2013

The Miami Heat's LeBron James and the San Antonio Spurs' Tony Parker today were named the Kia NBA Eastern and Western Conference Players of the Month, respectively, for games played in January.

Share Tweet

ESPN.com

Feb 1, 2013

In his new role of captain of the Eastern Conference for All-Star Saturday, Dwyane Wade is applying some peer pressure to Miami Heat teammate LeBron James to take part.

Share Tweet

The Washington Wizards call an audible, and divert the team bus to a visit to St. Jude's Children's Hospital

yahoo.com

Feb 1, 2013

Out of nowhere, the once-downtrodden Washington Wizards have turned into one of the NBA's feel-good stories. The team has won seven of 11 games since third-year guard John Wall returned from a knee injury, a mark that won't seem impressive in comparis

Share Tweet

Pacers Win Big Over Heat, 102-89

Feb 1

Highlight of the night: Pacers win 13th straight at home.

In LeBron's Face

Feb 1

The Pacers' Paul George hits a fadeaway baseline jumper over LeBron James as Indiana extends its 3rd-quarter lead.

LeBron James Two-handed slam

Feb 1

LeBron James in transition finishes with the two-handed slam.

A New Frontier

Feb 1

Tom Haberstroh breaks down a bunch of cool new data on the Miami Heat provided by SportVU.