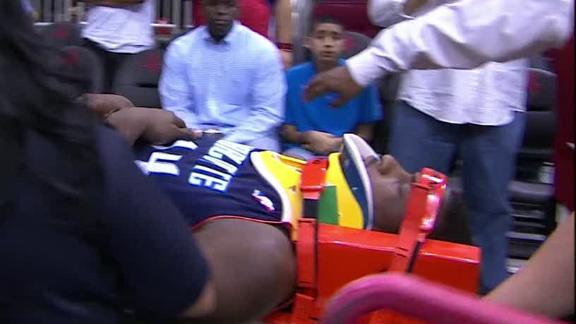 ESPN.com
deadspin.com
nba.com
Updated Feb 2, 2013
Charlotte Bobcats rookie Michael Kidd-Gilchrist suffered a concussion and will remain hospitalized overnight for observation in Houston after teammate Jeff Taylor collided with him going for a rebound on Saturday night.
Share
Tweet
Bucks' Ellis, Jennings hold off late Magic run

ESPN.com

Feb 2, 2013

Monta Ellis scored 21 points and Brandon Jennings had 20 as the Milwaukee Bucks handed the Orlando Magic their ninth straight loss, 107-98 on Saturday night.

Share Tweet

Tim Duncan sprained his left knee and right ankle in the first half of the San Antonio Spurs' 96-86 victory over the Washington Wizards on Saturday night.

Share Tweet

The Chicago Bulls will be without at least two starters against the Atlanta Hawks.

Share Tweet

The Atlanta Hawks have signed guard Jannero Pargo to a second 10-day contract.

Share Tweet

dimemag.com

Feb 2, 2013

Say what you will about the Heat's rebounding problems against bigger teams such as Indiana this season, but the Heat's turnovers are reliably the larger indicator for its wins or losses. That's why its 102-89 loss to Indiana was a little worrisome

Share Tweet

Jeff Green Puts on a Clinic Against the Magic

dimemag.com

Feb 2, 2013

Jeff Green puts on a clinic against the Orlando Magic scoring 17 points, shooting 8-14 from the field.The post Jeff Green Puts on a Clinic Against the Magic appeared first on Dime Magazine (dimemag.com) : Daily NBA News, NBA Trades, NBA Rumors, Basketba…

Share Tweet

Short-handed Bulls Cruise Past Hawks

Feb 2

With starters Joakim Noah, Carlos Boozer, and Kirk Hinrich all sidelined due to injury, Luol Deng's double-double leads Bulls to 93-76 win over Hawks.

Kidd-Gilchrist Taken To Hospital After Hit To Head

Feb 2

Michael Kidd-Gilchrist had to be taken away on a stretcher after suffering a head injury in the fourth quarter as the Rockets defeated the Bobcats 109-95.

Magic Lose Ninth Straight

Feb 2

Monta Ellis and Brandon Jennings combined to score 41 points to lead the Bucks past the Magic 107-98.