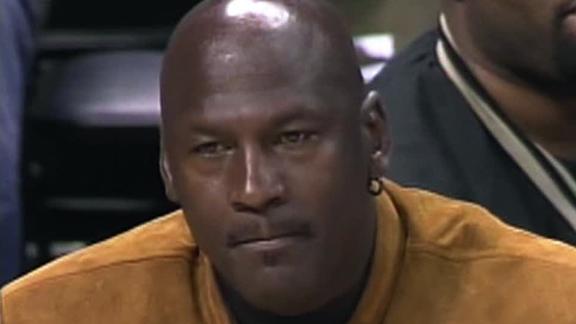 yahoo.com

Feb 15, 2013

HOUSTON - During a question-and-answer session with reporters ahead of Sunday's NBA All-Star Game, Miami Heat star LeBron James offered public support for the notion that injured Chicago Bulls point guard Derrick Rose shouldn't return to the court until

Share Tweet

Different looks for Heat, Lakers at All-Star break

nba.com

Feb 15, 2013

If Kobe Bryant's season seems tough, imagine what Dwyane Wade went through five years ago.

Share Tweet

nba.com dimemag.com ESPN.com

Feb 15, 2013

HOUSTON (AP) -- Chris Bosh will start in the All-Star game, giving the NBA champion Miami Heat three starters for the Eastern Conference.

Share Tweet

ESPN.com

Feb 15, 2013

LeBron James respects his elders among the NBA's greatest players of all time. Right now, he just doesn't agree with two of them: Michael Jordan and Magic Johnson.

Share Tweet

No Bull: What It's Like To Witness Michael Jordan Score 44 Points

dimemag.com

Feb 15, 2013

Michael Jordan turns 50 on Sunday, a milestone that marks a half-century of the greatest player ever to play the game. He's been out of basketball for nearly a decade, but his legend remains whether on sneakers, memories or game tape. Dime explores the

Share Tweet

CNNSI.com

Feb 15, 2013

Will James Harden be healthy enough to make his All-Star debut? Will the players' union move to replace Billy Hunter? Ian Thomsen examines the storylines to watch in Houston.

Share Tweet

LeBron James Continues To Toy With The NBA; The Clippers Run L.A.

dimemag.com

Feb 15, 2013

Don't let the final score in Oklahoma City deceive you: this wasn't the NBA Finals matchup we thought we'd see. Miami was too good for much of the first three quarters and Kevin Durant (40 points, eight rebounds) and Russell Westbrook (26 points, 10

Share Tweet

CNNSI.com

Feb 15, 2013

Despite Kevin Durant exploding in the fourth, LeBron James and the Heat still coasted to a sweep of last year's Western Conference champions 110-100, writes Paul Forrester.

Share Tweet

Kemba Off The Glass To Waiters

Feb 15

Kemba Walker throws the ball off the glass to Dion Waiters who finishes with the one-handed slam.

Magic Takes Jordan Over LeBron In Game Of One-On-One

Feb 15

Bruce Bowen, Skip Bayless and Stephen A. Smith discuss Magic Johnson's comments that if Michael Jordan and LeBron James played one-on-one 10 times, Jordan would win all 10.

Is LeBron Scared To Be In The Dunk Contest?

Feb 15

Skip Bayless, Stephen A. Smith and Bruce Bowen discuss whether LeBron James is scared to participate in the dunk contest.

Biggest Threat To Heat

Feb 15

Stephen A. Smith discusses which teams pose the biggest threat to the Heat.