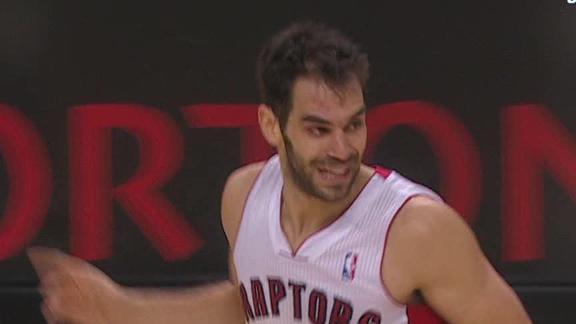 Updated Jan 11

Share Tweet

Paul Millsap gets around Josh Smith to throw down the two-handed slam in tonight's matchup between the Utah Jazz and Atlanta Hawks.

Updated Jan 11

Share Tweet

Hawks rally, finish strong to end skid versus Jazz

Source:

CNNSI.com

Terrence Ross Explodes For a Sledge Hammer Dunk

Updated Jan 11

Share Tweet

After making the steal, Terrence Ross gets the ball back from DeMar DeRozan on the fast break and throws down an explosive sledge hammer dunk in tonight's matchup between the Toronto Raptors and Charlotte Bobcats.

LeBron James and Dwyane Wade say the Heat faced more pressure than the Lakers

Updated Jan 11

Share Tweet

The Los Angeles Lakers had a lot of expectations this season and have met precisely none of them. With a starting lineup of four likely Hall of Famers, the Lakers looked like a juggernaut that even the most conservative estimates pegged for 60 wins and …

Source:

yahoo.com

Updated Jan 11

Share Tweet

The Washington Wizards say point guard John Wall has received "full medical clearance" and will make his season debut Saturday night against the Atlanta Hawks.

The Top 10 Performances Of LeBron James' 20-Point Streak

Updated Jan 11

Share Tweet

Portland's win over the Heat on Thursday night claimed two casualties: That Miami is going to be a good road team this year and LeBron James' 54-game streak where he's scored at least 20 points. Before Miami plays the four remaining games in its 7-

Pistons getting big boost from their reserves

Updated Jan 11

Share Tweet

AUBURN HILLS, Mich. (AP) -- Detroit had just upset the Miami Heat and LeBron James was reviewing the game with reporters when he saved some of his most effusive praise for an unlikely recipient.

Source:

nba.com

Passing, clearly, is not J.J. Hickson's strong suit (VIDEO)

Updated Jan 11

Share Tweet

After playing the Miami Heat to a 21-all stalemate after 12 minutes, the Portland Trail Blazers had fallen behind by 13 points with the clock winding down in the second quarter, thanks to a combination of offensive struggles (a 7 for 17 shooting mark in…

Source:

yahoo.com

Updated Jan 11

Share Tweet

Wesley Matthews had missed five of his first six 3-point attempts on Thursday night, but with his Portland Trail Blazers within striking distance after clawing back from a 13-point halftime deficit against the Miami Heat, he found his stroke just in the…

Sources:

yahoo.com dimemag.com ESPN.com

Harris Helps Hawks Top Former Team

Jan 11

Devin Harris scored a season-high 24 points and Josh Smith finished with a double-double as the Hawks rallied past the Jazz.

Working Bodies

Jan 11

Blows to the head have become big news in football, but that's not to say they don't happen in the NBA, too.

Concern For The Miami Heat?

Jan 11

The "First Take" crew debates how concerned the Heat should be about their recent struggles.