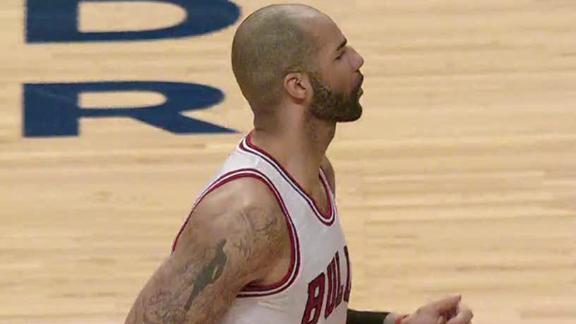 Updated Jan 14
Share
Tweet
Carlos Boozer scored 20 points, Luol Deng added 18 and the Chicago Bulls held Atlanta to a franchise-low 20 points in the first half of a 97-58 victory over the Hawks on Monday night.
Updated Jan 14

Share Tweet

First, Wall literally pump-faked Smith over his entire body. Smith, however, was unfazed. He quickly bounced back and blocked the real shot. Pretty impressive. Later, as the third quarter was winding down, Wall shook Ish out of his shoes and into the Ma…

Source:

deadspin.com

Rondo nets triple-double as Celts roll Bobcats

Updated Jan 14

Share Tweet

Rajon Rondo scored 17 points with 12 assists and 10 rebounds on Monday night to lead the Boston Celtics to a 100-89 victory over the Charlotte Bobcats.

Okafor, Wizards rout Magic for 3rd straight win

Updated Jan 14

Share Tweet

Emeka Okafor had 19 points and 11 rebounds, leading six players in double figures for Washington in a 120-91 victory over the Orlando Magic on Monday night for the Wizards' third straight win.

The Chicago Bulls' struggles at home continue to mystify

Updated Jan 14

Share Tweet

The Chicago Bulls enter Monday night's game against the Atlanta Hawks with a surprisingly poor 10-10 mark at the United Center. Big man Joakim Noah deems that mark to be "very average," which is candid as far as athletes often go, but he's very wr

Charlotte should deal its lottery pick, according to scouts, 'no matter where it is'

Updated Jan 14

Share Tweet

After a wildly-impressive start — 7-5, a 12-game turn that seems miraculous at this point — the Charlotte Bobcats have faded badly. The team has lost 22 out of 24 games, fallen to second to last in the NBA in defense despite a group of hard-working yo

Behold: Hawks fan delivers the greatest half-court miss you'll ever see (VIDEO)

Updated Jan 14

Share Tweet

You've seen a hundred half-court heaves for cash, but you've never seen one quite like this. During halftime of the Atlanta Hawks' Friday night matchup with the Utah Jazz, a Hawks fan stuck the ball on the edge of the rim from half-court. Pretty impress…

Updated Jan 14

Share Tweet

John Wall and Bradley Beal played exactly one game together before rumors surfaced that Washington was considering a trade for Rudy Gay. Memphis' leading scorer, as you probably know by now, is being shopped by the Grizzlies in an effort to lighten thei

Source:

dimemag.com

Rondo Drops A Triple-Double On The Bobcats

Jan 14

Celtics hand Bobcats fourth straight loss.

Hawks Held To 58 Points By The Bulls

Jan 14

Hawks suffer sixth loss in seven games, scoring just five points in the second quarter of 97-58 loss to Bulls.

Importance Of Lakers Beating Heat

Jan 14

Antonio Davis discusses the Lakers' Thursday game against the Heat.

LeBron Closer To 20,000

Jan 14

Highlight Of The Night: LeBron James 18 points away from 20,000 after scoring 32 points in Heat's loss to Jazz.