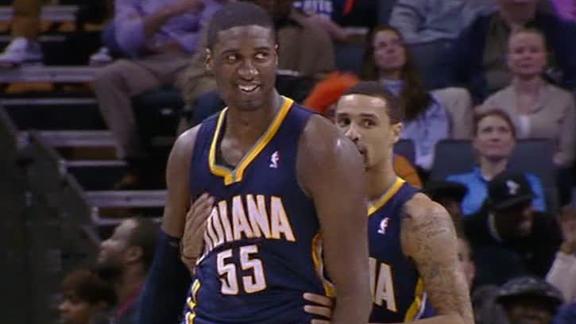 Roy Hibbert had 18 points and seven rebounds, and the Indiana Pacers handed the Charlotte Bobcats their 13th straight home loss with a 103-76 victory Tuesday night.
Share
Tweet
Chris Bosh will appear on the Disney Channel show 'JESSIE' (VIDEOS)

In the months immediately after he signed with the Miami Heat in 2010, Chris Bosh embraced his newfound media attention with open arms. He appeared on TV shows and did interviews in all possible venues, including an incredibly misguided and still inexpl…

Share Tweet

We all remember San Antonio Spurs coach Gregg Popovich incurring the wrath of David Stern when he decided to send Tim Duncan, Tony Parker, Manu Ginobili and Danny Green back to Texas to rest rather than suit them up for a nationally televised matchup wi…

Share Tweet

Deron Williams doesn't think he deserves to be an All-Star this year

Deron Williams will most likely be a member of the Eastern Conference All-Star team next month. He's been the third-leading vote-getter among Eastern guards through all three rounds of All-Star ballot returns thus far, trailing only Dwyane Wade of the M…

Share Tweet

The Atlanta Hawks headed into their Monday night matchup with the Chicago Bulls having lost six of their previous eight games, including four straight road games against the relatively lowly likes of the Detroit Pistons, Minnesota Timberwolves, Clevelan…

Share Tweet

Magic Johnson reconciles with Isiah Thomas, tweets that he's 'glad we can be friends again'

It's just a tweet, a silly characterization of a person's mood in 140 characters or less, and possibly something we shouldn't spend more than three seconds considering before moving on to more weightier matters. Like dunks or draft picks in June, I

Share Tweet

5 Benches That Could Hold Back NBA Playoff Contenders

dimemag.com

Jan 15, 2013

What makes San Antonio so frustrating for opponents and fun to watch for us, the fans, is the parallel personnel magic GM R.C. Buford and coach Gregg Popovich seem to always have working. It's twofold: The Spurs' core of Tony Parker, Tim Duncan and M

Share Tweet

Kevin Durant's been hunting for poster victims pretty much all season long. We've seen him ring up Toronto Raptors rookie Jonas Valanciunas, go end-to-end to throw one down on Atlanta Hawks forward Josh Smith, turn a blocked shot into a vicious slam on …

Share Tweet

A pump fake's purpose is to make a defender jump in the air. By that measure, John Wall made a really effective pump fake in the second quarter of the Washington Wizards' home game against the Orlando Magic on Monday night. Unfortunately, it worked a li…

Share Tweet

Heckling courtside fan ejected during Jazz/Heat; Wade, Bosh benched in 4th as Heat lose (VIDEO)

It remains unclear where exactly this fan with a front-row seat for Monday night's matchup between the Utah Jazz and Miami Heat was directing his courtside chatter, but whomever his intended target, his words brought about a result he probably hadn't ba…

Share Tweet

Daily Dime: Heat issues are showing

ESPN.com

Jan 14, 2013

The Miami Heat have chemistry issues that were showing at the end of a long road trip, Brian Windhorst writes.

Share Tweet

ESPN.com

Jan 15, 2013

Al Jefferson scored 23 points, Gordon Hayward added 22 -- including a jumper with 40 seconds remaining -- and the Utah Jazz held on to beat the Miami Heat 104-97 on Monday night.

Share Tweet

Kevin Durant Unleashes The Monster In The Desert; The Grizzlies Get Exposed

dimemag.com

Jan 15, 2013

It's a good thing Kevin Durant and Russell Westbrook didn't get much help last night. Phoenix fans went to the arena expecting to see competitive basketball, not some bloodbath. Durant and Westbrook didn't need any help, taking the Suns on 2-on-5 an

Share Tweet

Taj Gibson Posterizes Anthony Tolliver; Stacey King Enjoys It Immensely

deadspin.com

Jan 15, 2013

The dunk itself is pretty good, but Stacey King's reaction is even better. This is sort of a thing, I've learned, that King does so maybe you Chicagoans are yawning, but the rest of us can still enjoy his enthusiasm. More »

Share Tweet

Pacers Hand Bobcats Their 13th Straight Home Loss

Jan 15

Roy Hibbert leads the way with 18 points in Pacers' 103-76 win over Bobcats.

Coast to Coast: Picking The All-Stars

Jan 15

J.A. Adande and Israel Gutierrez on why upstart teams deserve more attention when it comes to selecting All-Stars.

Wade Benched For Fourth Quarter

Jan 15

Brian Windhorst discusses Dwyane Wade's reaction to being benched for the fourth quarter, and the mood surrounding the Heat following their loss to the Jazz.