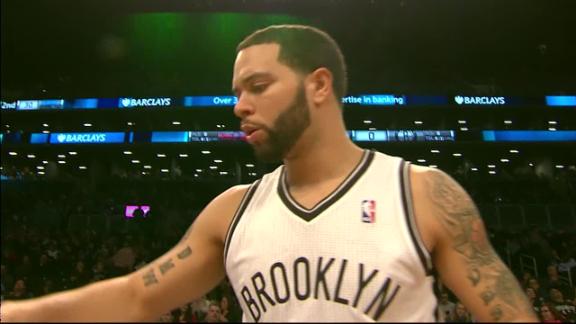 Updated Jan 18
Share
Tweet
Deron Williams scored 24 points, making four free throws in the final 43.4 seconds, and the Brooklyn Nets beat the Atlanta Hawks 94-89 on Friday night to earn a split of a home-and-home series.
Bobcats snap five-game skid behind Walker

Updated Jan 18

Share Tweet

Kemba Walker had 25 points and eight rebounds, and Gerald Henderson added 17 points as the Charlotte Bobcats snapped a five-game losing streak with a 106-100 win over the Orlando Magic on Friday night.

Source:

ESPN.com

Horford out with leg injury vs. Brooklyn

Updated Jan 18

Share Tweet

Al Horford was not in the Atlanta starting lineup against Brooklyn because of leg pain, and Hawks coach Larry Drew was unsure if or how much his center would play.

Source:

nba.com

The Celtics' All-Stars plan on neither broing down nor throwing down during All-Star Weekend

Updated Jan 18

Share Tweet

As Eric Freeman related Thursday night, the starting fives for the Eastern and Western Conference teams in next month's 2013 NBA All-Star Game have been announced, and basketball fans around the world decided that they wanted to see a starting Eastern b…

Source:

yahoo.com

Why Kevin Durant Is Better At Taking The Last Shot Than LeBron

Updated Jan 18

Share Tweet

LeBron James and the Heat defeated the Los Angeles Lakers in the Staples Center last night, 99-90. LeBron had 39 points after shooting a hyper-efficient 17 for 25 from the field. The Heat have struggled this season, but James has not, shooting 55 percen…

Clips stay on top; Nuggets continue their ascent

Updated Jan 18

Share Tweet

Three teams out West have set themselves apart. But don't forget about Andre Iguodala and the Nuggets. Close to unbeatable at home, Denver is one of this week's biggest risers.

This Airballed Free Throw Is Why The Lakers Are Vulnerable To Hack-A-Dwight

Updated Jan 18

Share Tweet

Dwight Howard went to the line 13 times last night, more than twice as often as the rest of the Lakers' starters combined. He went just 5-for-13, with his final two attempts coming with under two minutes remaining and a chance to tie the game. This was …

Source:

deadspin.com

Updated Jan 18

Share Tweet

It wasn't just the season-high point total; it was how he got them, by making 17 of his 25 shots, including a perfect 15 for 15 in the restricted area. LeBron James set up shop in that little semi-circle throughout the Miami Heat's Thursday night road w…

All That Glitters: A closing 9-0 Miami run sealed a 99-90 win over L…

Updated Jan 18

Share Tweet

A closing 9-0 Miami run sealed a 99-90 win over L.A. The Lakers fought hard, but LeBron James may have just ignited another championship run for the Heat, writes Lee Jenkins.

Updated Jan 18

Share Tweet

Gasol returns from concussion, but Lakers fall to Heat

Updated Jan 18

Share Tweet

Lakers-Heat was Hollywood at its finest. The Heat's 99-90 win had leading men, a duel as its storyline and a big budget (the Lakers' payroll). Generally in a big game like Miami-Lakers the question after the game becomes was Team X that impressive or

Boston Grasps Defeat From The Jaws Of Victory; The Lakers Figure Out How To Play Together

Updated Jan 18

Share Tweet

Each time we checked in with the Hawks vs. Celtics it was like watching a different game. In the first half the Celtics were on cruise control and it almost looked as if Tommy Heinsohn could have stepped in because of Boston's 27-point lead. Atlanta was

Bobcats Snap Five-Game Skid

Jan 18

Kemba Walker leads Bobcats with 25 points.

Nets Split Home-And-Home With Hawks

Jan 18

Deron Williams scores 24 points in Nets' 94-89 win over Hawks.

Good Teammate, Bad Opponent

Jan 18

Michael Wilbon and Bill Simmons draft their good teammate, bad opponent teams.

Should The Lakers Be Encouraged?

Jan 18

Stephen A. Smith and Skip Bayless debate whether the Lakers should be encouraged after a close loss to the Heat.