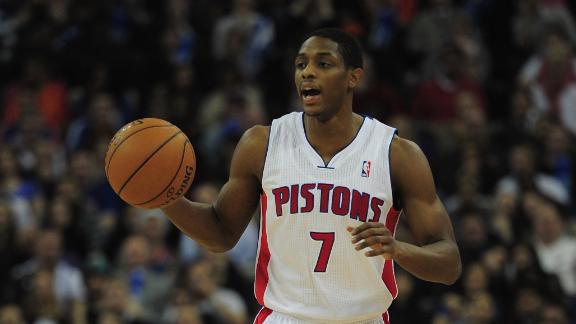 Updated Jan 22

Share Tweet

After being released by the Nuggets last offseason, Chris Anderson has been looking for N.B.A. work and the Heat have signed him to a 10-day contract.

Sources:

nytimes.com deadspin.com

Damian Lillard's Nasty Dunk In Nene's Face

Updated Jan 22

Share Tweet

The Wizards won the game on a wild Jordan Crawford three-pointer, but Damian Lillard had maybe the nastiest highlight of the night with this serious facial on Nene's head. Check out Washington's bench on this one. They couldn't help themselves. Whoâ

Jordan Crawford's Unreal Buzzer-Beater To Beat Portland

Updated Jan 22

Share Tweet

There was so much holiday action yesterday that most probably missed this game-winner from Jordan Crawford. Too bad. A 32-footer on the road to beat a potential playoff team is pretty big. Did you know the Wizards are 5-2 over their last seven games? A …

Updated Jan 22

Share Tweet

Washington Wizards guard Jordan Crawford is a frustrating player. In addition to possessing so little tact that he once said he plans on being a better player than Michael Jordan - a ridiculous statement that nevertheless speaks to the self-belief neces

Sources:

yahoo.com deadspin.com ESPN.com

The Clippers' Worst Nightmare Resurfaces; The Lakers Are Falling Apart

Updated Jan 22

Share Tweet

The Clippers really don't want to see the Warriors in the playoffs. We'd like it, but they certainly wouldn't, not after Golden State beat them for the third time this season, 106-99. "There are shooters and then there are just the indescribable.â

Christian Slater Sang 'The Heat Is On' at a Miami Heat Charity Karaoke Night

Updated Jan 22

Share Tweet

My man was in Heathers. Respect him. You can see a bunch of other photos of the "Battioke Night" — a benefit for the Take Charge Foundation (how...

Source:

grantland.com

Updated Jan 22

Share Tweet

I know the the Blazers' announcing team of Mike Barrett and Mike Rice are trying to keep their enthusiasm for the visiting Wizards to a minimum, but c...

Source:

grantland.com

Coast to Coast: Showcase Showdown

Jan 22

Durant vs. LeBron. Who's been the MVP of the first half of the season?

David Thorpe: 25 Under 25

Jan 22

The best young players in the NBA are, David Thorpe points out, not so different from the best players in the NBA, period.