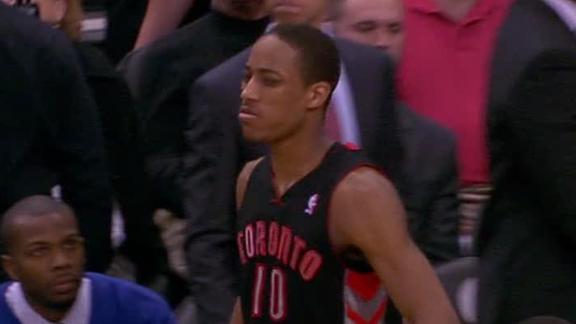 ESPN.com
Updated Jan 24, 2013
DeMar DeRozan swished a fadeaway jumper at the buzzer as the Toronto Raptors fought off a late-game charge by the Orlando Magic to earn a 97-95 victory on Thursday night.
Share
Tweet
nba.com

Jan 24, 2013

The San Antonio Spurs' Tim Duncan and the Miami Heat's Chris Bosh headline the list of 14 players that have been selected by the coaches as reserves for the 2013 NBA All-Star Game, the NBA announced today. Duncan earns his 14th selection, trailing only …

Share Tweet

deadspin.com

Jan 24, 2013

We've been on board the Pelicans bandwagon from the very beginning, but the team made it official this afternoon. Starting next season, the Hornets are no more (unless the Bobcats become the Hornets. Even then the Pelicans will keep the Hornets' pre-200…

Share Tweet

Dwyane Wade gets fouled, takes courtside seat during Heat OT win over Raptors (VIDEO)

yahoo.com

Jan 24, 2013

As if the simple action of playing basketball at the speed of the NBA game wasn't exhausting enough, sometimes you have to play 20 second-half minutes at a super-high level to erase a seven-point halftime deficit, and then play another five minutes of e…

Share Tweet

LeBron Unleashes the Beast on the Raptors; The Lakers Lose Dwight Howard

dimemag.com

Jan 24, 2013

You know you have a good team when you can withstand five three-pointers from Jose Calderon, 36 combined points off the bench from a journeyman (Alan Anderson) and a rookie (Terrence Ross), and a turnover and missed shot from LeBron in the final minute.…

Share Tweet

About Last Night: Heat Are Dino-Mite

grantland.com

Jan 24, 2013

In case you were busy watching a yule log DVD in a misguided attempt to stay warm, here's what you missed in sports on Wednesday. The Miami Heat sto...

Share Tweet

NBA All-Star Reserves

Jan 24

Spurs and Bulls get two All-Star reserves each.

LeBron James Singing Michael Jackson Song At Karaoke

Jan 24

LeBron James shows off his singing skills at Shane Battier's "Battioke 2013".

DeRozan, Raptors Top Magic At Buzzer

Jan 24

DeMar Derozan's fadeaway jumper at the buzzer lifts Raptors to 97-95 win over Magic.