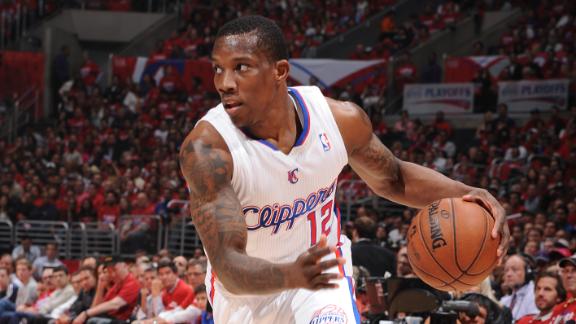 Report: Magic, Clips talking Afflalo-Bledsoe trade
Share
Tweet
MIAMI (AP) -- LeBron James has this summer on his mind, and is already starting to plan for next season.

Share Tweet

nba.com

Jun 25, 2013

James Jones and Rashard Lewis have exercised their player options to remain with the Miami Heat next season.

Share Tweet

Udonis Haslem started pitching Ray Allen to return to the Miami Heat in the shower after Game 7

The Miami Heat's triumph over the San Antonio Spurs in Game 7 of the NBA Finals was cause for great celebration from every member of the organization. Yet, as befits a league where players and coaches seek any competitive edge possible, the afterglow of…

Share Tweet

In 1993, newly-hired Denver Nuggets coach Brian Shaw's parents and sister perished in a one-car crash. Stricken by grief but unbowed, Shaw (then a member of the Orlando Magic) decided to cobble together a one-off hip-hop song that the Denver Post's Benj…

Share Tweet

Finals push NBA Digital to new heights across all platforms

nba.com

Jun 25, 2013

NBA Digital, jointly managed by the NBA and Turner Sports, generated all-time cross-platform consumption records during the 2013 NBA Finals -- won by the Miami Heat over the San Antonio Spurs in seven games -- including its largest audience ever for pre…

Share Tweet

Julio Iglesias celebrated the Miami Heat's championship by huggin' a few bellies

Grammy-winning singer Julio Iglesias owns two percent of the champion Miami Heat. He is also a thoughtful, loving individual of average height, one that loves to dole out good cheer, both in song, and in physical interaction. Here's how Julio describes …

Share Tweet

Pat Riley joined a late-night tape session with three bottles of wine during Miami's lowest Finals moment

Miami Heat president Pat Riley has seen quite a few roads, and taken a few forks in his basketball lifetime. He's also popped a few corks, and broken down more than his fair share of game tape over the years. The same goes for Heat coach Erik Spoelstra,…

Share Tweet

dimemag.com

Jun 25, 2013

Did you catch this yesterday during the Miami Heat championship parade? Apparently the planners of the parade route didn't take into account the fact that they'd have giant basketball players atop double-decker buses. It made overpasses potentially mess…

Share Tweet

Someone Wrote The World's Dumbest Column About John Wall's New Tats

deadspin.com

Jun 25, 2013

This, from the Washington Post's Jason Reid, is not so much a column as it is an extended pageant answer. It's as if someone had just asked: "Miss DC, do you think the Washington Wizards should give John Wall a max contract in light of his recently…

Share Tweet

ESPN.com

Jun 25, 2013

The Brooklyn Nets will take on the Atlanta Hawks on Jan. 16, 2014 in a regular-season matchup at The O2 arena in London as part of the NBA Global Games London 2014, the league announced Tuesday.

Share Tweet

LeBron James' recipe for surviving without social media: Old Michael Jordan videos and '24′ (Video)

After leading the Miami Heat to a second straight NBA championship with a brilliant Game 7 that cemented another NBA Finals MVP trophy, LeBron James sat down with Turner Sports' Rachel Nichols to talk about the differences between his two title runs, ma…

Share Tweet

Centerpiece: NBA Draft

Jun 25

Chad Ford discusses who he thinks the Cavaliers and Magic will select with the top two picks in the NBA draft.

Miami Celebrates Title

Jun 25

The Miami Heat celebrated their championship with a parade on Monday.

Heat Want Ray Allen Back

Jun 25

Michael Wallace discusses the likelihood that Ray Allen will return to play next season for the Heat.

Chances Bosh Remains With Miami

Jun 25

Tim Legler discusses the likelihood Chris Bosh remains with the Heat.