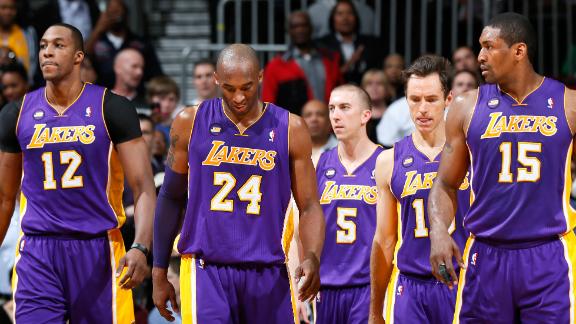 Updated Mar 13
Share
Tweet
Los Angeles Lakers star Kobe Bryant will be out indefinitely with a severe left ankle sprain suffered in Wednesday night's 96-92 loss to the Atlanta Hawks, the team announced.
Sources:
ESPN.com
deadspin.com
Updated Mar 13

Share Tweet

The Los Angeles Lakers dropped a close one to the Atlanta Hawks on Wednesday night, but might have lost much more than one game - All-Star shooting guard Kobe Bryant suffered what the team called a severe left ankle sprain late in the fourth quarter and

Updated Mar 13

Share Tweet

This is just tremendous. Sanders was ejected from the Bucks game against the Wizards after picking up two technical fouls. Before leaving the court, however, Larry handed out a trio of thumbs ups to the officials calling the game. Sanders finished the g…

Source:

deadspin.com

Wall exchanges words with coach, lifts Wizards

Updated Mar 13

Share Tweet

John Wall had 23 points and 10 assists, and the Washington Wizards Milwaukee Bucks 106-93 Wednesday night.

Heat 4th team to win 20 straight in one season

Updated Mar 13

Share Tweet

LeBron James scored 27 points and the Miami Heat became the fourth team to win at least 20 consecutive games in a season, rallying to beat the Philadelphia 76ers 98-94 on Wednesday night.

Despite win, D'Antoni rips 'Hack-a-Howard' plan

Updated Mar 13

Share Tweet

The Los Angeles Lakers won on Tuesday with the Orlando Magic resorting to "Hack-a-Howard" and constantly parading Dwight Howard to the foul line, but that doesn't mean that coach Mike D'Antoni approves of "Hack-a-Whomever."

Wizards' Beal to miss fifth straight game

Updated Mar 13

Share Tweet

Bradley Beal is expected to miss his fifth straight game for Washington Wizards on Wednesday night against the Bucks.

Source:

nba.com

Create-a-Caption: 'Look! Up in the standings!'

Updated Mar 13

Share Tweet

"It's a bird! It's a plane! It's ... 27 other teams. Oh, man. That's kind of a bummer. Like, we've been pretty good for a while, and it's still that bad. Dang." It's OK, Washington Wizards. You're still sneakily fun and OK in our books (especi…

Updated Mar 13

Share Tweet

The Miami Heat's winning streak stands at 19 games, and there's good reason to believe it could be snapped any day now. Not only is there the popular notion that every dog team could have its day, or every alpha dog could be a few missed free throws a

Dwight Howard responds to heckling Orlando fan with 'yo mama' joke, because of course (VIDEO)

Updated Mar 13

Share Tweet

I have to say - it was really nice getting to spend the morning working on a post about how sharp and dominant Dwight Howard was during the Los Angeles Lakers' Tuesday night win over the Orlando Magic - a season-high 39 points, 16 rebounds and three b

The Indiana Pacers: Contender Or Pretender?

Updated Mar 13

Share Tweet

The NBA is notorious for having a small number of teams with realistic championship expectations. While nearly half of the NFL can claim to be in the running, the NBA normally only has a handful of true contenders. The Heat, Thunder and Spurs have all e…

Source:

dimemag.com

Updated Mar 13

Share Tweet

You're not going to believe this, but after he spent months trying to force his way out of Central Florida, worked behind the scenes to undermine his coach and general manager, picked up a one-year contract option because he wanted everyone to love him …

Sources:

yahoo.com dimemag.com

Lakers Fall To Hawks

Mar 13

Lakers' four-game winning streak comes to an end with the 96-92 loss to the Hawks.

Heat Hold On For 20th Straight Win

Mar 13

Miami Heat become the fourth team in NBA history to win at least 20 straight games with the 98-94 victory over the 76ers.

Analyzing The Heat's Win Streak

Mar 13

Stephen A. Smith, Skip Bayless and Morris Chestnut debate if the Heat's win streak is a good thing and how long it will last.

Wizards Run Past Bucks 106-93

Mar 13

John Wall drops a double-double on Bucks.

Sports Columnists

Ian Thomsen: Two years later, Carmelo trade has benefited Knicks, Nuggets

Mar 13

I thought the Knicks gave up too much in the Carmelo Anthony trade, but only Danilo Gallinari seems to have a chance to become big star among the players Denver received. What do you think of that trade two years later? -- David Chabon, Marlboro, N.J.