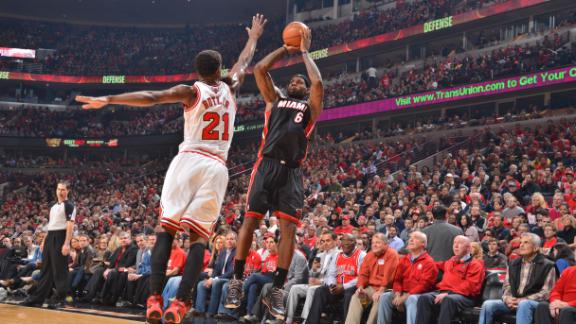 Updated May 10
Share
Tweet
LeBron James came on strong down the stretch to finish with 25 points, and the Miami Heat followed the most lopsided playoff win in franchise history with a 104-94 win over the Chicago Bulls on Friday to take a 2-1 lead in the series.
Sources:
ESPN.com
yahoo.com
nba.com
dimemag.com
CNNSI.com
Updated May 10

Share Tweet

The video above is basically the quick-hit, short-take, brief summation of the Miami Heat/Chicago Bulls Eastern Conference semifinals. Without dismissing either team's significant talents, the block that 5-9 Bulls guard Nate Robinson came through with a

Sources:

yahoo.com dimemag.com

Report: Hawks eye S. Van Gundy as coach

Updated May 10

Share Tweet

With Larry Drew likely done as head coach of the Atlanta Hawks, general manager Danny Ferry has made Stan Van Gundy his top target to take over the team, Yahoo! Sports reported on Friday.

Source:

ESPN.com

GIF: Joakim Noah Mocks Chris Bosh As Chris Bosh Yells at Mario Chalmers

Updated May 10

Share Tweet

For breaking news, rumors, exclusive content, and contests sent right to your inbox, sign up here for the Dime Email Newsletter. Follow Dime Magazine on Twitter Become a fan of Dime Magazine on FacebookThe post GIF: Joakim Noah Mocks Chris Bosh As Chris…

Source:

dimemag.com

Updated May 10

Share Tweet

Chicago Bulls forward Taj Gibson received a $25,000 fine for "verbal abuse of a game official," NBA Executive Vice President of Basketball Operations Stu Jackson announced Friday. The fine stems from Gibson's ejection at the 10:13 mark of the …

Updated May 10

Share Tweet

Kirk Hinrich underwent a second MRI on his bruised left calf Thursday, according to coach Tom Thibodeau, while Luol Deng said he is still very weak and both are unlikely to face the Heat in Game 3 on Friday.

Source:

ESPN.com

Watch This Ohio Softball Player Rob A Home Run To Win The Game

Updated May 10

Share Tweet

The Ohio Bobcats played rivals Miami in the MAC softball tournament yesterday. Ohio, up 3-2, was fielding with two outs in the bottom of the seventh inning. Miami had a runner on first base when freshman Jenna Modic stepped up to the plate.Read more...

Source:

deadspin.com

Robinson Blocks LeBron

May 10

Nate Robinson comes from behind to block LeBron's layup

Boozer Sends Early Message

May 10

Carlos Boozer dunks on Chris Bosh in first quarter action.

Rose, Deng and Hinrich Out For Game 3

May 10

Israel Gutierrez examines how not having Derrick Rose, Luol Deng and Kirk Hinrich will affect the Bulls in their Game 3 matchup against the Heat.

Chances Luol Deng Plays Against Heat

May 10

Israel Gutierrez breaks down the latest on Bulls forward Luol Deng's playing status for the East semifinal series versus the Heat.