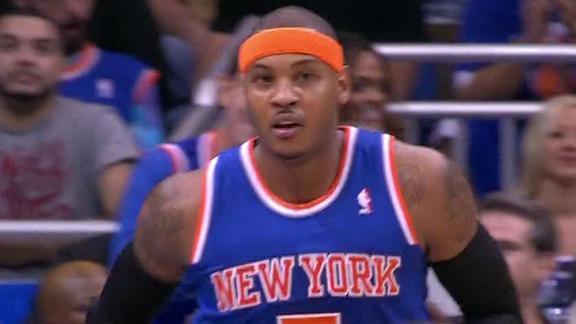 Carmelo Anthony scored 25 points, and JR Smith and Raymond Felton each added 21 as the New York Knicks held off the Orlando Magic 99-89 on Tuesday night.
Share
Tweet
ESPN.com deadspin.com

Nov 13, 2012

The start of the second quarter of Tuesday's game between the New York Knicks and the Orlando Magic was delayed when a Magic stunt team member was rushed to the hospital after she fell and hit her head on the court.

Share Tweet

CNNSI.com

Nov 13, 2012

MEMPHIS, Tenn. (AP) The Memphis Grizzlies have announced that assistant general manager Kenny Williamson has died of cancer. He was 65.

Share Tweet

The Charlotte Bobcats say they have acquired forward Hakim Warrick from the New Orleans Hornets for guard Matt Carroll.

Share Tweet

CNNSI.com

Nov 13, 2012

HOUSTON (AP) LeBron James put on a second-half show and helped the Miami Heat finally put away Houston.

Share Tweet

The Best Player In The World Rips Out Houston's Heart; Utah Wins A 3OT Thriller

dimemag.com

Nov 13, 2012

If you're trying to beat Miami, there are a few specific things you can't do. You can't let LeBron dominate an entire second half. You can't let Chris Bosh shoot the same jumpers he takes in the pregame all night long. And if you have a look at a

Share Tweet

Knicks Improve To 5-0

Nov 13

Knicks go on 18-4 run in the fourth quarter to put away the Magic, 99-89.

West Side/East Side: The Lakers Choose D'Antoni

Nov 13

J.A. Adande and Israel Gutierrez on the hiring of Mike D'Antoni and the implications of passing on Phil Jackson.