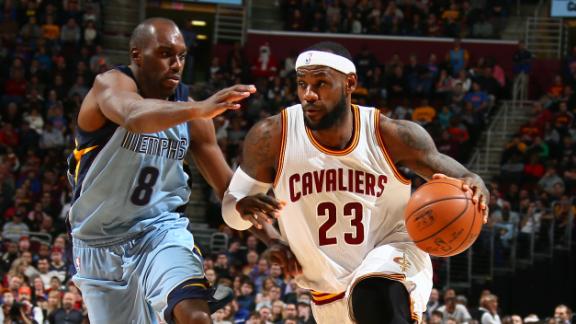 LeBron James had 25 points and 11 assists, Dion Waiters scored 13 of his 21 points in the fourth quarter and the Cavaliers handled one of the West's best teams, beating the Grizzlies 105-91 on Sunday.
Upvote
Share
Tweet
Report: Lance Stephenson Has "Clashed With Teammates" In Charlotte

dimemag.com

6 hours ago

Things have not according to plan since Lance Stephenson spurred the Pacers in free agency this summer to sign with Charlotte. The new-look Hornets are 8-19 so far and Stephenson has been the subject of trade rumors with a number of teams, and his old t…

Upvote Share Tweet

Counting Down The Top 10 Moments From NBA Christmas Day: 10-8

dimemag.com

12 hours ago

The NBA isn't like other professional sports in America; they play on Christmas. Not only do they play, but the games on the national holiday signal a focal point for most NBA observers and a day when it's finally appropriate to take stock of the first …

Upvote Share Tweet

ESPN.com dimemag.com nba.com yahoo.com

Dec 20 (yesterday)

Monta Ellis equaled his season high with 38 points, including 11 during the final four minutes, to spark a late rally as the Dallas Mavericks beat the depleted San Antonio Spurs 99-93 Saturday in Rajon Rondo's debut with the Mavericks.

Upvote Share Tweet

Local Houston TV Station Uses NBA 2K15 Pic Of Troy Daniels To Report Trade

dimemag.com

Dec 20 (yesterday)

Yesterday's trade sending Corey Brewer from the Timberwolves to the Rockets included Houston's brief hero from last year's playoffs, Troy Daniels. The sharpshooter was dealt to Houston in the exchange for Daniels and a draft pick in a three-team exchang…

Upvote Share Tweet

dimemag.com ESPN.com

Dec 20 (yesterday)

Damian Lillard didn't look like a top-five point guard on Friday night – he simply looked like a top-five player. Watch the Portland Trail Blazers' budding superstar lead his team to a 129-119 triple overtime win against the San Antonio Spurs with a car…

Upvote Share Tweet

Jimmy Butler scored 31 points, Nikola Mirotic added a season-best 27, and the Chicago Bulls snapped Memphis' six-game winning streak with a 103-97 victory over the Grizzlies on Friday night.

Upvote Share Tweet

nba.com dimemag.com ESPN.com

Dec 19 (2 days ago)

Houston Rockets General Manager Daryl Morey announced today that the team has acquired forward Corey Brewer from the Minnesota Timberwolves and Alexey Shved from the Philadelphia 76ers as a part of a three-team trade.

Upvote Share Tweet

Spurs' Leonard tore ligament in right hand

San Antonio Spurs small forward Kawhi Leonard has "something kind of torn" in his right hand, coach Gregg Popovich told reporters before Friday night's game against the Portland Trail Blazers.

Upvote Share Tweet

Chicago Bulls point guard Derrick Rose (illness) and power forward Taj Gibson (sprained right ankle) are out Friday night against the Memphis Grizzlies.

Upvote Share Tweet

dimemag.com deadspin.com

Dec 19 (2 days ago)

The Memphis Grizzlies: America's team? If the Grit 'N Grind crew keeps winning games at a 21-4 pace and donating cars to unsuspecting team employees, that's a more likely possibility than it seems. After a Memphis assistant named Brandon had his car sto…

Upvote Share Tweet

ESPN.com dimemag.com

Dec 19 (2 days ago)

Anthony Davis had 30 points, 14 rebounds and five blocks to lead the New Orleans Pelicans to a 99-90 win over the Houston Rockets on Thursday night.

Upvote Share Tweet

Mark Cuban finalized the Rajon Rondo trade at the 'Colbert Report' finale, per Keith Olbermann

yahoo.com

Dec 19 (3 days ago)

In a rather swift and shocking December surprise, the Dallas Mavericks and Boston Celtics moved quickly to negotiate and finalize a deal sending Rajon Rondo from Boston to Dallas. The timing of the transaction, pitched a good two months prior to the NBA…

Upvote Share Tweet

Butler Takes Over For Bulls

Dec 19

Jimmy Butler scored 30-plus points for the second straight game and the Bulls defeated the Grizzlies 103-97.

Duncan Owning The Post

Dec 19

The Spurs' Tim Duncan pulls off a spin move with ease in the post versus the Blazers.

Cuban On The Addition Of Rondo

Dec 19

Mark Cuban stops by SportsCenter to discuss the Mavericks' trade for Rajon Rondo.

Rondo Introduced In Dallas

Dec 19

Rajon Rondo discusses joining the Dallas Mavericks and what he will bring to the team.