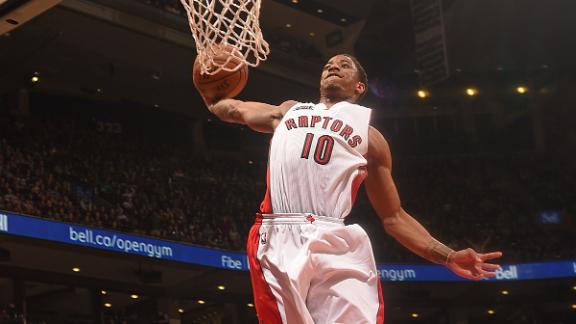 Marc Gasol takes frustrations out on clothing, rips jersey during Grizzlies-Kings

yahoo.com

4 hours ago

It's been a frustrating few weeks for Marc Gasol. He's seen his Memphis Grizzlies, one of the league's most brutalizing and dominant squads through the first 3 1/2 months of the season, stumbling around .500 since the All-Star break, with in-fighting an…

Share Tweet

Cousins sits vs. Grizzlies; Kings mull options

ESPN.com

5 hours ago

Kings center DeMarcus Cousins missed Monday's 97-83 loss to the Grizzlies to rest nagging injuries as the team contemplates shutting down the All-Star big man for the rest of the season.

Share Tweet

Houston Rockets guard Patrick Beverley will undergo surgery Tuesday to repair a torn ligament in his left wrist and will miss the remainder of the season, the team said.

Share Tweet

GM Morey: Rockets can 'beat anybody' in a series

ESPN.com

23 hours ago

Houston Rockets general manager Daryl Morey said Sunday night he thinks his team can win the NBA title.

Share Tweet

Miles, Pacers chase Mavs to stay in playoff hunt

ESPN.com

Mar 30 (yesterday)

C.J. Miles scored 28 points and made a key 3-pointer with a minute left to help the Indiana Pacers beat the Dallas Mavericks 104-99 on Sunday night.

Share Tweet

Spurs rout Griz for 13th win in last 16 games

ESPN.com

Mar 29 (yesterday)

Kawhi Leonard had 25 points and 10 rebounds and the San Antonio Spurs cruised to a 103-89 victory over the Memphis Grizzlies on Sunday.

Share Tweet

Mavericks' Ellis, Barea out vs. Pacers

nba.com

Mar 29 (yesterday)

Dallas will face Indiana on Sunday without leading scorer Monta Ellis and J.J. Barea.

Share Tweet

Harden's 24 help Rockets hold off Wizards

ESPN.com

Mar 29 (yesterday)

One game after clinching a playoff berth, the Rockets delayed the Wizards' bid to secure their own spot, beating Washington 99-91 Sunday behind James Harden's 24 points.

Share Tweet

East-best Hawks rest starters against Hornets

nba.com

Mar 28 (2 days ago)

The Atlanta Hawks are sitting all five starters against the Charlotte Hornets one night after clinching the top seed in the Eastern Conference playoffs.

Share Tweet

yahoo.com

Mar 28 (3 days ago)

The Washington Wizards have had a disappointing second half of the season, but the continued strong play of John Wall has been a saving grace. Although not without his share of stinkers, the All-Star point guard has played up to his reputation and kept …

Share Tweet

Mavs' Ellis hurt; Cuban bemoans non-calls

ESPN.com

Mar 28 (3 days ago)

After an inadvertent knee injured Mavericks shooting guard Monta Ellis in a 94-76 loss to the San Antonio Spurs on Friday, a frustrated Mark Cuban publicly complained about the lack of respect that Dallas' leading scorer receives from referees.

Share Tweet

Conventional NBA wisdom says that a team that has not made the conference since 1976, is led by a head coach who had never served on any staff prior to this season, and boasts zero players with any NBA Finals appearances does not have the experience to …

Share Tweet

yahoo.com

Mar 26 (4 days ago)

Despite an impressive victory against the San Antonio Spurs on Tuesday night, no team's win percentage has fallen so sharply in the second half of the season as the Dallas Mavericks', who transformed from a team that won two-thirds of its games to a .50…

Share Tweet

yahoo.com

Mar 26 (4 days ago)

The Cleveland Cavaliers destroyed the Memphis Grizzlies on Wednesday night, slicing and dicing the NBA's third-stingiest defense to the tune of 111 points, 30 assists on 43 made field goals and 14 3-pointers, rolling up a 29-point lead on the road again…

Share Tweet

Nets' Young has strained knee, out vs. Cavs

ESPN.com

Mar 26 (4 days ago)

Brooklyn Nets power forward Thaddeus Young suffered a left knee strain in Wednesday night's win over the Charlotte Hornets, an MRI revealed.

Share Tweet

yahoo.com

Mar 26 (5 days ago)

Tim Duncan's been an awful lot of things in his illustrious 18-year career — an NBA champion (five times), an All-Star (15 times), the league's Most Valuable Player (two times), the NBA Finals' Most Valuable Player (three times), an All-NBA selection (1…

Share Tweet

Spurs stop OKC's streak with 39-point rout

ESPN.com

Mar 26 (5 days ago)

Tony Parker had 21 points and six assists, and the San Antonio Spurs stopped Oklahoma City's four-game winning streak with a runaway 130-91 victory over the Thunder on Wednesday night.

Share Tweet

yahoo.com

Mar 26 (5 days ago)

The Houston Rockets made it very clear that Dwight Howard's return to the court in Wednesday's visit to the New Orleans Pelicans would not find the eight-time All-Star pushing the limits of the sore right knee that had kept him out since January 23. Bas…

Share Tweet

Not-So-Smart Ejection

Mar 20

Boston Celtics guard Marcus Smart was ejected from the game for flagrantly punching Spurs forward Matt Bonner below the belt.

Grizzlies Take Care Of Mavs

Mar 20

The Grizzlies got double-digit points from seven players in a 112-101 win over the Mavericks.

Warriors Cruise Past Shorthanded Pelicans

Mar 20

Playing without Anthony Davis, the Pelicans fell to the Warriors, who got 22 points from Harrison Barnes in a 112-96 win.

Spurs Rout Celtics

Mar 20

Five Spurs scored in double figures in San Antonio's 101-89 win over Boston.