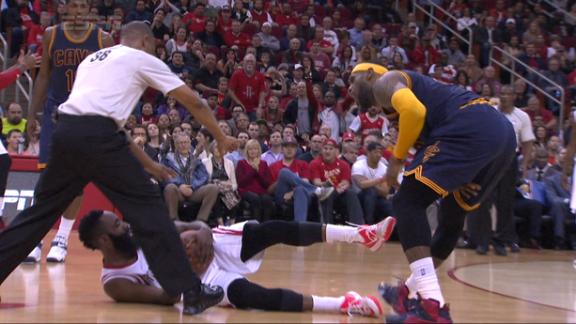 The Houston Rockets went all out after defeating the Cleveland Cavaliers by two points on Sunday, even going so far as to declare James Harden "the new King James" after having vanquished LeBron James in regular-season battle. Unfortunately fo…
Upvote
Share
Tweet
Mavs' Tyson Chandler and Chandler Parson to miss game vs. Pelicans

nba.com

19 hours ago

Tyson Chandler and Chandler Parsons will miss Monday night's game against New Orleans because of injuries, leaving the Mavericks without two of their frontcourt starters for the second straight game.

Upvote Share Tweet

Rockets guard James Harden was called for a flagrant foul for appearing to kick LeBron James below the belt in Sunday's 105-103 overtime win over the Cleveland Cavaliers.

Upvote Share Tweet

ESPN.com

Feb 28 (3 days ago)

Cavaliers point guard Kyrie Irving will miss his second straight game, Sunday against the Rockets, with a strained left shoulder, an injury the team had thought would only sideline him for one game.

Upvote Share Tweet

ESPN.com

Feb 28 (2 days ago)

Kawhi Leonard had 22 points and 10 rebounds, and the San Antonio Spurs dominated from the opening tip in a 101-74 rout of the Phoenix Suns on Saturday night.

Upvote Share Tweet

Nets into 8th with win over Rondo, Mavs

ESPN.com

Feb 28 (2 days ago)

Deron Williams scored 25 points, Thaddeus Young had 16 points and eight rebounds off the bench and the Brooklyn Nets topped the Dallas Mavericks 104-94 on Saturday night.

Upvote Share Tweet

Sacramento Kings center DeMarcus Cousins is sitting out against the San Antonio Spurs because of a sprained left ankle and bruised left hip.

Upvote Share Tweet

Rajon Rondo says he and Dallas coach Rick Carlisle talked all the time in the days after the point guard arrived from Boston in a trade the Mavericks hope will boost their chances of winning a championship.

Upvote Share Tweet

yahoo.com

Feb 27 (4 days ago)

Back in January 2014, after the NBA acknowledged that Monta Ellis got away with a closing-seconds foul on Austin Rivers that helped cost the New Orleans Pelicans a victory, Dallas Mavericks owner Mark Cuban said he loved that the league office was coppi…

Upvote Share Tweet

Rajon Rondo Is Not As Good As You Think

Mar 2

So far the Rajon Rondo trade has not worked out well for the Mavs, and this should come as no surprise according to Ethan Strauss, Amin Elhassan and Tom Haberstroh.

The Pulse: The King Gets Crowned

Mar 2

Lots of social reaction to the Cavaliers-Rockets game Sunday. The Rockets and James Harden took a pair of cheap shots at LeBron, and what was up with Harden's hat? Cary Chow explains.

LeBron Disappoints, Harden Impresses

Mar 2

P.J. Carlesimo discusses LeBron James' and James Harden's performances in Houston's win over Cleveland.

Harden Suspended One Game For Kicking LeBron

Mar 2

Tim Legler reacts to the news that James Harden has been suspended one game for kicking LeBron James in the groin during the Rockets' victory over the Cavaliers.