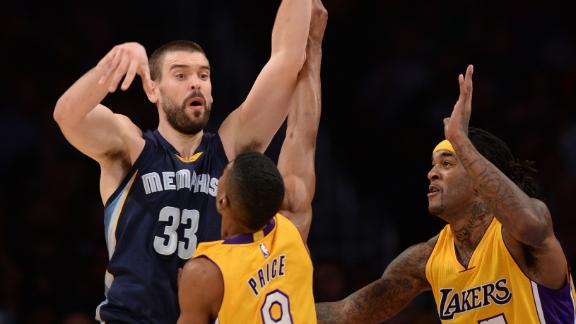 Chandler leads Mavs to OT win over Knicks

ESPN.com

3 hours ago

Tyson Chandler set season highs with 17 points and 25 rebounds against his former team, helping the Mavericks to a 109-102 overtime victory against the Knicks, who were missing Carmelo Anthony.

Upvote Share Tweet

Spurs coach Gregg Popovich missed Wednesday night's 106-100 win over the Indiana Pacers after undergoing what the team is calling a minor medical procedure.

Upvote Share Tweet

Matthews guides Blazers to 9th straight win

ESPN.com

4 hours ago

Trail Blazers win 9th in a row, top Hornets 105-97

Upvote Share Tweet

Mavs' Cuban: Realignment could benefit NBA

ESPN.com

6 hours ago

Mavericks owner Mark Cuban says a conference realignment that would result in a total of eight teams, including the Mavs, switching conferences, could help level the playing field between the NBA's two conferences.

Upvote Share Tweet

Dime Q&A: Steven Adams On Guarding Big Al & Z-Bo, Life Without KD & Russ, And More

dimemag.com

10 hours ago

When the Thunder traded James Harden to the Rockets, it seemed like the team got absolutely nothing in return. Kevin Martin wasn't able to replace Harden's production and Jeremy Lamb never developed into the dangerous offensive weapon the Thunder had ho…

Upvote Share Tweet

ESPN.com dimemag.com

12 hours ago

New York Knicks forward Carmelo Anthony has been ruled out of Wednesday's game against the Mavericks due to painful back spasms.

Upvote Share Tweet

The Warriors' Best Lineups Are Killing The Rest Of The League

deadspin.com

14 hours ago

By pretty much every metric, the Warriors are one of the best teams in the league. They're 11-2, a half-game out of the best record in the league, lead the league in opponent-adjusted net offensive/defensive rating, and are in lockstep with the Spurs fo…

Upvote Share Tweet

yahoo.com dimemag.com

Nov 25 (yesterday)

With Dwight Howard still shelved by a strained right knee, Terrence Jones entering his third week sidelined by a peroneal nerve contusion and Patrick Beverley out nursing a strained left hamstring, the New York Knicks entered Monday's road game against …

Upvote Share Tweet

yahoo.com

Nov 25 (yesterday)

So, the Memphis Grizzlies have the NBA's best record. The team's best player, Marc Gasol, spent his teenage years in Memphis, and the Grizzlies were the first team to give him an NBA chance. That franchise can also pay him more money than any other squa…

Upvote Share Tweet

dimemag.com

Nov 25 (yesterday)

No win in the NBA can be assumed – all 30 teams employ professional basketball players. And considering that logic, no loss should be overly disappointing, either. The Dallas Mavericks don't subscribe to the latter line of thinking. After falling to the…

Upvote Share Tweet

GIF: James Harden Barely Pretends To Play Transition Defense Against Knicks

dimemag.com

Nov 25 (2 days ago)

This GIF deserves as little explanation as possible. As the New York Knicks begin a fast break after a Houston Rockets turnover, watch James Harden barely pretend to play transition defense. Embarrassing effort. No worries, though. Houston beat New York…

Upvote Share Tweet

Rockets Fly By Kings

Nov 26

James Harden and Isaiah Canaan combined to score 50 points in the Rockets' 102-89 win over the Kings.

Memphis Grizzlies Conversation

Nov 26

Zach Randolph, Marc Gasol, Tony Allen and Mike Conley sit down with Jalen Rose to discuss the Memphis Grizzlies and the success of the team.

A #HateHard Thanksgiving

Nov 26

Amin delivers a very special #HateHard edition of thanks.

Spurs Top Pacers Without Popovich

Nov 26

The Spurs rallied to a 106-100 win against the Pacers without head coach Gregg Popovich on the sideline.