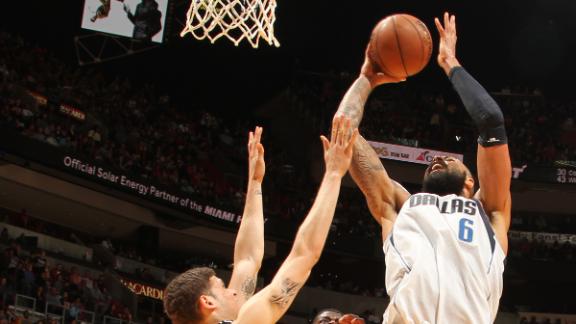 ESPN.com

6 hours ago

Ricky Rubio is one game away from returning to the Minnesota Timberwolves.

Upvote Share Tweet

Memphis Grizzlies guard/forward Vince Carter has an injured tendon in his left foot and will undergo more evaluation.

Upvote Share Tweet

Spurs star Tim Duncan has filed a lawsuit contending that a series of investments enriched his financial adviser but were losing propositions for the NBA star, including $7.5 million in an entertainment company run by the adviser.

Upvote Share Tweet

ESPN.com dimemag.com nba.com

Jan 30 (yesterday)

Dwight Howard underwent an MRI that revealed he had a build up of fluid in his right knee, the Houston Rockets announced Wednesday.

Upvote Share Tweet

yahoo.com

Jan 29 (yesterday)

Nearly seven years ago to the day, Pau Gasol was traded to the Los Angeles Lakers from the Memphis Grizzlies. His presence immediately put the Los Angeles Lakers over the top in a killer Western Conference – the team made it to the Finals in his first h…

Upvote Share Tweet

Retooling with Rondo, Mavericks navigating expected rough waters

nba.com

Jan 29 (2 days ago)

Rajon Rondo watched the final minutes of one close loss from the Dallas bench, then threw away an inbound pass trailing by a point in the closing seconds of the next game.

Upvote Share Tweet

dimemag.com ESPN.com

Jan 29 (2 days ago)

Chandler Parsons and James Harden have come a long way since the war of words over the summer after Parsons spurned the Rockets to sign a three-year, $46 million deal with the Mavs. Their mutual gripe followed Harden's disparaging comments about Chandle…

Upvote Share Tweet

ESPN.com

Jan 29 (2 days ago)

A strained right hamstring will force Heat shooting guard Dwyane Wade to miss Friday night's game against the Dallas Mavericks, and perhaps several more.

Upvote Share Tweet

yahoo.com

Jan 28 (3 days ago)

Sure, longtime theoretical opponents Floyd Mayweather and Manny Pacquiao chatting at Tuesday's Miami Heat-Milwaukee Bucks game is a pretty big deal, I guess. But if you really want to see a fight, you should've been watching the D-League contest between…

Upvote Share Tweet

Hornets' Walker to miss six weeks after knee surgery

nba.com

Jan 28 (3 days ago)

The Charlotte Hornets expect point guard Kemba Walker will miss a minimum of six weeks after undergoing surgery to repair a torn lateral meniscus in his left knee.

Upvote Share Tweet

yahoo.com

Jan 28 (4 days ago)

The Memphis Grizzlies entered this season as an established Western Conference playoff team, albeit one that perhaps had reached its ceiling. There are worse fates than winning 50-plus games and maybe a playoff series every year, but there is also somet…

Upvote Share Tweet

Randolph, Griz hand Mavs third straight loss

ESPN.com

Jan 27 (4 days ago)

Zach Randolph had 22 points and 10 rebounds, and the Grizzlies beat Dallas 109-90 on Tuesday night, handing the Mavericks their first three-game losing streak of the season.

Upvote Share Tweet

GIF: Rajon Rondo Throws Multiple Fakes, Finds Chandler Parsons For Trey

dimemag.com

Jan 27 (4 days ago)

Opponents have scouted Rajon Rondo's signature fake behind-the-back pass enough these days that it only works nine times out of 10. Fortunately for the Dallas Mavericks, their point guard has many other dekes in his arsenal to deploy when his favorite o…

Upvote Share Tweet

Mavs Storm Past Heat

Jan 30

Despite Hassan Whiteside's 24 rebounds and 16 points, the Heat got outscored 60-27 in the second half and fell to the Mavs 93-72.

Whiteside Makes One-Handed Power Slam

Jan 30

Miami Heat center Hassan Whiteside drew a foul while throwing down a one-handed slam, which was part of a first-half double-double.

What If the Kings Had Drafted Klay Thompson?

Jan 30

In 2011, Jimmer Fredette was selected one pick before Klay Thompson. What if it had gone the other way?

NBA All-Star Reserves Announced

Jan 29

ESPN NBA front office insider Amin Elhassan provides his take on the All-Star reserves.