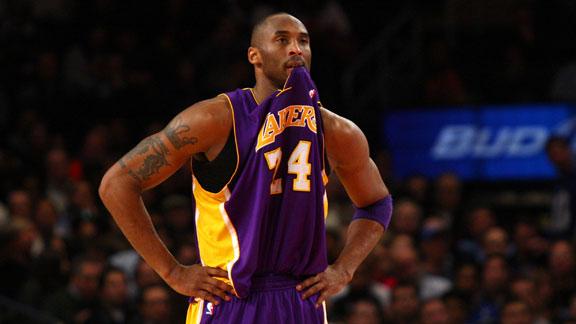 Updated Apr 16
Share
Tweet
The Los Angeles Lakers have come down to the final game of their rocky 2012-13 regular season and in a most appropriate scenario, considering everything that's happened to the team this year, L.A.'s postseason fate is still up in the air.
Source:
ESPN.com
Updated Apr 16

Share Tweet

Quentin Richardson and Tracy McGrady today signed deals with the Knicks and Spurs, respectively. Their contracts, which are good through the rest of the season, signal that New York and San Antonio are both determined to take another run at the 2003 NBA…

Sources:

deadspin.com nba.com dimemag.com

The Best Way To Preview The NBA Playoffs: Lyrics From 2 Chainz

Updated Apr 16

Share Tweet

With the playoffs starting this weekend, we look to the only person whose opinion matters about each team's playoff outlook: 2 Chainz. From the top-seeded Heat to the limping Lakers (sorry, Utah fans), we used the Tity Boi scriptures to find out how all

Harrison Barnes Puts a Massive Two-Hand Slam on the Spurs

Updated Apr 16

Share Tweet

The Golden State Warriors did some clowning on the San Antonio Spurs last night. First there was the ridiculous buffet of moves that Stephen Curry handed out, now check out this Harrison Barnes dunk. HB blows by his man and then elevates in the lane to …

Rick Carlisle lashes out at the struggling O.J. Mayo, begging for him to 'compete'

Updated Apr 16

Share Tweet

O.J. Mayo's first and possibly only season in Dallas is ending on a low, low note. While Mayo is a talent and far from a head case, and the Mavericks have had about as tough as NBA seasons get through no fault of their own, these are the results that ne

Source:

yahoo.com

Court Grip Difference Maker of the Week: Stephen Curry's Sick Dribble Moves put the Spurs on Skates

Updated Apr 16

Share Tweet

Stutter steps, spins, crossovers, step-back jumpers — watch Stephen Curry hit the Spurs' Gary Neal with the full rapid fire buffet on this clip. So sick. For breaking news, rumors, exclusive content, and contests sent right to your inbox, sign up here

Updated Apr 16

Share Tweet

Stephen Curry made seven 3-pointers to finish with 35 points, leading the Golden State Warriors past the severely short-handed San Antonio Spurs 116-106 on Monday night.

Source:

ESPN.com

Spurs Sign Tracy McGrady

Apr 16

How much will Tracy McGrady impact the Spurs in the playoffs?