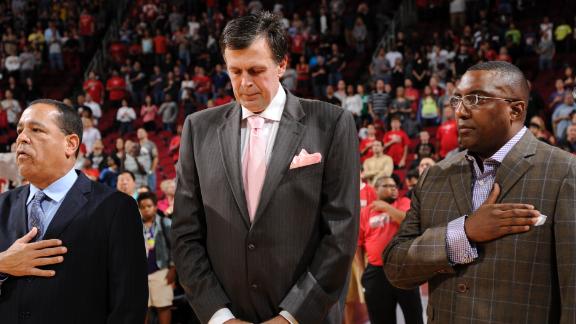 O.J. Mayo scored 40 points, including 10 in the last three minutes, to lift the Dallas Mavericks to a 116-109 victory over the Rockets on Saturday night in coach Kevin McHale's return to the Houston bench.
Share
Tweet
Wade, LeBron help Heat wrap up 2-game skid

ESPN.com

Dec 8, 2012

Dwyane Wade scored 26 points, LeBron James finished with 24 points and seven assists, and the Miami Heat snapped a two-game slide by topping the New Orleans Hornets 106-90 on Saturday night.

Share Tweet

ESPN.com

Dec 8, 2012

Josh Smith had 24 points, Lou Williams scored 18 of his 21 in the second half, and the Atlanta Hawks beat the Memphis Grizzlies 93-83 on Saturday night.

Share Tweet

Danny Green scored 23 points and the San Antonio Spurs set a franchise record with 19 3-pointers to hand the Charlotte Bobcats their seventh straight defeat, 132-102 on Saturday night.

Share Tweet

30 Seconds With Kenny Smith

nytimes.com

Dec 8, 2012

Kenny Smith, a Queens native, was drafted by the Sacramento Kings in 1987 with the sixth pick over all. During a 10-year N.B.A. career, Smith, a point guard, also played with Atlanta, Detroit, Orlando and Denver, and he was with Houston when the Rockets…

Share Tweet

Heat Bounce Back Big

Dec 8

Miami snaps a two-game slide behind a combined 50 points from Dwyane Wade and LeBron James.

Hawks Fly By Grizzlies

Dec 8

Hawks hand the Grizzlies just their second-home loss of the season, 93-83.

Kevin McHale Returns To Rockets' Loss

Dec 8

After missing a month of action due to the loss of his daughter, Kevin McHale returns to the bench and the Rockets fall 116-109 to the Mavericks.