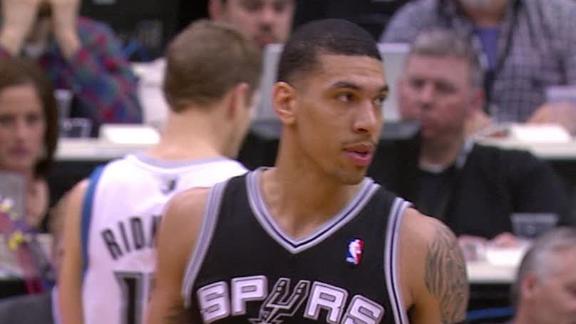 ESPN.com
Updated Feb 6, 2013
Danny Green hit eight 3-pointers and scored a career-high 28 points to help the San Antonio Spurs to their 11th straight win, 104-94 over the Minnesota Timberwolves on Wednesday night.
Share
Tweet
LeBron James scored 32 points, Dwyane Wade added 31 points and eight assists, and the Miami Heat held off the Houston Rockets 114-108 on Wednesday night.

Share Tweet

Chris Bosh of Miami Heat to sit out with illness

The Miami Heat will be without All-Star center Chris Bosh on Wednesday against the Houston Rockets because of illness. He is considered day to day.

Share Tweet

Lionel Hollins is still complaining about the roster he's been given

Sometimes these stories just write themselves. The Memphis Grizzlies are coached by a notoriously anti-advanced stats Rudy Gay fan in Lionel Hollins. The team's front office is composed of two men in Jason Levien and John Hollinger that tend to shocking

Share Tweet

Tiago Splitter, comfortable in his 'own house,' is flourishing in San Antonio

Tiago Splitter's per game stats this season won't blow anyone away, and his per-minute numbers actually haven't shown that much improvement in comparison to the lockout-shortened 2011-12 season. The eye test tells a different story, though. Though T

Share Tweet

Allen Iverson loses Atlanta mansion in foreclosure auction, according to report

Just one week after declining an invitation to join the Dallas Mavericks' D-League affiliate as he continues his thus-far unsuccessful pursuit of a return to the NBA and days after a family court judge lambasted his parenting during divorce proceedings,…

Share Tweet

Watch Houston Make A Record-Tying 23 Three-Pointers In One Game

dimemag.com

Feb 6, 2013

Golden State had a pretty good offensive night. As we mentioned in Smack, they lit it up for 62 points in the first half against Houston… and yet trailed by 15. The Houston Rockets would go on to make 23 of 40 threes, tying a NBA record. On Monday night

Share Tweet

Rockets sink 23 treys to tie NBA record in rout

The Houston Rockets tied an NBA record and set a franchise mark with 23 3-pointers in a 140-109 win over Golden State on Tuesday night.

Share Tweet

Just one week ago, Denver Nuggets forward Danilo Gallinari made one of this season's more ridiculous shots, a running, flailing, heading-out-of-bounds, end-of-the-shot-clock heave that splashed through for two during the third quarter of a Denver win ov…

Share Tweet

The Houston Rockets put on a historically great shooting performance on Tuesday night, defeating the Golden State Warriors 140-109 at home. Houston tied an NBA record with 23 3-pointers on 40 attempts, with three players making at least four triples and…

Share Tweet

About Last Night: The Rockets' Red Glare

grantland.com

Feb 6, 2013

In case you were out just driving, man, just hitting the open road, here's what you missed in sports Tuesday. The Houston Rockets tied the NBA recor...

Share Tweet

Hornets Put Away Suns

Feb 6

Greivis Vasquez drops double-double in Hornets' 93-84 win over Suns.

LeBron, Wade Spark Heat

Feb 6

LeBron James and Dwyane Wade combined for 63 points in the Heat's 114-108 victory over the Rockets.

Rubio Touch Pass

Feb 6

Ricky Rubio's touch pass finds Mickael Gelabale for the lay-in.

Barea 3-pointer

Feb 6

JJ Barea knocks down 3-pointer

Sports Columnists

Mike Krzyzewski still being courted by Team USA basketball, according to s…

Feb 6

Team USA basketball still is holding out hope that Mike Krzyzewski will remain the team's coach, according to sources.