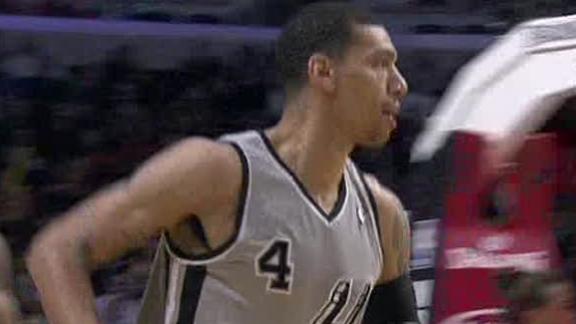 ESPN.com nba.com nydailynews.com

Feb 11, 2013

Tony Parker, Tim Duncan and Manu Ginobili were sidelined for San Antonio's game at Chicago on Monday night, leaving the Spurs without their three biggest stars.

Share Tweet

dimemag.com

Feb 11, 2013

Many people agreed that the trade sending Rudy Gay from the Memphis Grizzlies to the Toronto Raptors on January 31 would not benefit the Raptors. They were buying low on a high-priced, high-usage, inefficient wing that would make them good enough to be …

Share Tweet

Warriors to debut tight yellow alternate jerseys with sleeves against Spurs on Feb. 22 (PHOTOS)

Hey, do you like "breakthrough innovation?" How about tight short-sleeved shirts? If you answered "yes" to both, then the Golden State Warriors and adidas have a treat for you. Show 'em, Harrison Barnes: That right there is a new jer…

Share Tweet

Fan who took off Pistons jersey post-Tayshaun Prince trade meets idol at Grizzlies game (VIDEO)

Two Wednesdays ago, the Detroit Pistons took part in a three-team trade that sent small forward Rudy Gay to the Toronto Raptors, point guard Jose Calderon to the Motor City and a trio of players to the Memphis Grizzlies. One of the Memphis three was sma…

Share Tweet

Jeremy Lin with the block, coast-to-coast run, and throwdown (VIDEO)

Jeremy Lin is the lead point guard for the Houston Rockets, a team that is first in the NBA with a blistering top mark in pace factor. He's also in his first full season as an NBA starter, working in the last week before a much needed All-Star break, wh

Share Tweet

Royce White Back On Court

Feb 11

After half a season of haggling with the Rockets over mental health protocols, rookie Royce White is suiting up in the D-League.

Short-Handed Spurs Stun Bulls, 103-89

Feb 11

Spurs win 41st game of the season.

Hawks Sneak Past Mavs, 105-101

Feb 11

Josh Smith's double-double helps lift Hawks past Mavs.