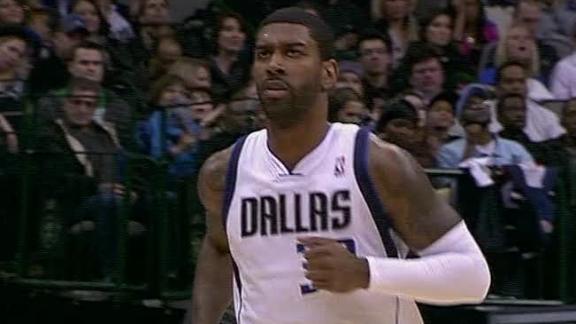 Mavericks win 3rd straight behind Collison
Updated Jan 14
Share
Tweet
Darren Collison led six players in double figures with 23 points and the Dallas Mavericks matched their season high with a third straight win in a 113-98 victory against the Minnesota Timberwolves on Monday night.
Source:
ESPN.com
Updated Jan 14

Share Tweet

Reserves Jamal Crawford and Matt Barnes each scored 16 points, and the Los Angeles Clippers easily routed the Memphis Grizzlies 99-73 Monday night with Chris Paul missing his first game this season because of a bruised right kneecap.

Dirk Nowitzki Tries To Crash A Video Review, Gets Stonewalled By Awesome Security Guard

Updated Jan 14

Share Tweet

I was not previously aware of the fact that there are NBA security guards whose job it is to prevent players from getting too close to the referees during video reviews. But as the video above shows, such security guards do indeed exist, and one of them…

Source:

deadspin.com

Doc Rivers Says Austin Rivers Thinks Too Much About Basketball

Updated Jan 14

Share Tweet

Despite losing to New York yesterday, the Hornets look like a completely new team with Eric Gordon finally back. That came at the expense of rookie Austin Rivers, who started most of the season at the two guard in Gordon's absence. Now, he's been rele

Source:

dimemag.com

Updated Jan 14

Share Tweet

San Antonio Spurs guard Manu Ginobili is expected to miss 10-14 days with a left hamstring strain.

Updated Jan 14

Share Tweet

Try to cut everything out of the picture, save for the visual tip-offs. Forget how he may have disappointed you at Connecticut, or the Memphis Grizzlies' inspiring 2011 playoff run with him on the bench. Forget the contract, forget Lionel Hollins recent

Sources:

yahoo.com dimemag.com

Updated Jan 14

Share Tweet

Prior to a Sunday afternoon win over the visiting New Orleans Hornets, the New York Knicks were in the midst of a bad stretch, having lost three straight games, four of their last six and six of their last nine since Christmas Day. With the Knicks strug…

Source:

yahoo.com

Best N.B.A. Games of the Week

Updated Jan 14

Share Tweet

Best N.B.A. games this week pit the Lakers and Bucks, the Rockets and Pacers and the Warriors vs. the Spurs.

Source:

nytimes.com

Updated Jan 14

Share Tweet

For some reason, Carmelo Anthony had been fasting for 15 days. During that time he ate no meat. No cheese. No Honey-Nut Cheerios. No nothing. Anthony said he did it for "clarity," whatever that means.

Source:

nydailynews.com

Mavs Win Third Straight

Jan 14

Mavericks hand the Wolves their fourth straight loss 113-98.

Rationalizing the Irrational

Jan 14

Nate Silver on the difficulty of accepting advanced statistical analysis in sports.