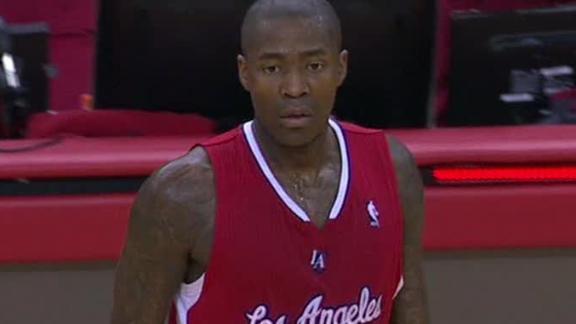 ESPN.com
Updated Jan 15, 2013
Jamal Crawford scored a season-high 30 points, including 12 straight to start the fourth quarter, and the Los Angeles Clippers looked just fine without Chris Paul in a 117-109 win over the struggling Houston Rockets on Tuesday night.
Share
Tweet
DeAndre Jordan Denies Patrick Patterson

DeAndre Jordan hustles across the baseline and comes up with a huge block on Patrick Patterson's shot attempt in tonight's matchup between the Los Angeles Clippers and Houston Rockets.The post DeAndre Jordan Denies Patrick Patterson appeared first on

Share Tweet

Eric Bledsoe Lobs It To DeAndre Jordan

Eric Bledsoe picks off a pass and lobs the rock to DeAndre Jordan who throws down the alley-oop in tonight's matchup between the Los Angeles Clippers and Houston Rockets.The post Eric Bledsoe Lobs It To DeAndre Jordan appeared first on Dime Magazine (di

Share Tweet

Vasquez, Gordon guide Hornets past 76ers

ESPN.com

Jan 15, 2013

Greivis Vasquez scored 23 points, Eric Gordon added 19 and the New Orleans Hornets beat the Philadelphia 76ers 111-99 on Tuesday night.

Share Tweet

We all remember San Antonio Spurs coach Gregg Popovich incurring the wrath of David Stern when he decided to send Tim Duncan, Tony Parker, Manu Ginobili and Danny Green back to Texas to rest rather than suit them up for a nationally televised matchup wi…

Share Tweet

Dallas Won't Trade Dirk Nowitzki, But It Did Send His Bobblehead Into Space

Two days ago Dallas owner Mark Cuban re-iterated that he would not trade cornerstone player Dirk Nowitzki. Cuban recently said that the "Bank of Cuban" was open and he would "100 percent" make a trade by the Feb. 21 deadline. Shawn Marion is the p

Share Tweet

dimemag.com ESPN.com

Jan 15, 2013

The plan, all along, was to get through this season with a half-filled cabinet, and then clear it for a strike at the summer free agency bonanza. But Dallas lost Dirk Nowitzki to injury for the first leg of the season, and even with a few guys playing o…

Share Tweet

5 Benches That Could Hold Back NBA Playoff Contenders

What makes San Antonio so frustrating for opponents and fun to watch for us, the fans, is the parallel personnel magic GM R.C. Buford and coach Gregg Popovich seem to always have working. It's twofold: The Spurs' core of Tony Parker, Tim Duncan and M

Share Tweet

yahoo.com

Jan 15, 2013

Kevin Durant's been hunting for poster victims pretty much all season long. We've seen him ring up Toronto Raptors rookie Jonas Valanciunas, go end-to-end to throw one down on Atlanta Hawks forward Josh Smith, turn a blocked shot into a vicious slam on …

Share Tweet

Kevin Durant Unleashes The Monster In The Desert; The Grizzlies Get Exposed

It's a good thing Kevin Durant and Russell Westbrook didn't get much help last night. Phoenix fans went to the arena expecting to see competitive basketball, not some bloodbath. Durant and Westbrook didn't need any help, taking the Suns on 2-on-5 an

Share Tweet

Cuban Ready To Make A Deal

Jan 15

ESPNDallas.com's Tim MacMahon discusses Mark Cuban's comments about the Mavericks' being aggressive before the NBA trade deadline.

Coast to Coast: Picking The All-Stars

Jan 15

J.A. Adande and Israel Gutierrez on why upstart teams deserve more attention when it comes to selecting All-Stars.

Hornets Cruise Past 76ers

Jan 15

Hornets top 76ers 111-99 for their fifth win in six games.

Clippers Sneak Past Rockets, 117-109

Jan 15

Clippers pick up 30th win of the season.