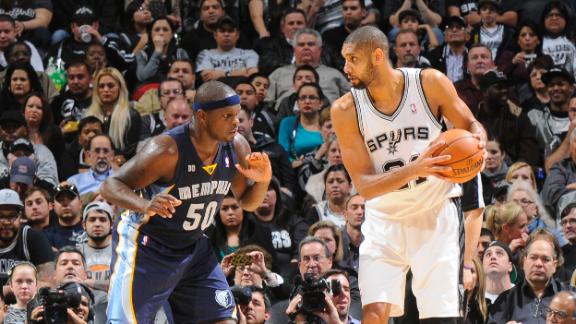 Dirk scores 19 as Mavs hold off Lin, Rockets

ESPN.com

Jan 16, 2013

Dirk Nowitzki scored 19 points, O.J. Mayo hit two tiebreaking free throws and the Dallas Mavericks held off a Jeremy Lin-led surge to beat the Houston Rockets 105-100 on Wednesday night.

Share Tweet

Hornets topple Celtics in Rivers' father-son clash

Share Tweet

Take a look inside the Memphis Grizzlies' NBA-best in-arena music team

Each professional sports venue has a standard rotation of songs, including but not limited to "Let's Get It Started," that one Pitbull song about the neverending party, and the collected works of LMFAO (video links barred from BDL by editorial…

Share Tweet

Xavier Henry's quarter-ending heave: A few feet low, a few feet short, a few seconds early (VIDEO)

New Orleans Hornets coach Monty Williams dusted off sparingly used wing Xavier Henry against the Philadelphia 76ers on Tuesday, and the third-year Kansas product rewarded him, scoring five points in four minutes as part of a 19-7 run late in the third q…

Share Tweet

Blake Griffin Huge Breakaway Dunk on the Houston Rockets (Video)

dimemag.com

Jan 16, 2013

Did you catch this huge Blake Griffin breakaway dunk on the Houston Rockets last night? Just brutal. To quote on of the Dime Crew when he saw this, "This isn't even human!" Check it out here: And check out more Blake Griffin dunks and news. For brea

Share Tweet

CNNSI.com

Jan 16, 2013

This isn't how Miami expected its title defense to go. Defense has been a concern. So has focus, writes Chris Mannix. Yet the Heat still lead the East. Is there real reason for concern?

Share Tweet

In a season hamstrung by the first knee surgery of his career, Dallas Mavericks forward Dirk Nowitzki is averaging just 13.3 points on 42 percent shooting, numbers that rank amongst the worst of his career excluding a frustrating rookie season. The forw…

Share Tweet

Ty Lawson Beats The Rookie Of The Year Front-Runner; Hoosiers Lose

dimemag.com

Jan 16, 2013

Even after Chris Paul's right kneecap conspired to scratch Tuesday's most intriguing point-guard matchup from the schedule - CP3 and the Clippers facing Jeremy Lin and the Rockets - the NBA still delivered a gem by giving us Ty Lawson versus Damia

Share Tweet

Rivers, Hornets Snap Celtics' Six-Game Win Streak

Jan 16

Hornets top Celtics 90-78 for their sixth win in seven games.

Mavs Dunk In Transition

Jan 16

O.J. Mayo feeds Shawn Marion for the dunk

Lin One-Handed Lay In

Jan 16

Jeremy Lin drives through traffic and finishes with the lay in.

TrueHoop TV: On Royce White

Jan 16

Amin Elhassan on Royce White.