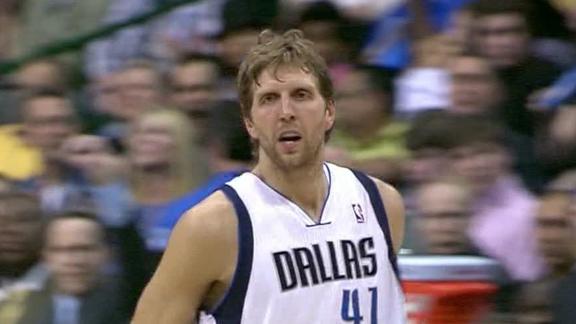 ESPN.com
Updated Jan 27, 2013
Shawn Marion scored 18 points in his 1,000th game, Dirk Nowitzki also had 18 while passing Allen Iverson on the career scoring list and the Dallas Mavericks beat the Phoenix Suns 110-95 Sunday night.
Share
Tweet
Anderson drains seven 3-pointers to lift Hornets

ESPN.com

Jan 27, 2013

Ryan Anderson scored 22 points, connecting on seven 3-pointers, and the New Orleans Hornets beat the Memphis Grizzlies 91-83 on Sunday.

Share Tweet

dimemag.com

Jan 27, 2013

The NBA All-Star Game is a showcase normally reserved for the great players who actually win games, and yet we haven't heard one complaint about how Jrue Holiday is going to Houston next month. He's been so good this season (remember, this cat is stil

Share Tweet

Hornets Battle Past Grizzlies

Jan 27

Ryan Anderson drains seven 3-pointers and 22 points off the bench to lead Hornets to 91-83 win over Grizzlies.

Sports Columnists

Ian Thomsen: Celtics spoil Allen's return, must regroup after losing Rondo

Jan 27

BOSTON -- A roar went up for Rajon Rondo in the second overtime of what his teammates hoped would be their breakthrough win of this troubled season. Rondo was sitting in a corner of the arena near the players' exit in his winter coat with a scarf around…

Adande: Kobe Bryant brings a new approach to floundering franchise

Jan 27

With Kobe Bryant channeling his inner Magic Johnson, have the Lakers found the right formula? Or is this fancy passing just a passing fancy? J.A. Adande explores.