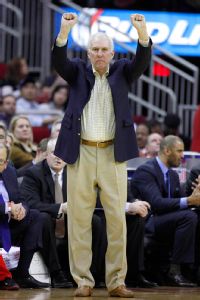 ESPN.com
Updated Jan 29, 2014
San Antonio Spurs head coach dislikes Gregg Popvich employing a "Hack-a-Shaq" type fouling strategy, but he's going to do it anyway.
Share
Tweet
nba.com yahoo.com ESPN.com dimemag.com

Jan 29, 2014

Those 36-year-old legs of Manu Ginobili's have been feeling pretty spry this season. That spring in his step that had been missing for so much of last season was back, helping the Argentine magician become a game-changer again for the San Antonio Spurs.

Share Tweet

Cuban matches fine with $100K to charity

ESPN.com

Jan 29, 2014

Mavericks owner Mark Cuban decided to donate $100,000 to a familiar face to match the final fine of commissioner David Stern's tenure.

Share Tweet

ESPN.com

Jan 29, 2014

Houston's James Harden will miss his second straight game with a bruised thumb on his shooting hand when the Rockets play at Dallas on Wednesday night.

Share Tweet

The Memphis Grizzlies beat the Portland Trail Blazers on Tuesday night, and I mean, they beat 'em. The Grizzlies led wire-to-wire, jumping on the Blazers with eight points in the game's first two minutes and never letting go. The game-opening blitz was …

Share Tweet

Love Drops Double-Double On Pelicans

Jan 29

Kevin Love scored 30 points and grabbed 14 rebounds in the Timberwolves' 88-77 win over the Pelicans.

Coach Shea Serrano

Jan 29

Writer and teacher Shea Serrano is now coaching seventh-grade basketball, and it couldn't be going better.

Butler Jams One off the Miss

Jan 29

Jimmy Butler crashes the paint and slams home the D.J. Augustin missed lay up.

Are Centers Facing Extinction?

Jan 29

Israel Gutierrez and J.A. Adande discuss the decline of the traditional center in today's NBA.