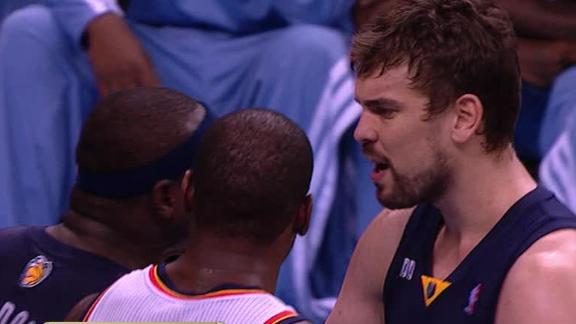 Updated Nov 14, 2012
Share
Tweet
OKLAHOMA CITY (AP) Rudy Gay scored a season-high 28 points, Zach Randolph added 20 points and 11 rebounds before getting ejected along with Oklahoma City's Kendrick Perkins during a late-game altercation and the Memphis Grizzlies beat the Thunder 107-97…
Harden scores 30 as Rockets hold off Hornets

Updated Nov 14, 2012

Share Tweet

James Harden scored 30 points, Omer Asik added 15 points and 12 rebounds, and the Houston Rockets held off the New Orleans Hornets 100-96 on Wednesday night.

Source:

ESPN.com

Updated Nov 14, 2012

Share Tweet

Houston rookie Royce White remains absent from the team in a dispute over how the Rockets are helping him confront his anxiety disorder.

Sources:

nba.com ESPN.com dimemag.com yahoo.com

The 10 Most Interesting Story Lines Of The NBA Season

Updated Nov 14, 2012

Share Tweet

Yes, we know the season is still young. There are a lot of games left to be played in what should be a great year, but still, it seems there'll be a surprise for us waiting around every corner. This season has already given us some unexpected gut-punche

Source:

dimemag.com

Updated Nov 14, 2012

Share Tweet

The Spurs' 84-82 win over the Lakers came down to a pair of plays in the waning seconds. San Antonio's relied on the element of surprise, an unlikely shooter, everyone knowing their roles. Los Angeles's consisted of Pau Gasol shooting a three. This is w…

Sources:

deadspin.com ESPN.com

Carmelo Has a Mini Meltdown; The Spurs Torture the Lakers; Deron Williams & Kyrie Irving Put On A Show

Updated Nov 14, 2012

Share Tweet

Pau Gasol, we hope you surround yourself with protection tonight. You might turn up along the rocks in the Pacific Ocean tomorrow morning, courtesy of a crazed Kobe Bryant. Down two on the last possession last night against the Spurs, Gasol couldn't fin

Source:

dimemag.com

Harden Scores 30 Points In Rockets' Win

Nov 14

Rockets hold off late charge from Hornets.

White Clashing With Rockets

Nov 14

Henry Abbott on why Royce White isn't with the Rockets.

TrueHoop TV: L.A.'s Identity

Nov 14

David Thorpe loves Mike D'Antoni's offense, and he loves the Lakers' top players, but he doesn't see a match between coach and roster. Plus Coach Thorpe's favorite rookie.

Grizzlies Win Fifth Straight

Nov 14

Grizzlies snap Thunder's five-game winning streak.